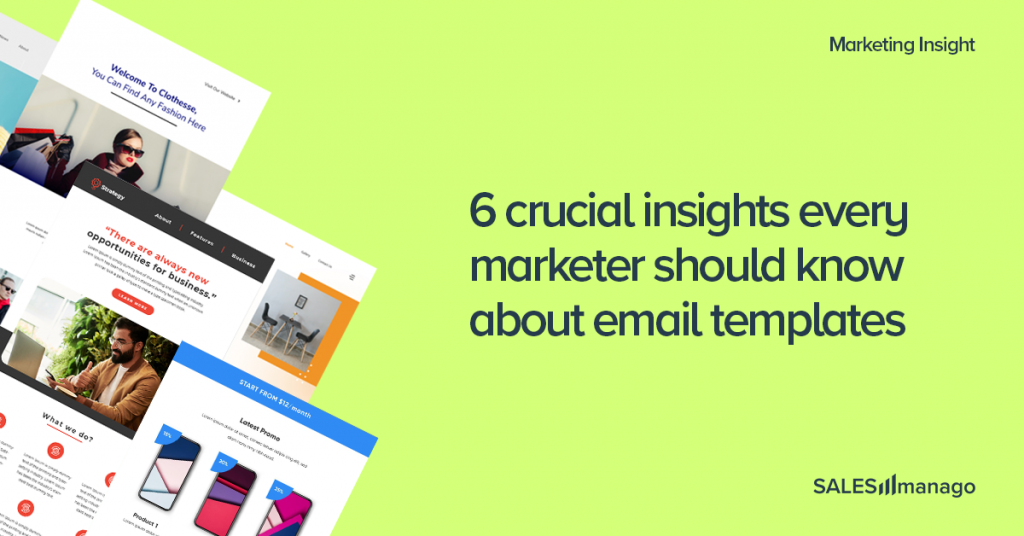 Email templates are a game-changer for eCommerce marketers, revolutionizing customer engagement and driving sales. In this article, we explore the six crucial insights every marketer should know about email templates. From boosting efficiency to enhancing branding, personalization, mobile optimization, A/B testing, and automation, these features unlock the full potential of email campaigns, resonating with your audience.
6 things you should know about email templates for eCommerce
Before we dive into the details, let's first outline the primary issues that email templates address. In today's competitive eCommerce landscape, marketers face challenges such as time constraints, maintaining consistent branding, personalizing communication, adapting to mobile devices, testing different strategies, and automating workflows. Email templates serve as a solution to these challenges by providing pre-designed structures that offer efficiency, branding consistency, personalization, mobile-friendliness, testing capabilities, and automation features.
1. Increased efficiency and time savings
Background In the fast-paced world of eCommerce marketing, time is of the essence. Email templates offer a practical solution by providing pre-designed layouts and structures that enable marketers to create professional-looking emails quickly and easily. Instead of starting from scratch for each campaign, templates serve as a starting point, saving valuable time and effort. Marketers can customize these templates with their brand elements, such as logos, colors, and fonts, ensuring consistent branding across all email communications.
How to future-proof your marketing? Leverage the increased efficiency and time savings offered by email templates. By utilizing templates, you can streamline most email marketing processes, to focus more on other essential aspects of your strategy. This not only saves time, but also enables you to deliver timely and engaging content to your target audience. With more efficient workflows in place, you can adapt to changing market trends and customer preferences, ensuring your marketing activities remain excellent, measurable, and effective.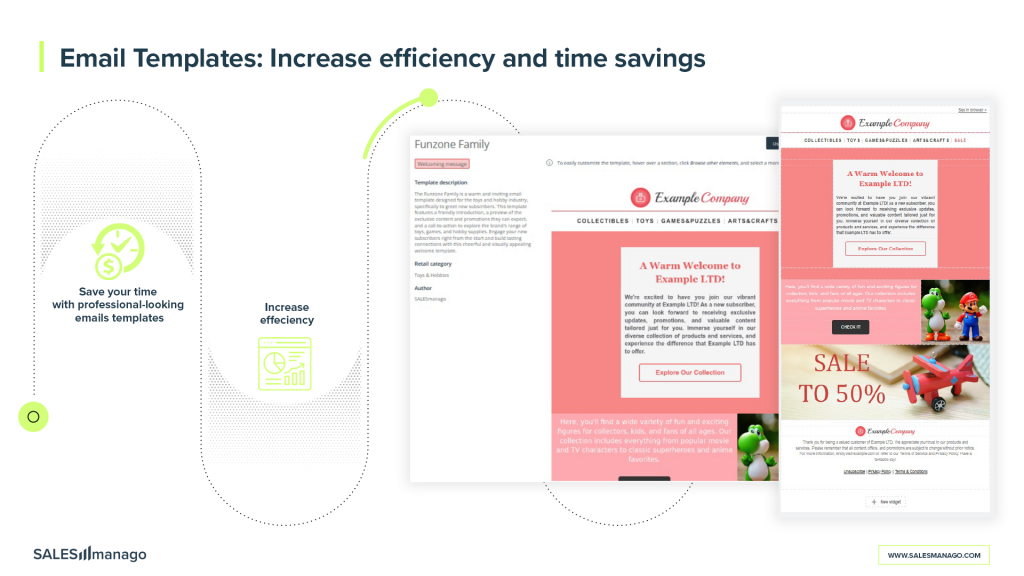 2. Consistent branding and messaging
Background Building a strong brand identity is essential for eCommerce businesses, and email templates play a significant role in maintaining consistent branding throughout their marketing campaigns. Templates allow businesses to incorporate brand-specific colors, logos, and fonts, reinforcing brand recognition and trust among recipients. Moreover, consistent messaging across email communications helps establish a recognizable tone and reinforces brand values, ultimately fostering customer loyalty.
How to future-proof your marketing? Consistent branding and messaging are crucial for future-proofing your marketing efforts. By using email templates, you can ensure that every email communication aligns with your brand's visual identity, tone, and messaging. This consistency creates a cohesive brand experience, instilling confidence in customers and increasing brand loyalty. With the ability to maintain a consistent and recognizable brand identity, you can stand out amidst competition and adapt to evolving market trends, ensuring the long-term success of your eCommerce marketing.
Read more about Email Design Studio that helps you bundle every email you make with brand design>>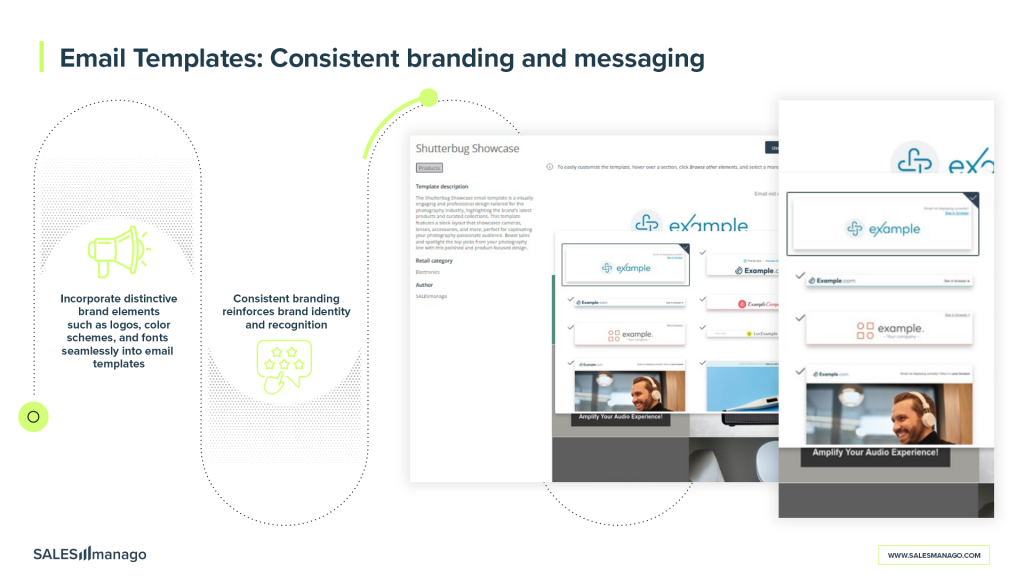 3. Personalization and segmentation
Background Personalization is a key driver of customer engagement and conversions in eCommerce marketing, and email templates provide the necessary tools to deliver tailored content. Templates offer flexibility, allowing marketers to personalize emails based on customer segments, demographics, and purchase history. Dynamic content blocks within templates enable the inclusion of dynamic product recommendations, customized offers, and personalized greetings, increasing relevance and driving higher engagement.
Read more: 5 dazzling ways of email content personalization>>
How to future-proof your marketing? Personalization and segmentation are vital for maximizing the outcome of your marketing activities. By leveraging the personalization capabilities within email templates, you can adapt to evolving customer expectations and preferences. As customer data and insights continue to play a vital role in marketing, email templates provide the means to create personalized and relevant content that resonates with customers. This ensures that your marketing efforts remain excellent, measurable, and effective, leading to increased customer engagement and conversions.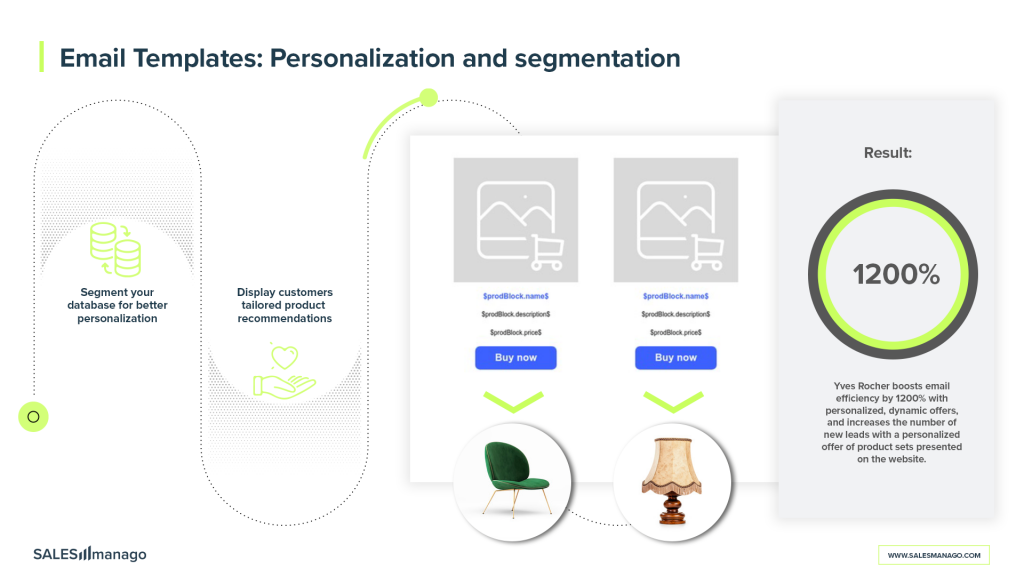 4. Mobile-friendly design
Background With the increasing number of users accessing emails on mobile devices, mobile optimization has become crucial for delivering a seamless user experience. Email templates are designed to be responsive and mobile-friendly, adapting to different screen sizes and devices. By using mobile-friendly templates, marketers can ensure that their emails are visually appealing, easy to navigate, and optimized for smartphones and tablets.
Learn more about mobile-first, state-of-the-art email designer>>
How to future-proof your marketing? Future-proofing your marketing requires embracing mobile-friendly design through email templates. By utilizing mobile-optimized templates, you can provide a seamless experience to mobile users, who make up a significant portion of your audience. This allows you to reach customers wherever they are, maximizing engagement and conversions. With the ever-increasing reliance on mobile devices, incorporating mobile-friendly design into your email marketing strategy is essential for staying ahead of the curve and future-proofing your marketing efforts. By leveraging mobile-friendly email templates, you can ensure that your messages are easily accessible and visually appealing across various devices, enabling you to connect with your audience effectively.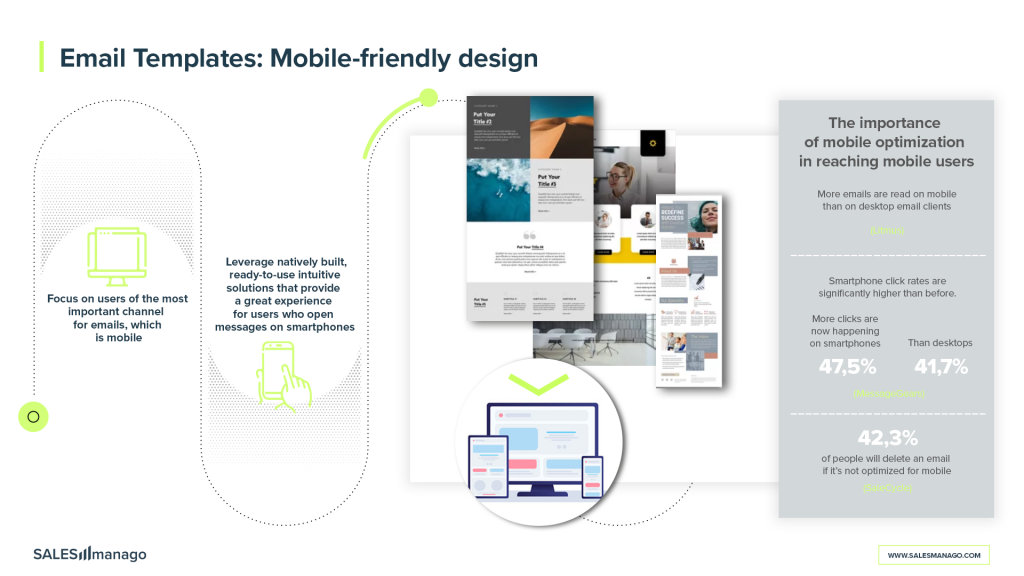 5. A/B testing and analytics
Background A key aspect of successful eCommerce marketing is continuous improvement through data-driven insights. Email templates simplify the process of conducting A/B tests by allowing marketers to experiment with different elements such as subject lines, CTAs, or layouts. By testing and analyzing the performance of these variations, marketers can gain valuable insights into what resonates best with their audience and make data-backed decisions to optimize their email campaigns. Additionally, email marketing platforms often provide analytics tools that offer metrics such as open rates, click-through rates, conversions, and more.
Read a Complete Guide to A/B Testing: Lessons from Netflix, Barack Obama, and Optimizely>>
How to future-proof your marketing? A/B testing and analytics are vital for your marketing efforts. By leveraging the capabilities of email templates, you can conduct A/B tests to refine and optimize your email campaigns over time. This iterative approach allows you to stay ahead of the competition and continuously improve your marketing strategies based on real-time data and insights. By embracing A/B testing and analytics, you can ensure that your marketing activities remain excellent, measurable, and effective, leading to higher engagement and conversions.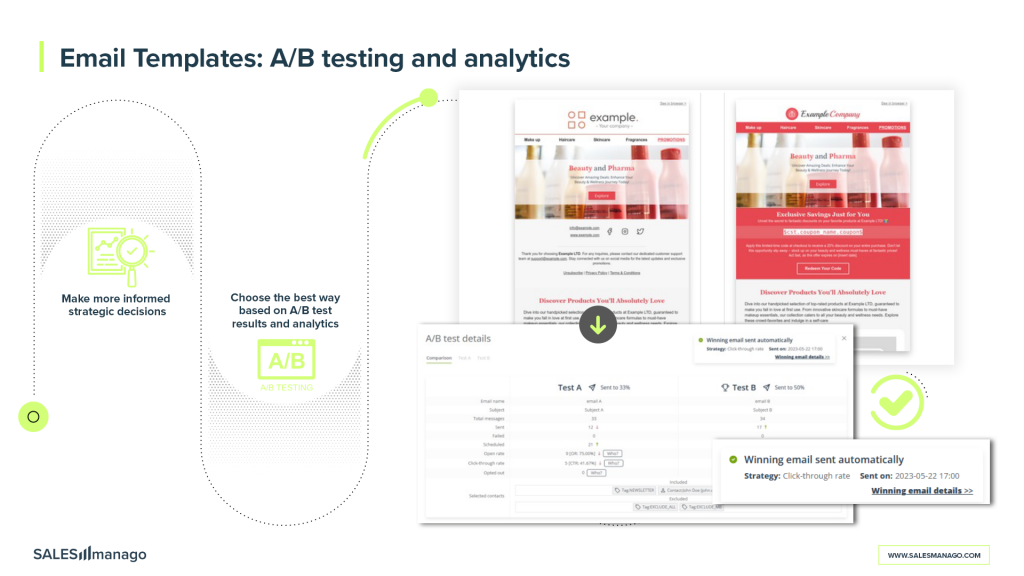 6. Automation and Workflow
Background Efficiency and scalability are crucial for eCommerce marketers, and email templates seamlessly integrate into automation workflows. With automation, marketers can set up triggered campaigns that are initiated by specific customer actions or events. By leveraging email templates within these workflows, marketers can ensure timely and personalized communication with their audience. Automation streamlines repetitive tasks, reduces manual effort, and ensures consistent messaging throughout the customer journey.
Learn how to get the expert Workflow templates to achieve your marketing goals with the first eCommerce Workflow Generator>>
How to future-proof your marketing? Future-proofing your marketing involves embracing automation and workflow efficiency through email templates. By utilizing automation tools and incorporating email templates into your workflows, you can optimize your marketing activities for scalability and effectiveness. Automation allows you to nurture customer relationships, engage with your audience at key touchpoints, and deliver personalized content at the right time. By adapting automation and email templates in your marketing, you can create efficient and effective marketing campaigns that adapt to evolving customer needs and preferences.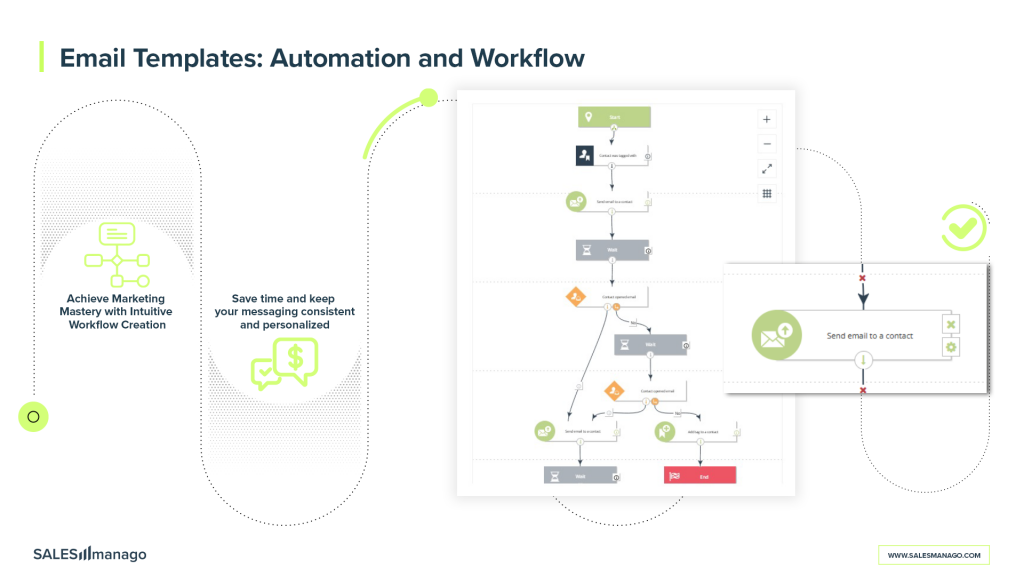 Wrap up
In conclusion, email templates have proven to be a game-changer for eCommerce marketers, providing a host of key features and benefits that elevate their marketing strategies. By harnessing the power of email templates, marketers can enhance efficiency, maintain consistent branding, personalize communication, optimize for mobile devices, conduct effective A/B testing, and streamline their automation workflows. These capabilities are vital for staying competitive in the dynamic eCommerce landscape.
To further expand your knowledge on the subject, we recommend reading our article on the "Top 4 trends in eCommerce email marketing in 2023—and why convenience is the name of the game" This article delves into the latest trends shaping email marketing and how convenience plays a pivotal role in driving customer engagement and conversions.
We also invite you to experience email templates in action through a customized webinar presentation. This personalized session will showcase practical examples, providing you with valuable insights and inspiration for your own marketing campaigns.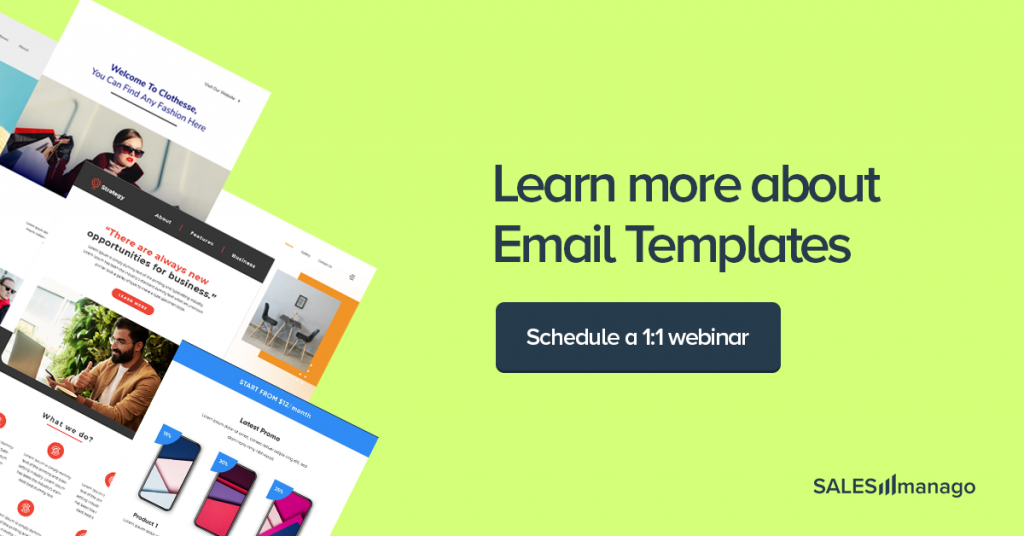 By incorporating email templates into your eCommerce marketing strategy, you can unlock the potential to create impactful and successful email campaigns that resonate with your target audience. Embrace the efficiency, consistency, personalization, and automation that email templates offer, and take your eCommerce marketing to new heights.
Remember, the key lies in understanding and harnessing the power of email templates to drive customer engagement, boost conversions, and ultimately achieve your business goals. Start exploring the possibilities of email templates today and witness the transformation in your eCommerce marketing efforts.