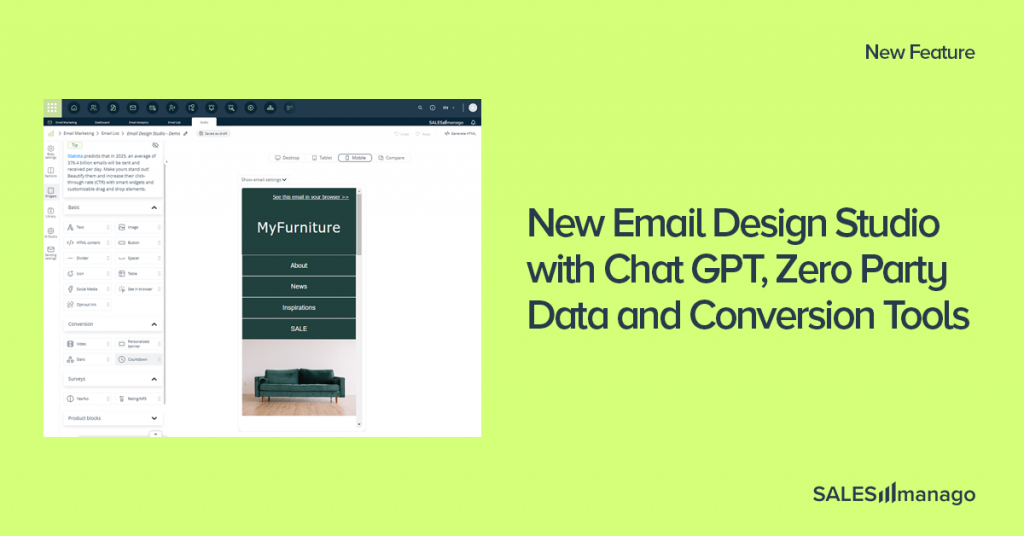 Our new Email Design Studio pushes the boundaries of engagement and Customer Intimacy in Email Marketing. Using our unique, mobile-first, state-of-the-art email designer, you will get more conversions and collect precious Zero-Party Data, which will enable you to get even closer to your customers.
Email is still king in eCommerce marketing
Email Marketing continues to be one of the most effective marketing channels, generating a very high ROI. This is clearly visible in the results of various research studies. For example:
61% of consumers prefer to be contacted by brands through email. (Statista).
99% of email users check their email every day, some as many as 20 times a day (OptinMonster).
Personalized emails have a 29% higher unique open rate (OR) and a 41% higher unique click rate (CR) than non-personalized ones (Active Trail).
Moreover, when it comes to using email, customers are slowly but surely switching to their mobile devices. They don't wait to be around a desktop or laptop computer to read a message that is easily readable on a mobile platform, such as SMS:
More emails are read on mobile than on desktop email clients (Litmus).
Smartphone click rates are significantly higher than before. More clicks are now happening on smartphones (47.5%) than desktops (41.7%). (MessageGears).
42.3% of people will delete an email if it's not optimized for mobile. (SaleCycle).
And AI is making its way to the throne
We can also observe the growing role of AI across supply chains:
Fourth Industrial Revolution (4IR) technologies are expected to create up to $3.7 trillion in value by 2025. AI alone can generate between $1.2 and $2 trillion in value for manufacturing and supply chain management (McKinsey).
AI has the potential to increase productivity by up to 40% and could double annual economic growth rates by 2035 (Accenture).
In 2023, customer satisfaction is expected to grow by 25% in organizations that use AI (Gartner).
. . . so we decided you should reap the benefits!
The immense popularity of email in eCommerce marketing means that it's often hard to cut through the noise made by other marketers and genuinely engage the recipient. That's why we decided to push the boundaries where true customer engagement and intimacy is built. Enhance them even further with extensive AI support: meet Email Design Studio.
Take Email Design Studio tour
Beyond beautiful emails: New Zero- and First-Party Data–oriented email designer
You already know how to make beautiful emails, but is that still enough to engage your customers? Email Design Studio's unique and original content enrichment through native integration with Customer Data Platform flips the script. Email Design Studio gives you the only tool with capabilities that go beyond supporting the creation of beautiful emails and allow you to enhance your emails with the dynamic 1:1 personalization of products based on Zero- and First-Party Data … further supported with the advanced AI Studio to generate amazing content.
Make it mobile-first
The new Email Design Studio enables the frictionless creation of responsive designs. You can easily go from empty space to eCommerce revenue by:
Adding a section.
Dragging and dropping widgets into a section.
Using sections with multiple columns to create a mobile-first responsive design.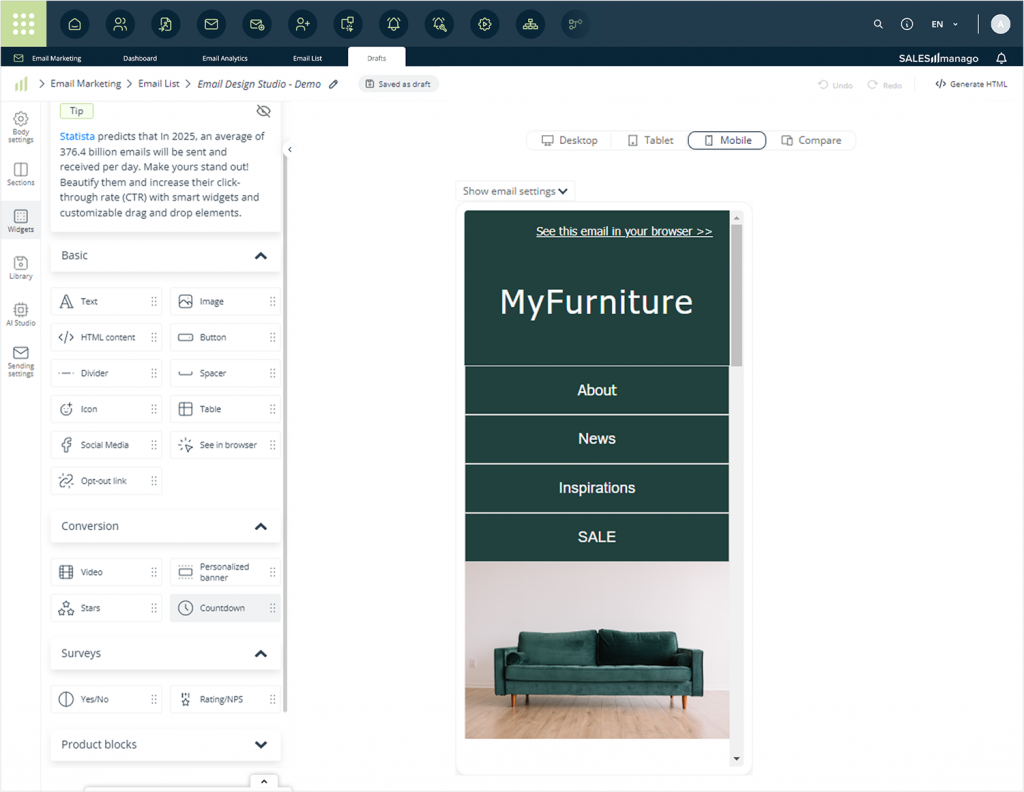 Engage your customers and increase conversions
Increase CLV and ROI from the Email Marketing channel. Leverage engagement and conversion tools—a set of widgets that help customers engage more deeply with your content right at that touchpoint. As a result, you can smoothly drive them to make rapid purchase decisions.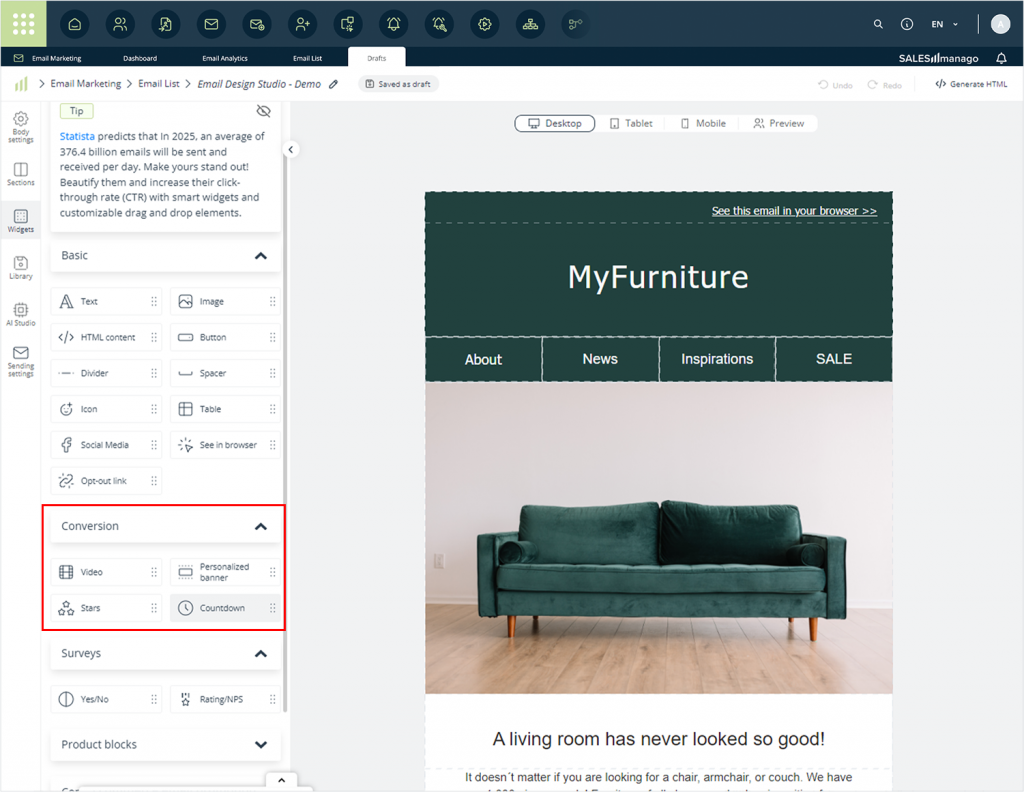 Build true intimacy with your audience
Leverage Customer Intimacy tools. Build long-lasting relationships with your customers using a set of widgets that turn email into a powerful Zero-Party Data–gathering tool. Allow customers to voluntarily share their preferences.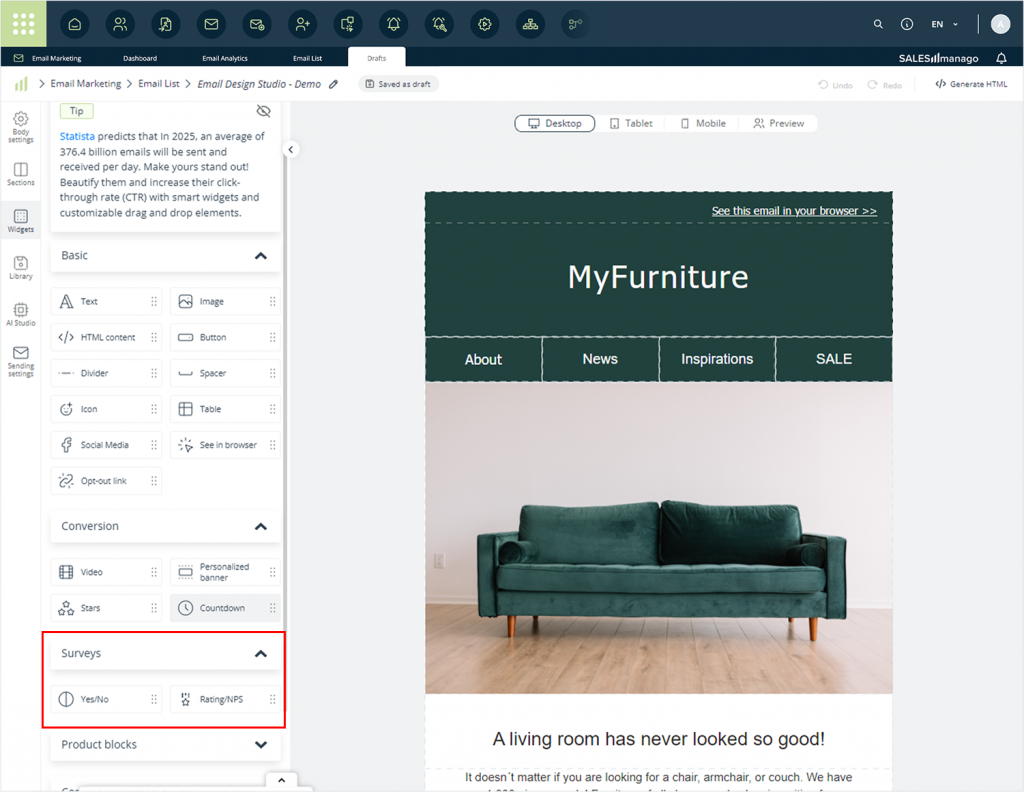 Use the power of AI in Email Marketing
Go the extra mile! Make the most of your email marketing. Let advanced algorithms take care of the content. Simply set a theme, specify what you need, and choose the best suggestion. Generate effective subject lines, concise bullet points, engaging product descriptions, catchy slogans, and even entire paragraphs of content.
State-of-the-art Email Designer
Focus on content, not configuration. Build value for your customers, and we'll make sure you're prepared for the configuration of any device, inbox, or email client. Easily create and send your recipients emails that look great every time.
Make it mobile-first
Improve customer experience and become future-proof. Focus on the most important channel for emails: mobile devices. Leverage natively built, ready-to-use, intuitive solutions that provide a great experience for users who open messages on smartphones.
Listen to your customers (gather Zero-Party Data)
Create a sense of intimacy with customers. Allow them to voluntarily share their preferences by using a set of widgets to collect Zero-Party Data. Listen to what your customers have to say, and deepen the sense of intimacy with your organization.
Go beyond beautiful emails (engage)
Increase revenue and CLV by leveraging engagement and conversion tools. Enrich your emails with a set of widgets that engage customers more deeply with your content and smoothly and rapidly drive them to make purchase decisions.
Easily customize your emails
Strengthen customer loyalty. Bundle every email you send with brand design, and benefit from the advanced customization of individual message elements. Create your own brand book for emails to reinforce your message to your audience and increase customer loyalty.
Get great content in no time
Be lean yet remarkable. Leverage the AI in Email Marketing to generate effective subject lines, concise bullet points, engaging product descriptions, catchy slogans, and even entire paragraphs of content.
Save time and scale your efforts
Get more impact with the same resources. Use AI-generated content to improve your work in many ways, such as by making it more efficient, scalable, and cost effective or by breaking your writer's block.
Wrapping up
Beautifully composed emails are not enough to engage customers anymore. For successful e-commerce websites, you need to use various engagement and conversion tools and integrate them directly into the message. Making your messages more interactive also enables you to gather invaluable Zero-Party Data.
And with AI support for content generation, you can do this all so much faster!