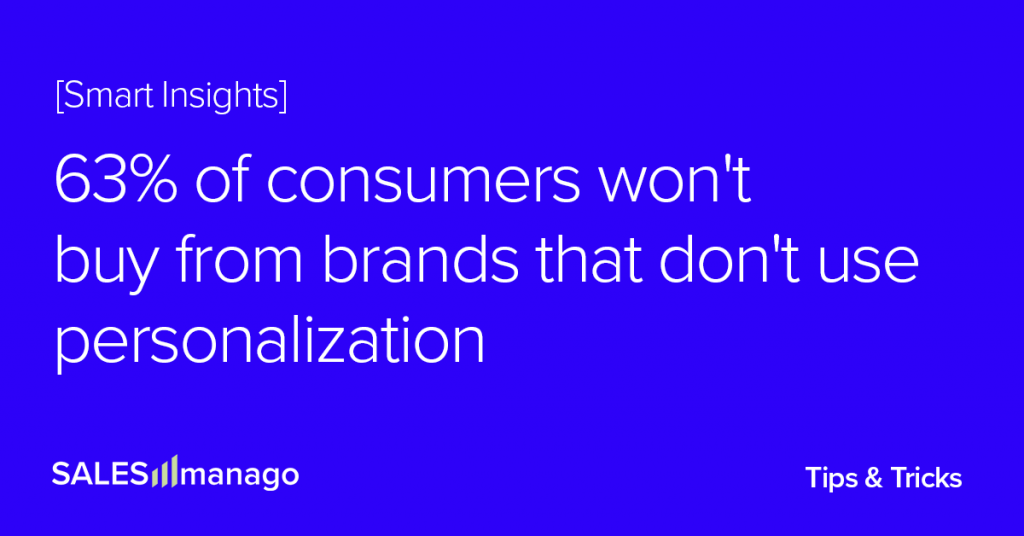 Email marketing personalization is a surefire way to boost performance in this channel. According to Smart Insights, up to 63% of consumers won't buy from brands that don't use personalization*. Email marketing practitioners know many tricks to personalize email campaigns even better. Here are 5 turbo-charged ways to personalize emails.
There is no need to convince anyone about the necessity of using personalization in email marketing. It is quite a well-known fact.
Personalized emails have a 29% higher unique open rate (OR) and a 41% higher unique click rate (CR) than non-personalized ones. (Active Trail)
About 75% of consumers find the idea of "living profiles" (highly detailed customer profiles) valuable if they were used to provide more personalized experiences. (Accenture)
The top three reasons to use personalization in email marketing are (SaleCycle):
better OR (82%),
higher click-through rate (CTR) (75%),
greater customer satisfaction (58%).
The question arises, "How do you do it?" when everyone has it as standard? The answer is to go above and beyond what your competition is offering.
5 turbo-advanced ways to personalize an email
Easy to say, but how to implement it? What specific mechanisms are worth using when creating an email to mesmerize your audience? Here are 5 examples.
#1 Find a logical connection to encourage discovery of new products [Online drugstore example]
The connection between products worth recommending is not always obvious. What motivates a person buying, for example, perfume in an online drugstore? Most likely they have their favorite fragrance compositions. Thorough analysis of purchased products allows you to suggest products that are likely to be of interest to individual clients. You can, of course, recommend products already bought, or chosen by people who have already bought the product, but there are many other, more impressive possibilities.
The idea:
Emails personalized regarding the favorite perfume lines / fragrances / fragrance notes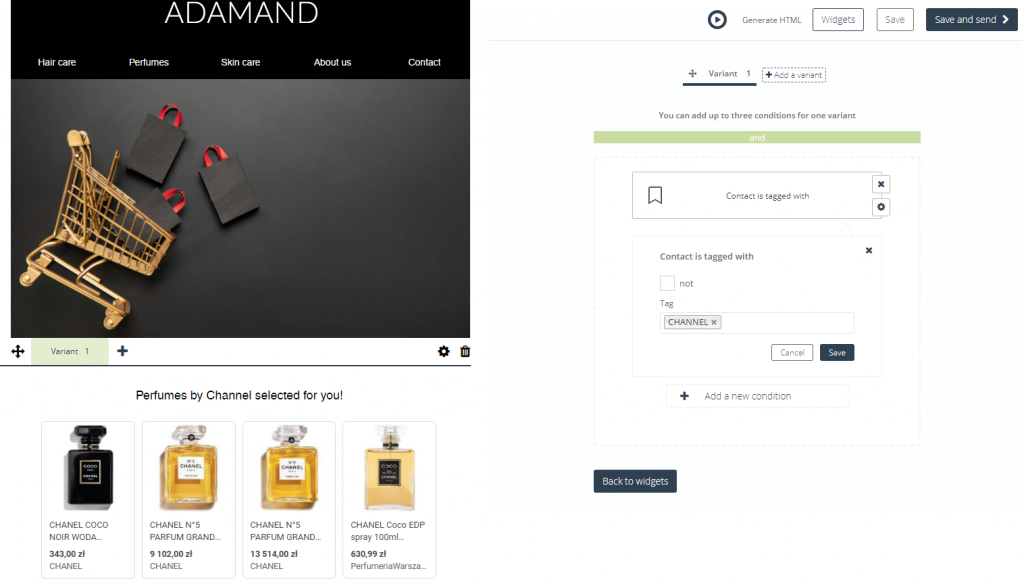 The setup:
To carry out this procedure, you will need a solid description of the assortment in the XML file. In the description, it is certainly worth marking the fragrance notes and fragrance category for different perfumes. This will make it easier to recommend perfumes with similar notes, but for example from different price shelves (upselling), or whole fragrance lines of different products (cross-selling).
This is the data you will use:
transactional data
declarative data
visits to a website
visits to a mobile application
transaction analysis (XML)
Actions:
Using selected data, you can segment your recipient groups into appropriately named groups, e.g. floral fragrances, Channel, musk (fragrance notes). You can also assign appropriate tags to contacts based on preferences and transaction history.
Those are the features you can use:
With your audience and recipients already segmented, you can start sending diversified content to them based on the segment they belong to. There are many ways to personalize email, but in this case the best choice will be Conditional Content and Dynamic Banners. You have several scenarios to choose from, such as:
Discover new [Fragrance line] fragrances
Set of [Fragrance name] perfume + body lotion
We just added a [fragrance note] perfume that you might like
#2 Paint the world with your favorite team's colors [Sports streaming service example]
To quote a 2004 study by Alain Decrop and Christian Derbaix "Color seems to be the key attribute of a 'good' football fan. Half of our informants spontaneously refer to that attribute when defining a 'good supporter'. It is seen as an easy way to make a distinction between a football supporter and another person. Colors are related to clothing items such as scarves, hats, or shirts." The Effect of Identification with a Sports Team and its Performance on the Willingness of Fans to Pay for Team Products study says that the level of identification with a team is one of the key factors (along with team performance) affecting fans' willingness to spend money on team-related activities and items.
The idea:
The entire message (layout, content) is tailored to the aesthetics of your favorite team/sport plus it presents interesting facts about your favorite athletes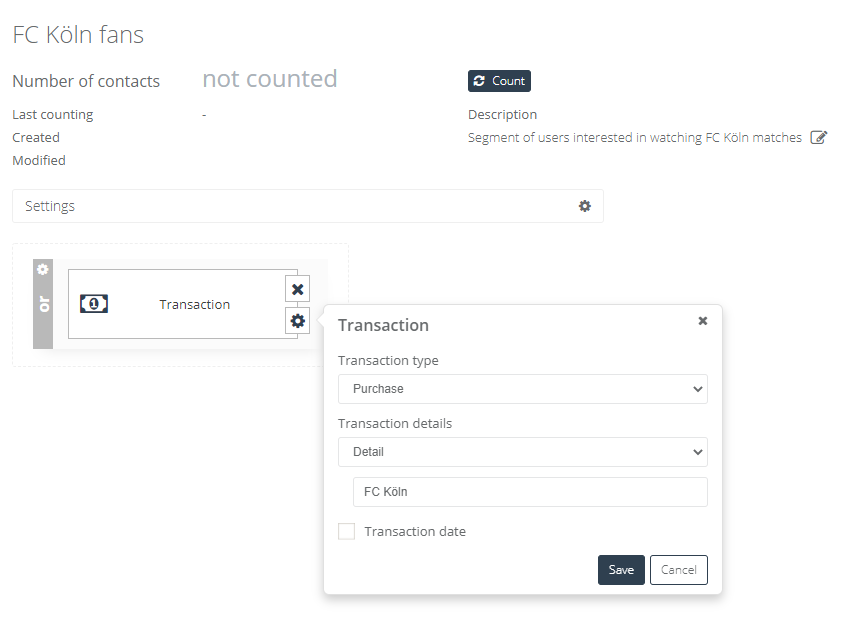 The setup:
Take information about purchases, visited websites, declarative data and in-app behavior and prepare 3 segmentations based on them: favorite teams, favorite sports, favorite sportspeople.Then group the graphic materials and order banners in the colors of selected teams. Finally, prepare interesting facts about people from the world of sport and divide them according to the sport they practice and the teams they belong to.
This is the data you will use:
transactional data
declarative data
visits to a website
visits to a mobile application
transaction analysis (XML)
Actions:
Instead of drafting a separate email to each sports enthusiast, create a universal message that automatically serves your readers information about their idols. You can send information about upcoming broadcasts, offers from the fan store, and even interesting facts about the lives of celebrities associated with specific sports.
Those are the features you can use:
Using advanced hyper segmentation capabilities, you can target people from a variety of predefined segments, such as those interested in making a purchase or avid fans who frequently visit the website. Then, using personalized banners and conditional content, customize messages to show information that will interest them. You can create, for example:
newsletter for [athlete's name] fans
gadgets offer for [soccer team name] fans
educational series for [sport name] fans
#3 Address your customer's shopping habits [Apparel eCommerce example]
A research article The Influence of Product Price on Consumers' Purchasing Decisions states that "price is an important factor in the purchasing decision, especially for products that are frequently purchased, and in turn, influences the choices of which store, product, and brand to patronize." Following this logic, consider a campaign that will leverage this very factor to convince customers and clients to make a purchase.
The idea:
Personalization by price range combined with recovery of abandoned carts through offering cheaper products / progressive discounts


The setup:
Prepare a product feed (XML) and make sure you have access to the AI recommendation module.
This is the data you will use:
transactional data
RFM
product feed
Actions:
Prepare a mailing that implements an AI-driven recommendation scenario. You can combine it with abandoned shopping cart recovery. You will encourage shoppers by showing them slightly cheaper products and additionally adding a personalized discount.
Those are the features you can use:
When preparing the message, make room in it for AI recommendations with additional filters (filters: price range). Furthermore, configure the appropriate segmentation rules that will assign discounts. To display the discount in email, use personalization formulas in the body of the email. You will get a message showing products from a selected price range and also encourage your recipients to make a purchase with an attractive progressive discount.

#4 Use data to make others' lives easier [Delivery company example]
According to Harvard Business Review "after controlling for other factors that drive repeat purchases in the transaction-based business (for example, how often the customer needs the type of goods and services that the company sells), customers who had the best past experiences spend 140% more compared to those who had the poorest past experience." Post-transaction emails, including the shipping message, are a very important part of the customer experience. That's why it's worth taking care of them.
The idea:
Personalization using package details combined with footer personalization with region manager signature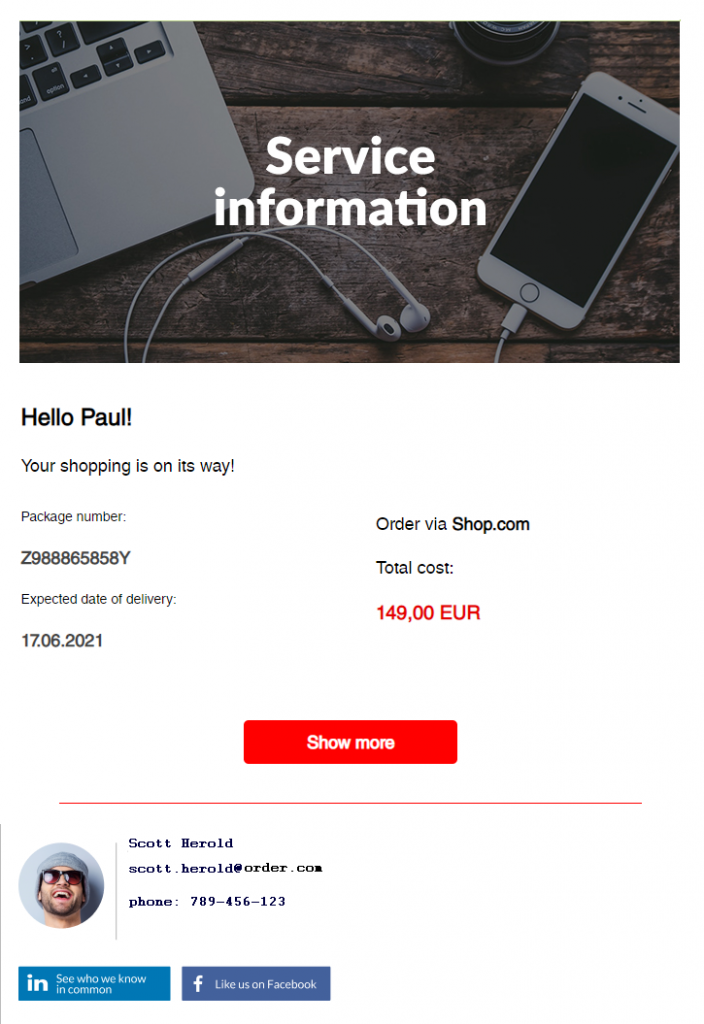 The setup:
Create a message that provides the orderer with all the details about the package. Also add a footer of the person who is in charge of customer service in the region to which the package is sent. You can read about how to do this in the article: 3 Out-of-the-box Ideas For Personalizing B2C Emails.
This is the data you will use:
external events (e.g. RESERVATION)
Actions:
In desired places in the message, add fields that pull value from external events. This way each message will be fully personalized and responsive to the needs of the selected recipient.
Those are the features you can use:
You will definitely need segmentation rules to assign a set of details needed for personalization. Also, make use of the formulas for personalization. These are responsible for displaying the package details and the personalized footer in the body of the email.
#5 Take advantage of the specifics of the VIP sector [Jewelry eCommerce example]
Price is the first threshold of entry into the VIP area of luxury products. Unlike the premium class, luxury goods are distinguished by the fact that not everyone can have them and they are perceived as artifacts of luxury. This is why customers who buy them often like to be treated like a closed VIP club. Upselling and raising prices while limiting product availability works very well in this group.
The idea:
Personalization using scoring, RFM segmentation and VIP funnel, so that the exclusivity of recommended products increases along with the spending

The setup:
Your main tool will be a sales funnel, which you can easily create in the SALESmanago system. To add a new sales campaign (funnel) go to CDP → Campaigns and funnels → Add new campaign. Then fill in the right fields, add campaign stages, choose how to add contacts to the funnel and save your progress.
This is the data you will use:
Actions:
Using RFM segmentation and transactional data, prepare a set of rules that will add customers to the campaign and move them down the purchase funnel if they reach the required in-store spend cap. The funnel will be the basis for segmentation in the VIP campaign. Order appropriate banners and graphics for your messages as well. You may also decide to change the layout and color scheme as the prestige level in the campaign increases.
Those are the features you can use:
Segmentation rules are the basis in this case. They will assign specific contacts to the appropriate stage in the funnel. Of course, you also need the funnel itself. While creating an email campaign, use dynamic banners, which will differ depending on the segment. You can also leverage conditional content and AI recommendations with additional filters (filters: products marked as exclusive in the product feed).
Advanced email personalization: a brief closing note
Personalizing emails is a lot of fun. Discovering newer and newer ways to reach your audience 1-to-1 is a fantastic analytical and psychological exercise. A thorough knowledge of your target group and a hyper-personalization tool make this process much easier.
If you have any email personalization ideas and want to test them in practice, be sure to email your account manager at SALESmanago. Let's explore the vast possibilities of our CDP platform together.
*Source: Smart Insights