Did you know that 90% of customers like to receive personalized messages, and that just by using their name in the subject line you can increase the OR of the email campaign by 50%? If you start delivering messages with the use of customer segmentation, you can get even 760% higher revenue. Sounds hard, but is it?
There are three main things that have to be taken into account when planning out and executing your email marketing campaigns. You need to pick the right target group, deliver the message at the right time, and make sure it contains the content relevant to the campaigns' recipients. That's where analytical and marketing automation tools come in handy. And SALESmanago is quite well equipped.
Our Email Marketing Dashboard shows the activity of your contacts, expanded email creating and sending capabilities gives you the possibility to customize the message and adjust the delivery time, or segment your groups of recipients. And the cherry on top – dynamic content, that makes each email tailored 1-to-1 to every recipient. How to use all these features?
Send emails at the best possible time
A big part of email effectiveness is sending it at the right moment. SALESmanago tracks your customers' activity so you can see on which day and what hour the chances of them opening the email are the highest. Email Marketing Dashboard presents aggregated information on the hours and days that give you the highest chance your emails won't be overlooked.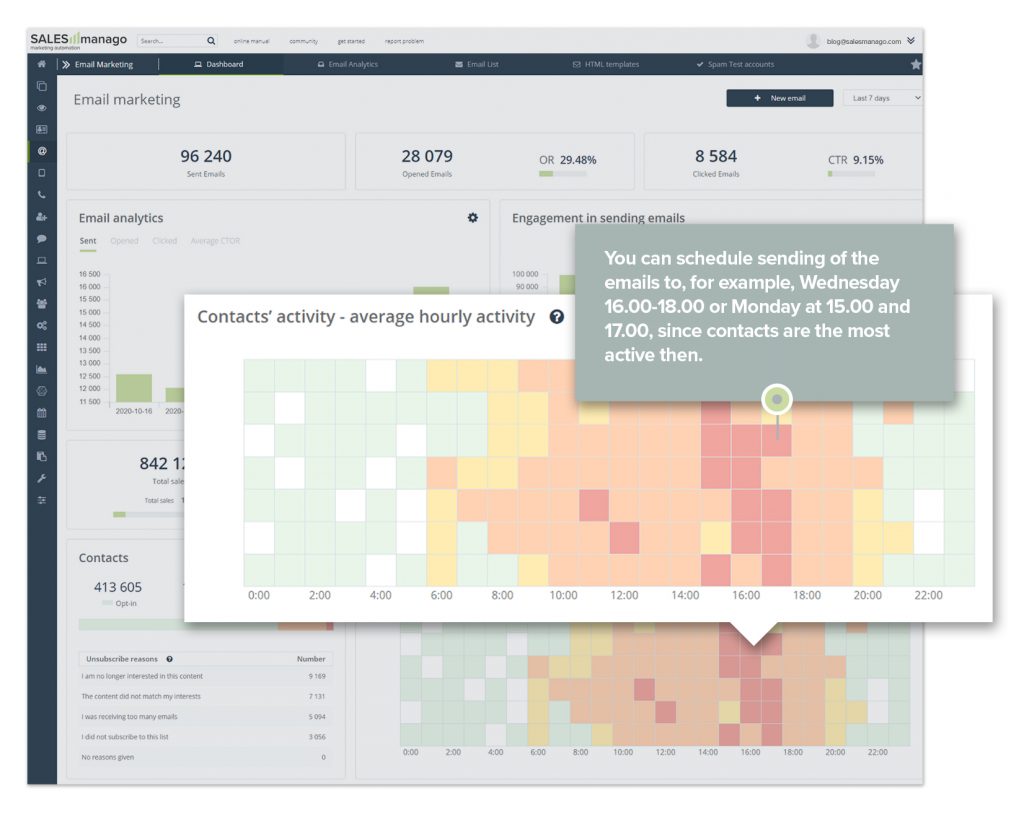 Let's say that Wednesday at 16.00-18.00 and Monday at 15.00 and 17.00 appear in red. It means that at that time your contacts' most frequently opened your previous email campaigns, and the probability of them noticing and opening your campaigns is the highest then. With that information, in the email sending settings, you can schedule your mailings, thanks to the "Send on" option. There, you can set a specific date and time of sending, according to the activity analytics.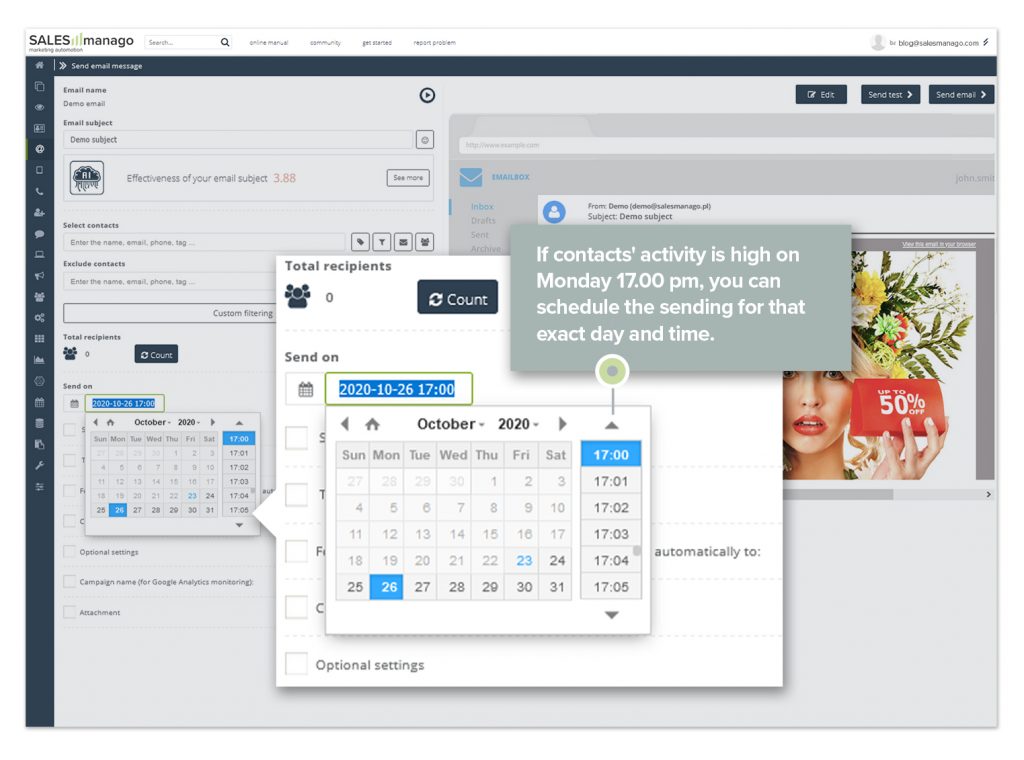 You can also adjust the time of sending individually to every monitored contact, taking into account levels of their activity including also their website visits and transactions.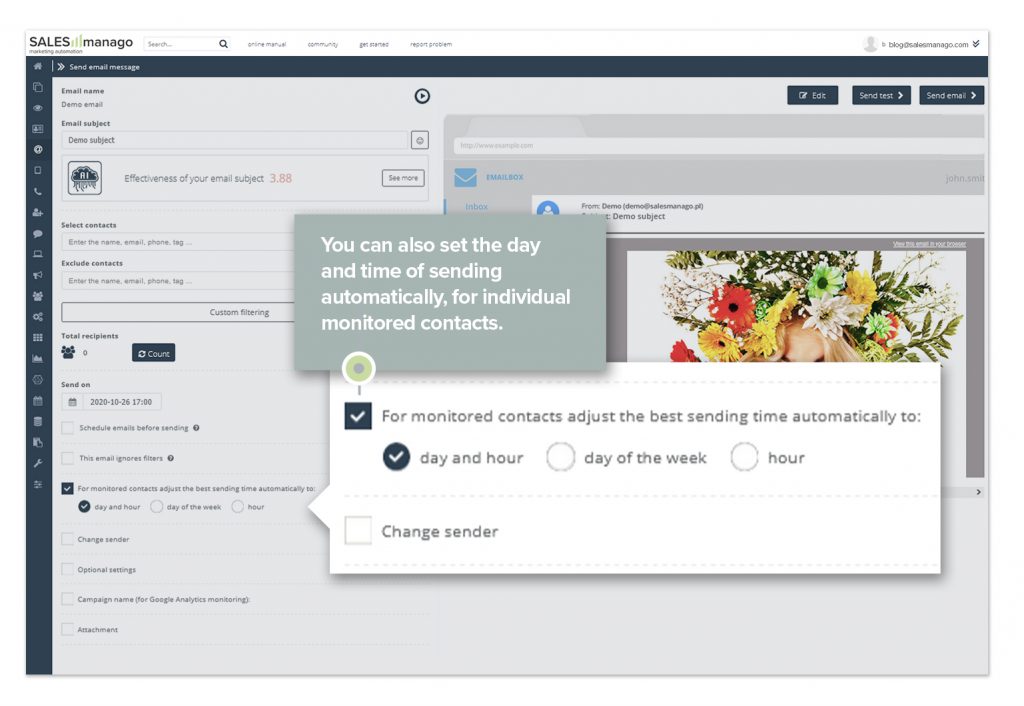 Choose the right audience for your message
Thanks to segmentation, which is basically narrowing down the group of contacts you want to reach out to with a specific message, you can make sure your emails will get better results, as segmented mailing campaigns note almost 15% higher OR than the non-segmented ones.
There are two roads you can take when it comes to using segmentation for targeting your campaigns, one a bit more advanced than the other. The first option is to define the target group on the campaigns' sending screen.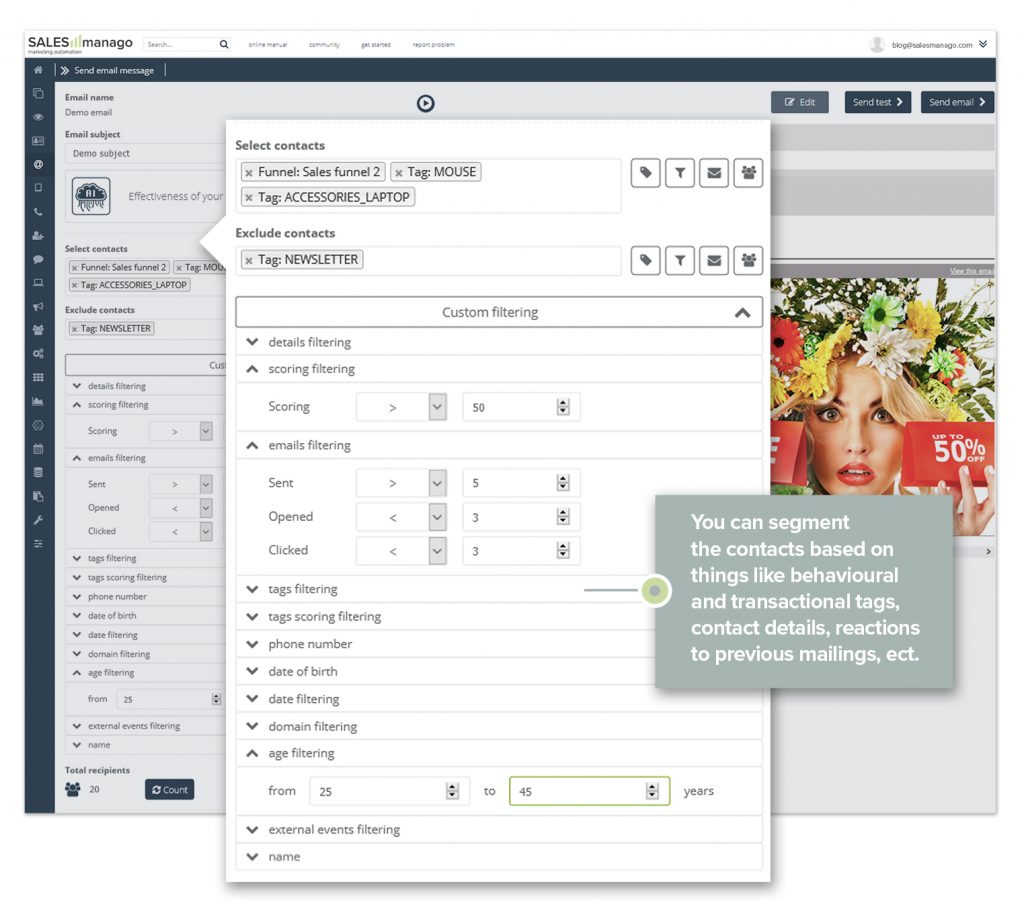 You can define here the recipients based on, for example, behavioral and transactional tags, contact details (e.g. age), scoring, AI predictions, RFM segments, or reaction to mailings previously sent to the contact. It makes your group of recipients more specific, you can include, or exclude contacts who fit or don't fit your given marketing campaign and the offer you want to send, target with more chances for success. You can find more information here >>
This approach requires the preparation of different email creations and targeting each of them to the different groups of customer segments. You can have for example 2 different creations, separately for men and women, and pick the right group just before you send the right campaign variant.
Another option to utilize segmentation in personalizing your emails is using our Email Designer, in which you can create one email message with different variants displayed to different customers, thanks to the Conditional Content feature. It allows you to use advanced content targeting, by using special widgets in the email template, in which you can choose different content variants and define to whom (what segments) each of them should be displayed. With this approach, you can create a single email campaign and it still will be automatically personalized.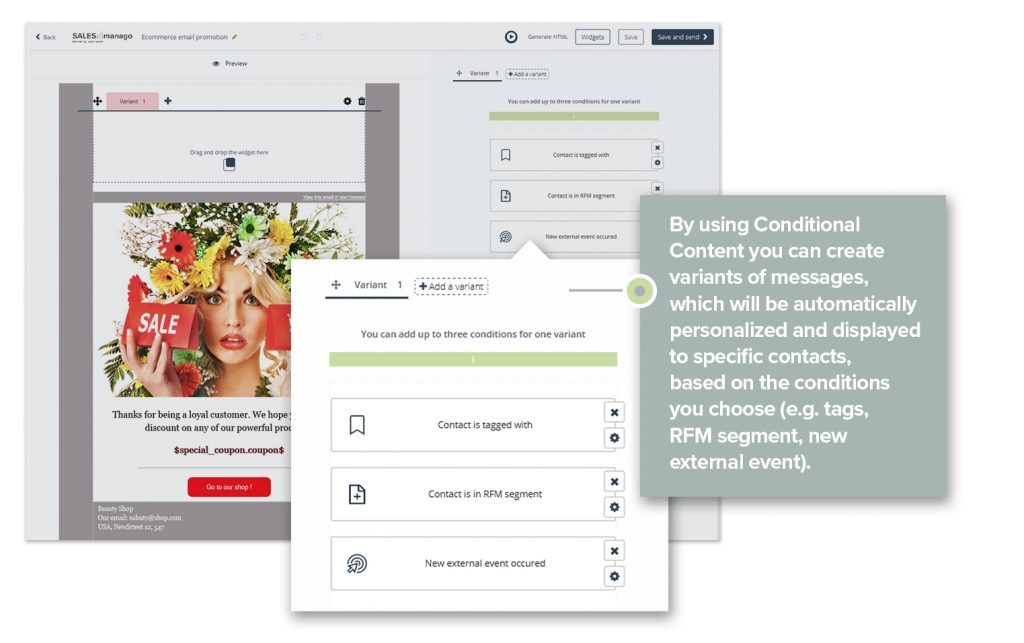 Personalize the content of your emails
82% of marketers reported OR increase while sending personalised emails, and the brands that personalise their content note 27% higher CTOR. You can use contact details to write your emails' accordingly to a specific customer. Thanks to uploading individual data from the contact card to the email, the message can be customized to the information and details that you choose. You can use the data from the contact card and additional details, where you can find information like name, surname, name of the company, address, city, discount for a product/service, ID of the customer, and more.
While writing your email, you can insert a placeholder into which the data from a specific contact's card will be put into, for example, contact's name in the header, if the placeholder is $name.p1$ (eg. "$name.p1$!" will appear as "John!" in John's email, but "Gabriela!" in the message sent to Gabriela).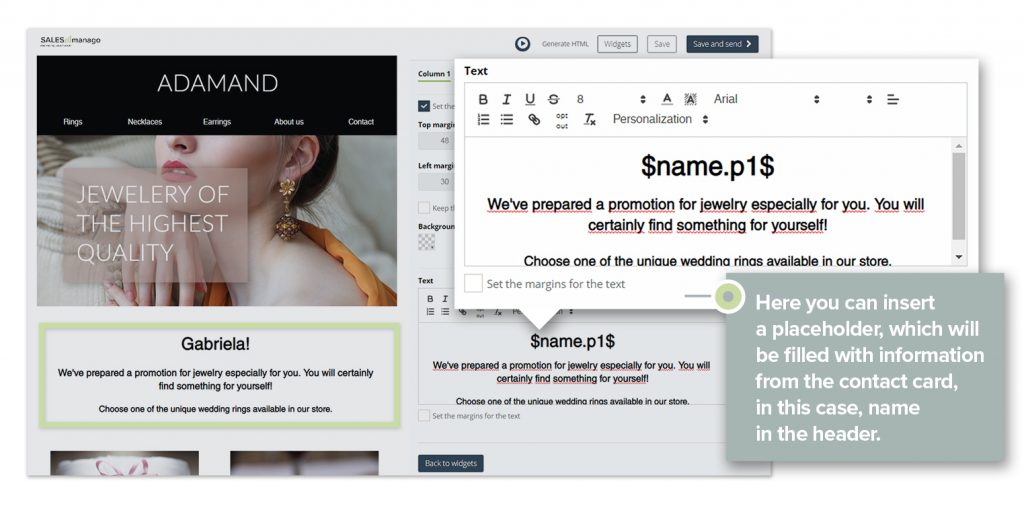 If you don't have all the data about a specific contact in your database, for example you're missing the name, this spot will be filled with alternative text, like "Hi there!" . There are many ways of personalizing messages using placeholders, like Conditional constructions and advanced Personalization options. You can find more information here >>
If you want to step up your game even more, Dynamic Content, which gives the possibility of the highest personalization level, is the answer. Messages created with the Dynamic Emails Wizard, can be customized and personalized by adjusting product recommendations to a specific customer's preferences. Thanks to their 1-to-1 offer tailoring, they generate even 500% higher conversion rates than bulk messages with static offers.
That means, you can send a message with the product frame, presenting to the customer something that they have already viewed and shown interest in. If they viewed a blue rug, you can send a Dynamic Email, with its content being that same blue rug's recommendation. You can find more information here >>