SALESmanago, one of the leading European Marketing Automation players, generated a revenue of $4,2 mln, which constitutes 200% growth over 2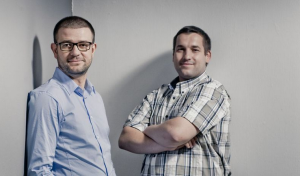 014 results and a net profit of $0,6 mln. SALESmanago, based out of Poland, is currently used by over 5000 companies in 40 countries.

Founded in 2011, today SALESmanago employs over 130 people in 10 countries, and its solutions are offered by over 500 reselling partners all over the world. Plan for 2016 is revenue of $7,5 mln and strengthening a leadership position among marketing automation players for eCommerce and B2C companies.
SALESmanago provides a complete set of marketing tools including website visitors identification and tracking, along with automation and personalization in real time in all marketing and sales channels. In 2015, as one of the first global vendors SALESmanago launched a solution for Mobile Marketing Automation, APPmanago, fully integrated with traditional automation tools.
– It was an excellent year for us and a year of significant challenges connected with scaling such dynamically growing business. We have a team of great people who drive the company, and we are all excited about the possibility of developing a very competitive product. Our aim remains still the same: becoming the leader of Marketing Automation market in Europe. The plan for 2016 is growth to around $7,5 million and creating a whole bunch of new exciting features for marketers in B2C segment – says Greg Blazewicz, SALESmanago Marketing Automation CEO & Founder.
In 2015, SALESmanago opened new offices and subsidiaries in New York, Bangalore, and London. US tech portal Venturebeat classified SALESmanago as a leader in Marketing Automation for B2C companies in SMB segment.
A brief summary of key business parameters connected with SALESmanago business in 2015
Out of 5000 customers using SALESmanago, 83% are Online Stores and B2C companies.
200 million – number of contacts managed by SALESmanago customers who receive personalized 1-to-1 marketing content and offers.
In 2015, automation processes run by SALESmanago supported 17 million purchases of total value of $1 billion.
Revenue shares generated from outside of domestic market almost 40%.
Only in December 2015, new MRR generated by the sales teams amounted to $50 000
A set of new, high end and very competitive features in SALESmanago including: SALESmanago Copernicus – Machine Learning & AI with recommendation and next best offers engine, Mobile Marketing Automation, Advanced Dynamic Website content with A/B/X testing and a full range of marketing automation processes wizards.