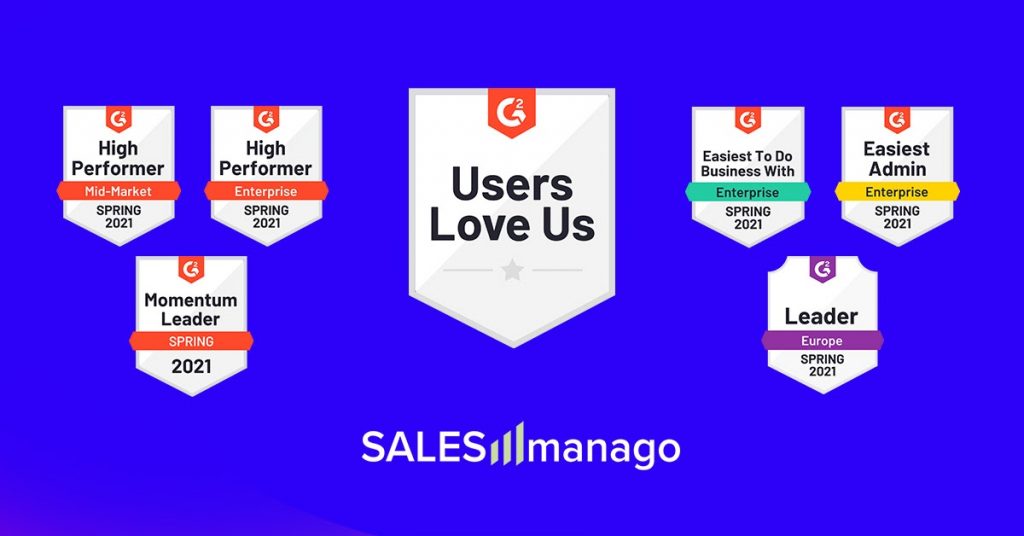 "Marketing is really just about sharing your passion." — Michael Hyatt
At SALESmanago, we strive to inspire our passion in both our customers and employees, and we're clearly doing it the right way!
And so, we are thrilled to announce that G2 (a leading business review platform for comparing business software) yet again confirmed in their report that users love us! We were ranked as High Performer in the Enterprise, Mid and Small-size segment in the Marketing Automation and also got a special appraisal for Easiest Admin, and Easiest to do business with. Although, the most important one is the badge "Users Love Us" 
This award validates all our efforts to become better and better for our customers. From this place we would like to thank all our users, both small and big, for your trust, understanding and above all support. It is only thanks to you that we are able to be so successful, and believe us – we enjoy your satisfaction like nothing else. 
Great results in the G2 ranking confirm that SALESmanago is a comprehensive platform that is always in high demand, introducing more and more new features and innovations so that our customers can enjoy the full potential of our platform, taking their business to the highest possible level with our help. 
Thank you again for your trust, we promise to maintain our services at the same high level for all the years to come!
marketing automation marketing automation