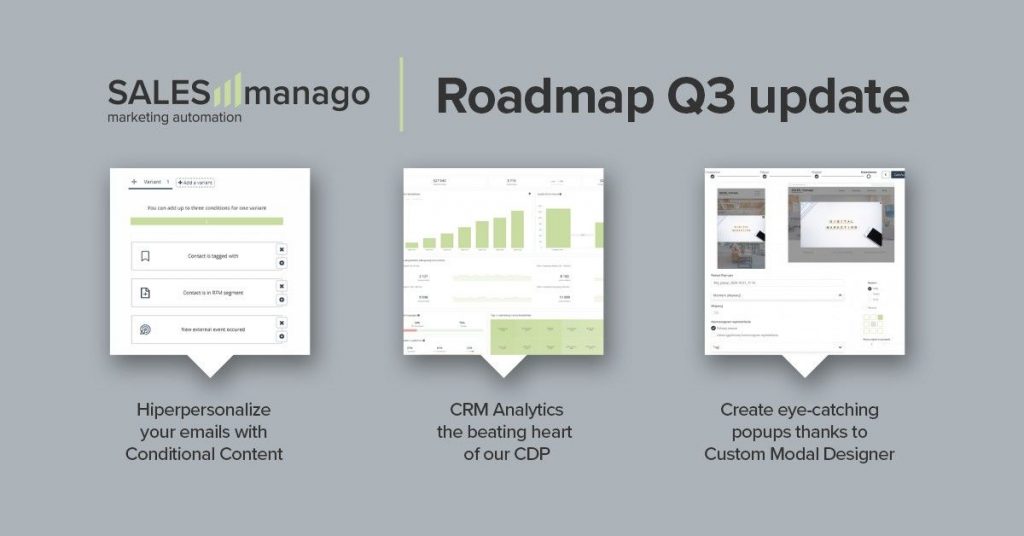 With the Conditional Content functionality, you'll be able to set different offer variants to be displayed for different groups of recipients in the same email campaign, and with the new popup creator, you'll be able to easily and quickly create custom messages displayed to the visitors of your webpage. Find out about all the new features we've implemented in the 3rd quarter of 2020.
The 3rd quarter of this year can be safely called a resounding success – once again we're providing our clients with a series of useful improvements and new tools in the SALESmanago platform, the majority of which was created as a direct result of answering to our clients' feedback.
Conditional Content – personalize the selected widgets and whole sections of the email message, depending on the specified contacts' segments or individual customer's data.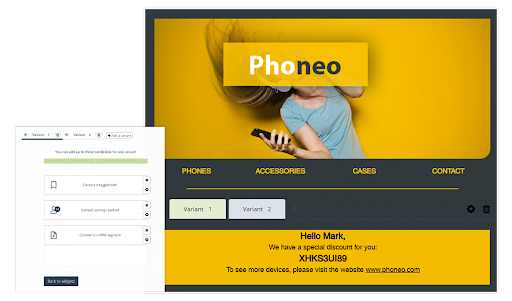 The ever-growing number of our clients is an amazing font of inspiration for the development of our product. In this quarter, we realized one of the ideas consistently reappearing in the propositions from our Customer Advisory Board – conditional content in emails – thanks to which a highly advanced form of personalization has become a child's play.
Conditional Content allows for customizing specific parts of the offer and the entire message body, so as to match the interests of specific groups of recipients of a single email message. You'll be able to save on time by creating and sending a single message with multiple variants instead of a series of templates.
Easily create eye-catching popups, present your customers with dedicated offers, and encourage anonymous users to leave their personal data with the Custom Modal Designer.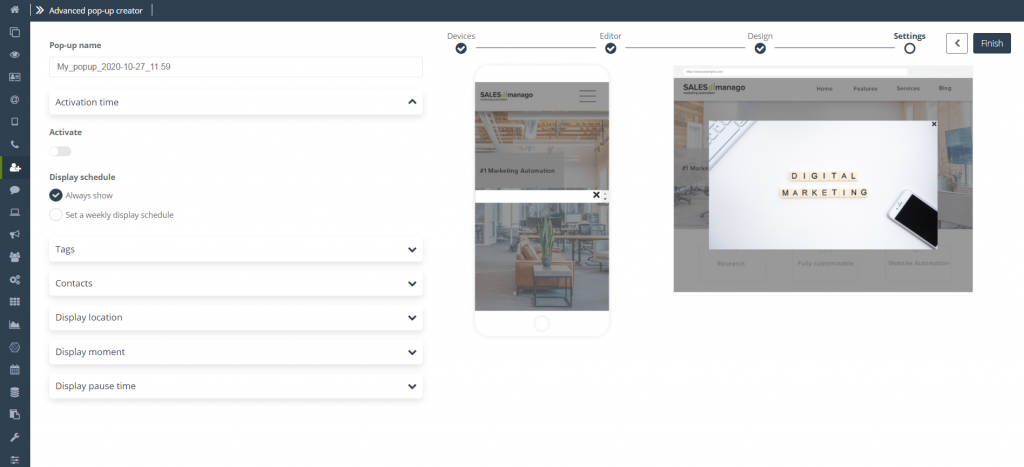 We also introduced a new, advanced popup creator to the SALESmanago system. It allows the users of our system to set up visually complex creations, which will perfectly match the layout of the webpage and the type of device (desktop or mobile) on which the popup will be displayed.
With the Custom Modal Designer, you'll be able to encourage your customers to leave their personal data or present them with tailored offers with striking popups that you can create without knowing how to code in HTML.

New dashboard and CRM analytics – more data pertaining to eCommerce sales.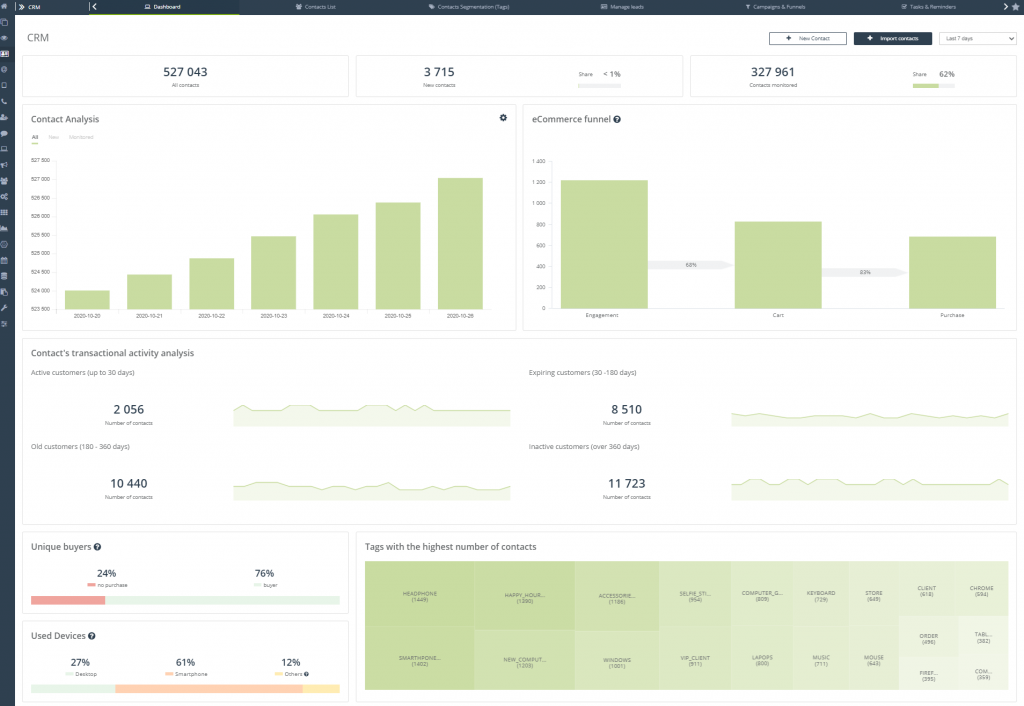 Concurrently, we also keep developing our analytics – the new, modernized CRM analytics dashboard, which went through extensive, grounds-up changes, and was expanded with new, useful information about your contacts' base.
We've added the eCommerce Funnel to the well-known statistical data – it shows the engagement of the customers and the relationship between engagement and the number of created carts and transactions.
We've added an entirely new section, showing the analytics of the contacts' transactional activity over time and the total number of contacts buying products in the database.
Speed-up the implementation of new processes for many markets and brands thanks to the possibility of sharing resources between different SALESmanago accounts.
If you use multiple SALESmanago accounts to manage your marketing for different brands or on different markets, you can now easily copy existing email templates and automation processes from your main account to other ones, making it easier and faster to implement them in your entire business. This option is available for Enterprises that use our Private Cloud version of SALESmanago.
A new way to add contacts to the mailing right before it's sending.
Finally, we end on an improvement to the system's functionality – although seemingly small, it opens up a lot of new possibilities. The users of our system can now select an option that will allow them to select recipients of the email just before its sending – which means that mailings planned ahead in time can now also include contacts who met the criteria to be the target of the campaign even after it was already scheduled.