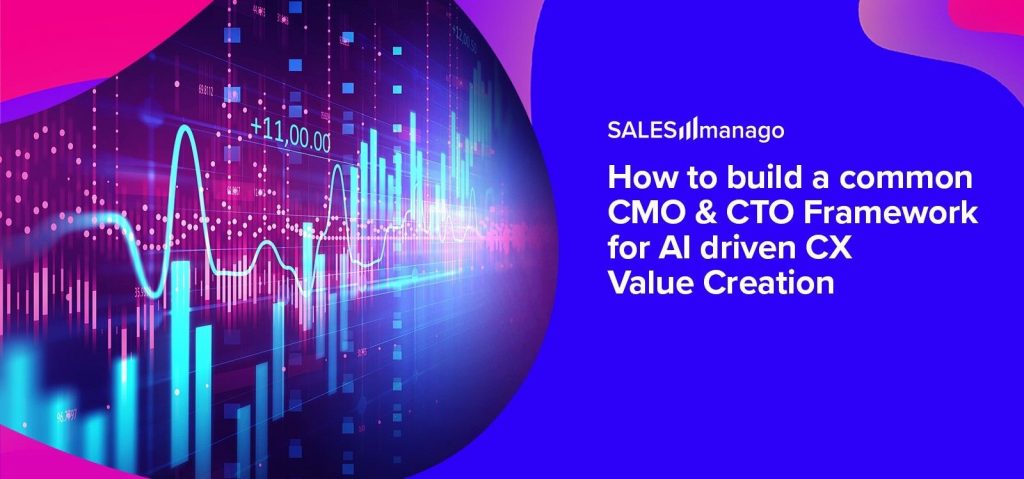 With the development of eCommerce, proliferation of marketing channels and vanishing customer loyalty to Brands, modern CMO gets under enormous pressure to take proper care of Customer Experience. But if taking care of the Brand image requires some marketing budget and proper cooperation with media houses and agencies, then a proper approach to Customer Experience requires switching CMO attention to create a proper relationship with its colleague from the same company – a CTO. Why? They have access to customer data.
The roles of CTO and CMO have changed significantly in the recent years. It is required that every modern CMO not only oversees marketing initiatives, but also understands how marketing can be driven by data, analytics and modern machine learning algorithms. On the other hand CTO is no longer only a strictly technical role present in IT companies. Any company which is willing to survive in the modern world becomes an IT company now, an IT company which requires a CTO – CTO who not just understands technology, but understands how this technology can support business objectives.
What is the reason behind these changes and how needs of both of them can be fulfilled by new technologies?

$ 3 trillion in potential value creation from Customer Experience
According to recent study by McKinsey & Company there is a huge potential upside in value creation by means of personalising user experience with brands and businesses. Total of estimated uplift is between $1.7 trillion to $3 trillion – where the highest value can be created in retail ($800 million), insurance ($600 million), travel ($450 million) and banking ($500 million).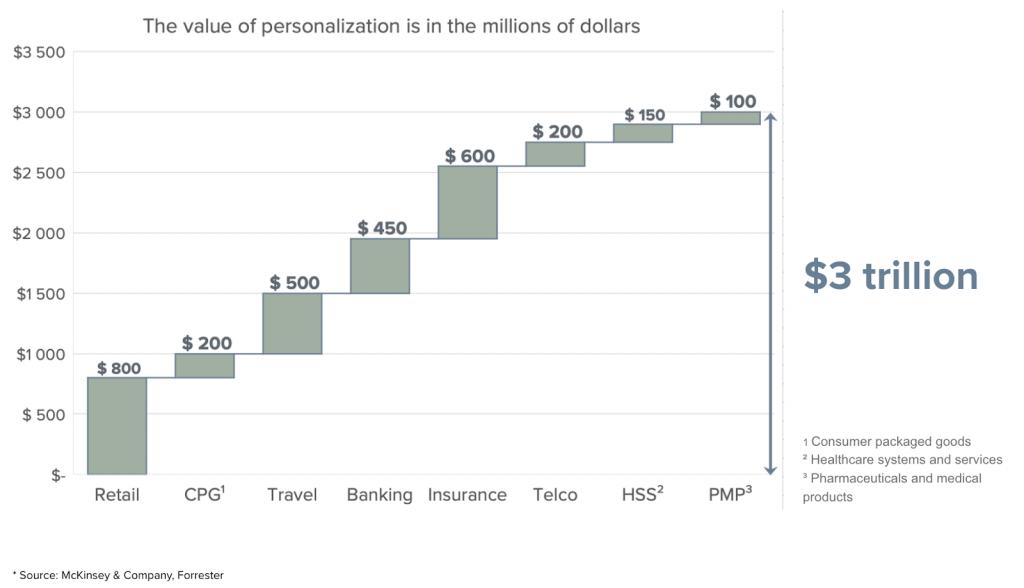 This potential added value can be created by fully understanding and using entire potential which personalization at scale has. Reaching for this award requires modern marketing to create best in class experience for customers across all communication channels and devices, along the entire customer journey.
In order to take part in the race and win your share of the cake it is crucial to implement and integrate the right technologies, work with right and rich data and use modern personalization techniques supported by AI & machine learning.
Technology stack supporting CX Value creation
McKinsey points out four main parts of the technology stack required to succeed in personalisation: Data, Decisioning, Design and Distribution (Execution).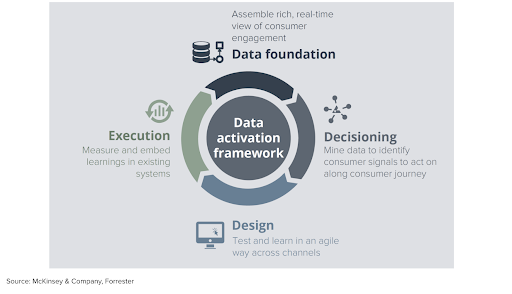 The key issue coming out of this graph is the necessity of having all of these really well integrated. And if want to have all this really well integrated there are two options:
a perfect relationship between a CMO and CTO with perfectly working together teams behind them
or
a ready made platform which will make all of this work without too much hassle which is somehow CTO & CMO cooperation ready
Creating CMO & CTO cooperation readiness
Data required for best in class personalization is often hidden, trapped. This data needs to be enabled on one common platform, which is easy to integrate with multiple different data sources. This is the responsibility of the CTO to ensure this data is discovered and made available to a platform on which CMO can create unique marketing processes based on this data, use modern AI solutions and use them in communication with a customer on all possible channels.
Very common problem is when a company uses multiple single solutions for communication with its audience – this causes that decisioning logic resides in individual, channel-based, black-box systems. CTO's and CMO's responsibility is to unify this logic and use an integrated decisioning engine that uses machine learning and AI models to take individualised and personalised marketing activities across all channels with consistent communication with a customer.
With a proper platform marketer can encode knowledge into processes, leverage instinct with AI and properly segment customers. That type of platform can integrate channels, enable data across those to coordinate communications and react to customer needs.
Another problem to solve is that these days marketers are overwhelmed by the amount of content and the speed of change required by personalization. Platform of choice for CTO & CMO should enable content automation, mixing of small modules with CDP data and use them seamlessly in omnichannel communication.

The common goal of CTO & CMO is to integrate all channels, enable data across those to coordinate communications and react to customer needs. That approach is a pillar of value creation with Customer Experience.

Low technology burden as basis for effective CMO & CTO cooperation
As we stated in one of the first paragraphs, the modern CTO must understand how technology can support business objectives and the ultimate goal of business is to bring revenue, on other hand he is aware how expensive integrations and data science are, where human cost is the highest factor. CMO is under pressure of delivering results with modern solutions. But obviously these strategic objectives would be not possible to realize if both CMO and CTO would be engaged in too simple things, that we are actually taking on us.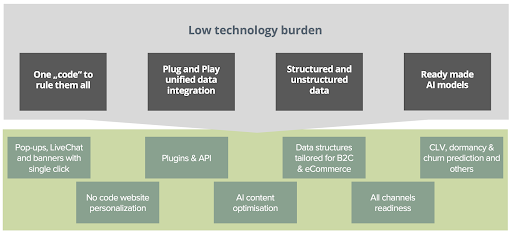 We have created a platform with minimal hassle for the CTO, where all website monitoring and personalisation requires just one code and this code needs to be added only once. Data integration can be done via P&P or simple API. AI models are immediately available to use without any additional configuration.
That is why we can offer our customers unattainable on the market 2 month onboarding time. This is perfectly aligned with our Proof of Concept which is the primary way our customers start the journey with SALESmanago. First month is about integration, second about the execution of marketing campaigns and processes which aim at addressing some specified business KPIs.
And at the end of the day, thanks to our approach CMOs and CTOs at our customers companies simply have a very limited number of quarrels and disputes.