SALESmanago Marketing Automation commissions are on average 50% compared to average 20% on programs from other marketing automation providers, which means that you do not need to upsell your marketing services to make decent money. With SALESmanago you may scale your business the same way as if you were software company.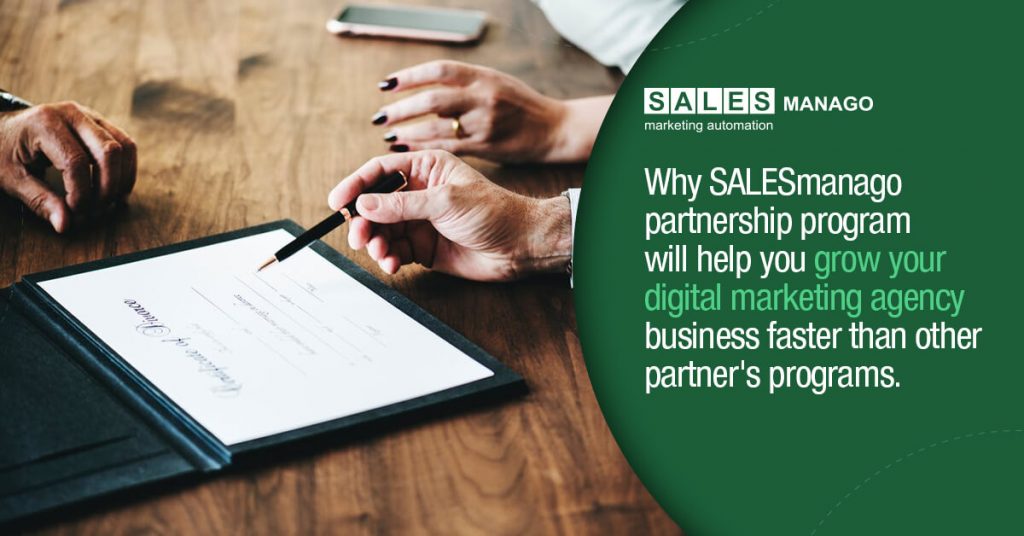 We know the pains of digital marketing agencies
We know all the pains of being digital marketing services company: very high customer expectations, high churn and regular problems with customers paying their invoices. How we know that? Because we started as a marketing services company, and then managed to switch to being purely marketing automation software company.
We already have great examples how it works
Let's have a look at Emred, our best partner from Spain, that started with us 3 years ago as a typical marketing agency offering website development, social media campaigns, AdWords campaigns and so on. In less than 3 years they grew from a no-name company to a 3 million Euro per year business working for the largest Spanish companies. During this time Emred increased employment from 5 people to over 20 people fully devoted to reselling SALESmanago Marketing Automation software.
How you can scale with SALESmanago? What the real numbers are
The average MRR per SALESmanago customer is 500 Euro. The average lifetime is 40 months. That simple maths leads us to Customer Lifetime Value of 20 k Euro. If we take the average 50% commission, that means that each customer will mean for you 10 k Euro. How to achieve that? Well, it's simple. On average each salesperson at SALESmanago is signing 3 deals per month. If you take the average of net salary of 1500 Euro (for a young ambitious graduate in Spain, Italy or Germany) – such salesperson should cover their cost in 2-3 months. If you look at the total CLV that really makes sense. It's a no brainer unless you will be capable of employing one full time salesperson to sell SALESmanago software.
If not, well, some of our resellers capitalize on the great business relationships they have. Some actually sign much bigger than average deals. Some not just resell software but add costly consulting services to grow their businesses even faster.
We are creating the market. Be creative instead of being aggressive
So far, only 2% of B2C and e-commerce companies' websites in Europe have deployed marketing automation solutions. But the growing hype on marketing personalization leads research agencies to estimate the global marketing automation market value at 5,5 bln USD in 2019.
When we talk with US venture capital companies, they usually ask: "Who you are replacing", the answer is always the same: "We are not replacing anybody, we are always first". This is the real sexy thing about marketing automation market. We are creating the market rather than competing with any other company. That's providing real fun when making business.
Join the leader. Become the leader
We started in 2012 as a totally no-name company with 5 people onboard. Today we have 200 people working for our customers and partners and over 10 000 customers in 40 countries. Our resellers network amounts to over 1000 digital agencies all over the world. 20% of them are Diamond and Premium partners and those companies are part of our success of being the Financial Times fastest growing European marketing automation company and #26 fastest growing tech company in Europe.
We hope your company to join our family. Learn more about our Partnership Program at
https://www.salesmanago.com/info/partners.htm