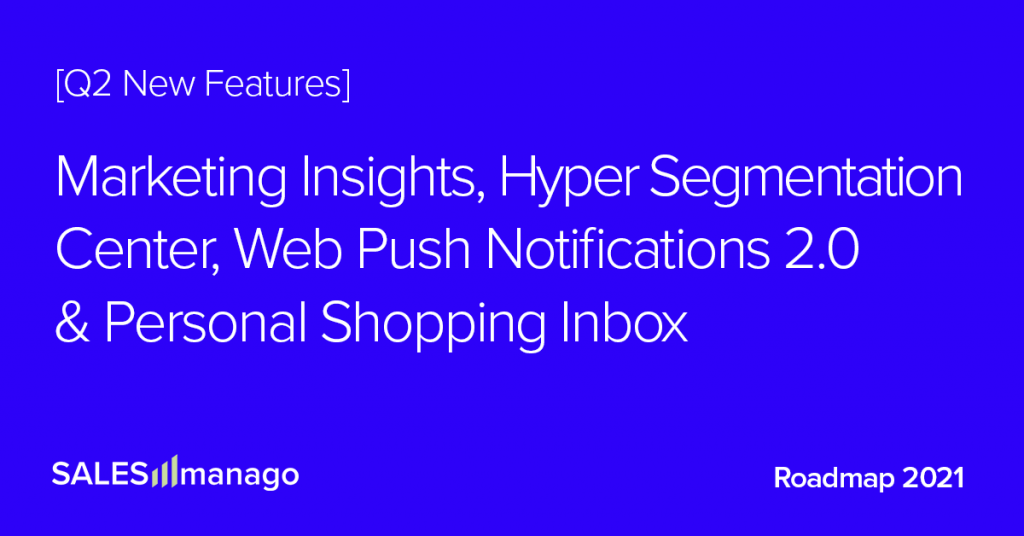 Our product strategy remains to deliver best-in-class solutions for online stores. But what our customers love is not only the current great state of the platform but more importantly they buy the future of our platform's growth. We love being on the martech market because it constantly opens new opportunities for marketers. With our world class IT and product teams we boast the fastest time to market which over the years helped to build significant advantages and USPs.
We believe that our end to end strategy of building a Customer Data Platform with perfectly integrated and natively built features has considerable advantages over the strategy of buying separate best in class products and integrating them. Our customers enjoy the immediate possibility of using AI, customer data and personalization to power all execution channels and also the fact we are constantly adding new stuff that helps them build momentum of marketing and commerce innovation.
Let's have a brief tour around the latest features we have introduced in Q2.
Marketing Insights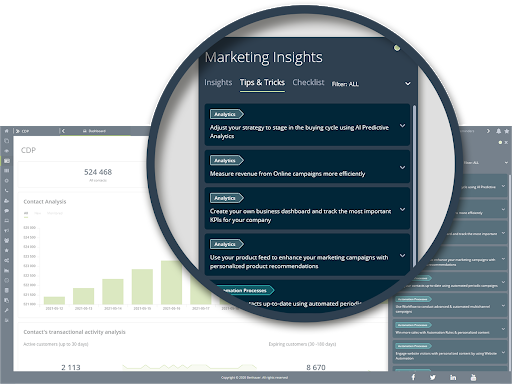 Marketing Insights is an AI-powered solution that analyzes SALESmanago customer data, transactions, and behaviors within the context of platform usage. Marketing Insights automatically generates tips and insights for direct actions to be taken by marketing teams. Marketing Insights includes the following:

Actionable eCommerce Insights translate real-time data into ready-made business solutions. They offer a helping hand in different areas, such as automation processes, email marketing, and lead generation.
Tips & Tricks give you access to the know-how of top marketing automation specialists. Tips will guide you step-by-step through new solutions.
Checklists enable you to deploy the full potential of the platform and its feature richness for the best marketing result.
Hyper Segmentation Center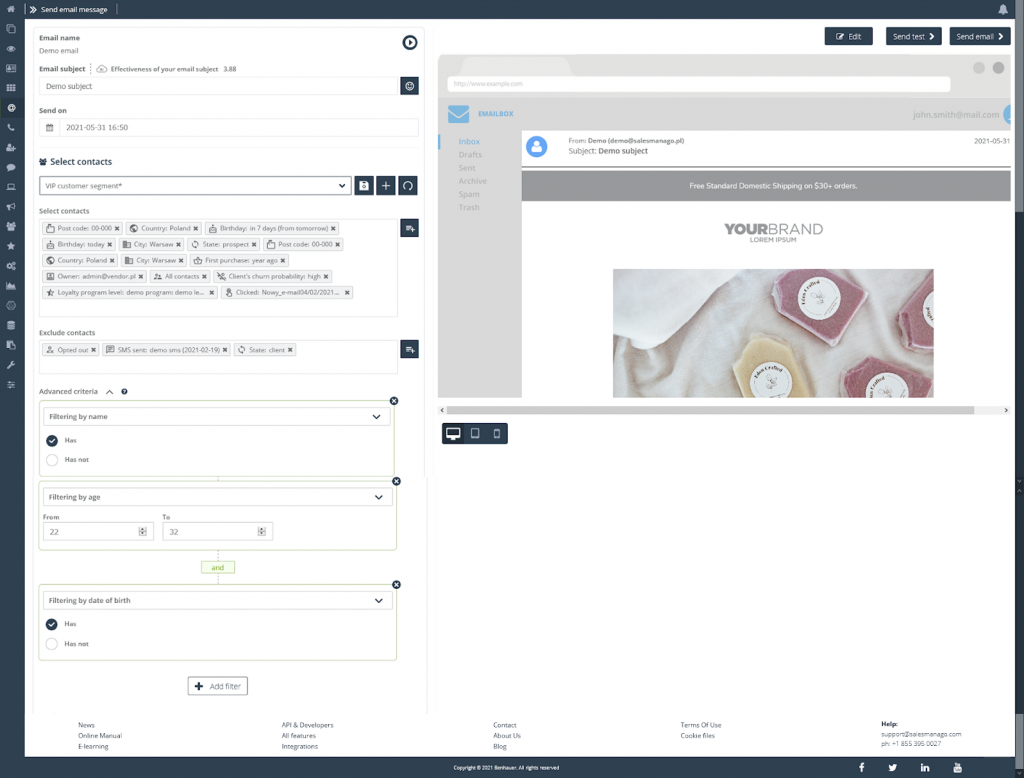 The Hyper Segmentation Center is a cutting-edge solution that allows easy, one-click creation of the most advanced segments that combine all data collected in CDP, such as behavior, transactions, and customer characteristics. It is a single place where customer data can be managed, with extensive filters and advanced criteria to specify recipients according to the context. It is a simply unbeatable feature, affording unlimited segmentation possibilities, and it will become the best such module on the market.
Go beyond basic demographics with hyper segmentation that considers the interests and behaviors of consumers.
Identify segments and accounts with a high purchase probability to target and deliver the right messages and offers at the right time.
Create, edit, manage, and analyze all segments from one unified, user-friendly center—and from all areas of the system where contact selection occurs.
Use a unified interface that allows instant, no-code data processing and leverage accessible and editable segmentation creators that save time while enabling precise targeting.
Web Push Notifications 2.0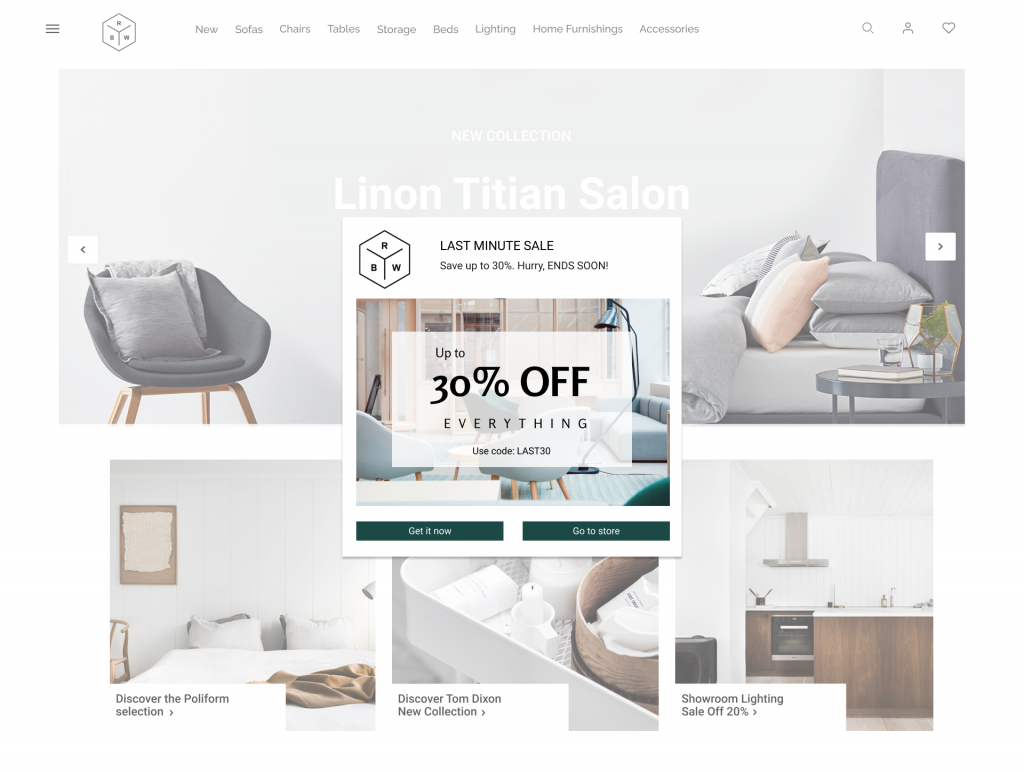 Web push notifications remain one of the most popular communication channels. One of the hottest marketing trends involves messaging customers in their language. Such personalized communication fosters a top-notch customer experience from the very first step of the customer-brand relationship. CSA Research found that 65% of consumers prefer content in their language, even if the content is of low quality. Moreover, 40% will not buy from websites in other languages (Shopify).

Web Push Notifications 2.0 outperform traditional web push notifications in many ways—from codeless implementation and multilingualism to dynamic content and advanced segmentation of addresses.
Reach and engage both anonymous and identified customers by offering them bespoke content—including multilingual versions of notifications and consent forms—in one of the best consent-based communication channels, through personalized web push notifications.
Use multifaceted CDP data to hyper-target your campaigns and enrich your omnichannel strategy. Choose whether you prefer communicating with consumers using a desktop computer, mobile device, or both.
Stay in touch with the users that are interested in your offer but are not yet ready to provide their contact data.
Personal Shopping Inbox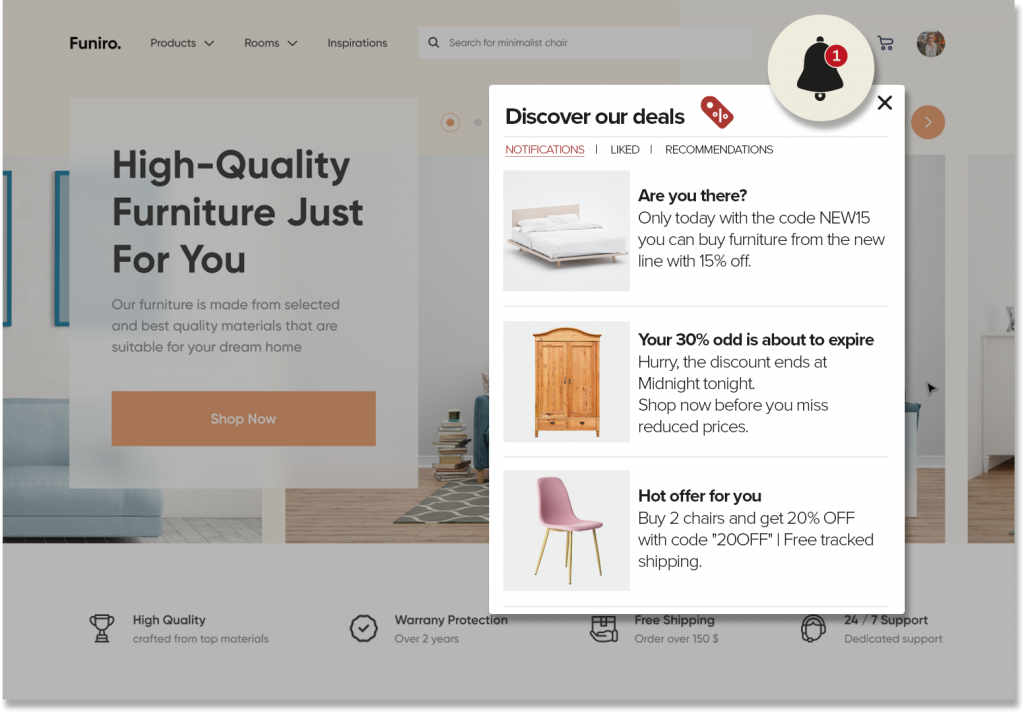 We aim to be MarTech trailblazers, so we prefer to move towards innovation instead of reproducing schemes. To this end, we created this amazing new feature – the Personal Shopping Inbox!
The Personal Shopping Inbox enables you to enhance your visitor's customer experience with a fully customizable, easy-to-use, three-in-one communication channel that combines an eCommerce wish list, recommendation engine, and notification center.
Boost "customer stickiness." Encourage customers to create wish lists and save their dream products for later. Also, enable them to quickly view products they are interested in through a "like a product" mechanism.
Increase your sales by recommending recently seen products to your customers.
Leave personalized offers for customers and anonymous visitors in their multilingual notification inbox, and ensure they can access those offers even after they leave and return to a website.
Enhance user engagement through loyalty programs by increasing the accessibility of their status information.
Display the information directly in the eCommerce inbox. Recommend to customers the products they are dreaming of, and use wish lists as data sources for the recommendation engine.
During the first half of this year, we focused on developing solutions aimed at improving customer satisfaction. We also successfully addressed the decreasing importance of third-party cookies to enable our customers to maintain their marketing campaigns without delays. The features we introduced during H1 2021 touched on website personalization, marketing communication channels, and advanced management of CDP data.
Now we have another six exciting months ahead of us. We will spend this time working on the next surprising features. Our ambition is to assist you not only to achieve new business benchmarks but also to enhance the customer experience for you and your customers.
I like to be in touch with our clients and people who love technology. Please do not hesitate to contact me: katarzyna.rejdych@salesmanago.com