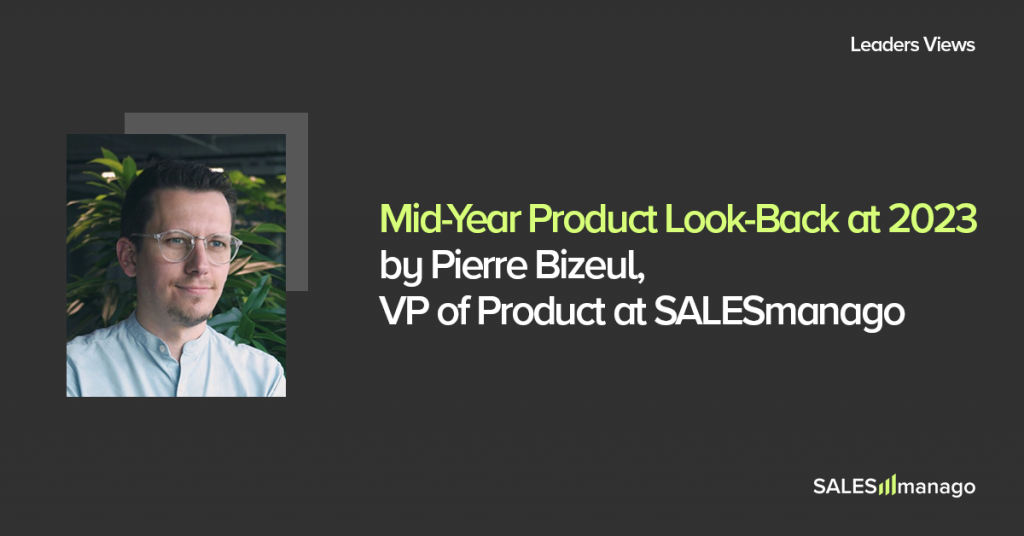 By Pierre Bizeul, VP of Product at SALESmanago
As summer is coming to an end, it is an opportune moment to reflect on what we have achieved so far this year. Undoubtedly, 2023 has brought forth its fair share of challenges across the e-Commerce industry. As a strategic partner in our customers' success, SALESmanago is even more dedicated to supporting their pursuit of fostering valuable relationships with shoppers in the most efficient way.
In order to support our customers better than any other engagement platform, we are strengthening our key product pillars across Execution Channels, Automation, and Segmentation.

Email Design Studio: The industry's most powerful and versatile email designer
Back in February, we released a brand new email creator: the new Email Design Studio. On top of providing an excellent user experience and great flexibility in conveying your brand's essence, it helps you ensure that your emails look great across all inboxes and devices.
A testament to its effectiveness, customers using the new Email Design Studio have seen an impressive 2.3% surge in their open rates compared to our previous email designer.
Not stopping there, we keep investing in this channel to continuously provide you with the best features and capabilities of the industry. Recently, we enriched the Email Design Studio with a Template Library and a number of other new features and enhancements. Putting Customer Intimacy at the center of everything we do, we have made it extremely easy to tailor emails featuring individualized recommendations based on First- and Zero-Party Data.
AI Studio: The first integration of OpenAI into an Engagement Platform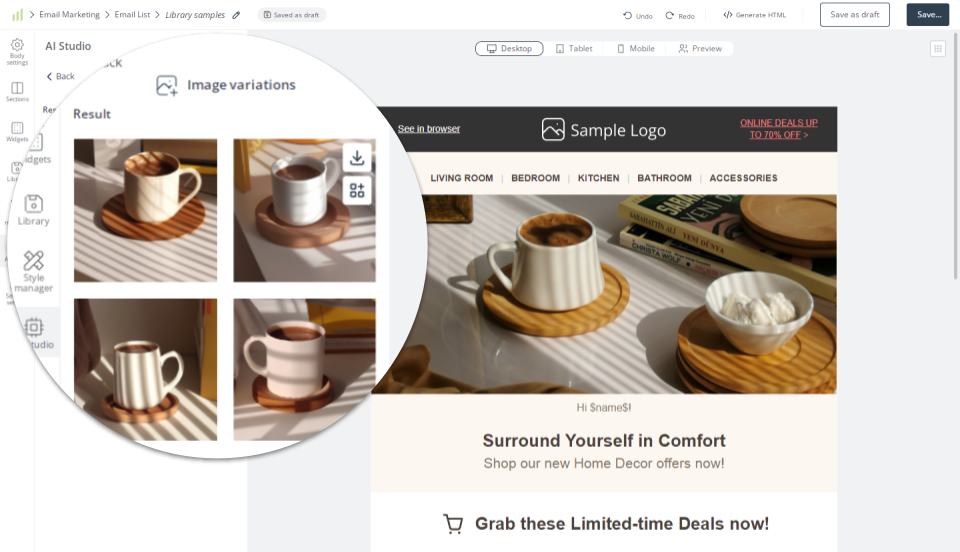 Always focused on contributing to our customers' efficiency, we launched the AI Studio, fueled by OpenAI's generative artificial intelligence models and integrated into the new Email Design Studio. The AI Studio allows you to generate, rewrite, summarize, or evaluate content and thus elevate the quality of your emails with just a few clicks. The feature is designed to yield the best possible results with minimum input on your part, so you can use reliable, well-tested formulas instead of experimenting with ChatGPT.
Not stopping with written copy, we added similar generative capabilities for visuals a few weeks later, enabling the creation and modification of images (including icons, photos, and banners), and even the generation of color palettes.

Unified Workflow Console: Build true omnichannel engagement journeys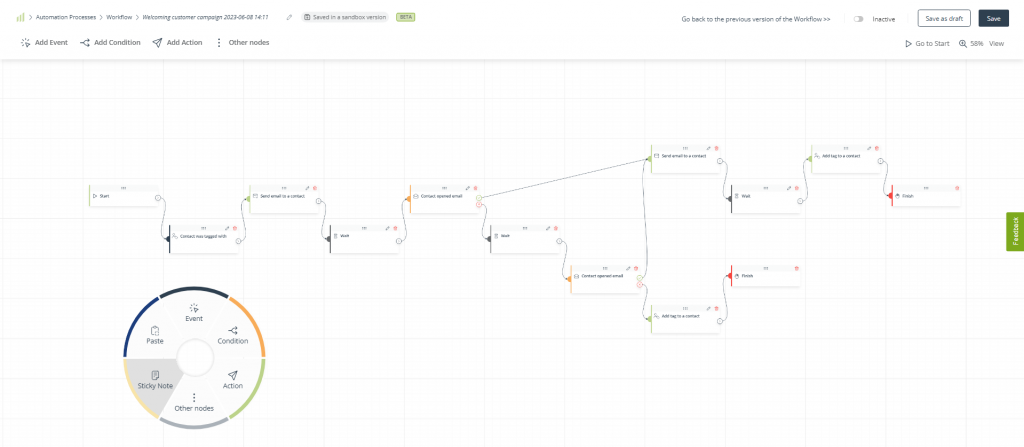 SALESmanago has been recognized worldwide for its powerful automation designed for omnichannel execution. We have built on this strong technical foundation to equip marketers with even more powerful automation capabilities that actively put the customer journey at the center of their engagement strategy.
Fueled by Zero-Party Data, the Unified Workflow Console allows you to intuitively design customer journeys aligned with your different tactics across various channels, employing the data you dynamically gather from shoppers in real time, as well as previously shared information (demographics, favorite brands, channel preferences, purchase history, etc.). In this way, we truly empower marketers to go beyond single-channel campaigns and build comprehensive shopping journeys that are dynamically and automatically tailored to drive shoppers to perform the intended action, such as making a purchase. The Unified Workflow Console is a true Command Center for your personalization strategy across all channels.
Customer Data Platform: Facilitating the import and management of Contact data while developing and enhancing Segmentation capabilities
Enhanced Contact import
Deliverability is highly dependent on the quality of your customer data. Bearing this in mind, we released a brand new Contact import wizard. The user-friendly interface makes it easy to build a reliable foundation for all data-based actions in SALESmanago.
In line with our no-code approach, you can easily import an entire Contact database with all relevant details and then take advantage of the new, intuitive mapping process that features an error prevention mechanism and thus sets the basic standards for your Contact database hygiene.
Improved Contact selectors and Segmentation performance
Within the domain of Segmentation, we aim to provide marketers with unparalleled flexibility in crafting customer segments and targeting the right audiences in omnichannel campaigns. This commitment drove the recent introduction of new conditions and exclusions, enabling our customers to further refine their segments. Consider the extended capabilities for filtering Contacts by External Events, which grant you the ability to create precisely defined segments based on transactional data.
Additionally, as part of our recent release, we made our Contact counting 10 times faster compared to the previous mechanism.

Our commitment to performance: Increased loading speed
It is common knowledge that there is a strong correlation between your website's loading times and your conversion rates and sales revenues. As SALESmanago offers website enhancements such as Recommendation Frames, Live Chat, Lead Generation widgets, and the Social Proof Widget, accelerating the component loading process on our customers' websites has been one of our optimization priorities.
Recently, we enhanced our website automation technology to provide faster data access and processing. While our initial target was to accelerate component loading by 50%, the results achieved with the new Web Element Display Engine surpassed our expectations: the average display time for a number of large website components, for approximately 500 to 5,000 Contacts, was reduced by 4 to 8 times.
This is a huge win for us and our customers. The upgraded mechanism greatly streamlines the Product Discovery journey on our customers' websites, delivering the best possible user experience.
SALESmanago Free Plan: Our commitment to empowering impact-hungry marketers
While our teams are fully committed to the success of our customers, given today's tumultuous economic landscape, we felt that it was important for us as a company to give back to the industry and support marketers seeking to expand their reach. We believe that marketers trying to kick off their business need more than a basic, simplistic solution, and so we are proud to have opened some of our powerful capabilities to all marketers. Since July, we have made it possible for anyone to sign up for free and gain access to the Email Design Studio and the AI Studio, complemented by a Contact database, segmentation capabilities, and email analytics. Totally free of charge for up to 10,000 Contacts and 10,000 emails per month!
What's on the horizon for the rest of 2023 and beyond into 2024?
On a personal note, I take immense pride in the strides we have already taken this year in supporting our customers and the industry at large. However, the year is far from over! Anticipate a lot of exciting and valuable new features heading your way.
Product Collections: Power individualized recommendations with Zero- and First-Party Data to showcase the right product to the right customer at the right time
SALESmanago empowers marketers to harness their knowledge of shoppers to provide personalized recommendations grounded in Zero- and First-Party Data. Soon, we will take our capabilities to the next level with Product Collections—a game-changer that will allow you to associate specific products with individual Contact Cards. Remember online stores recommending a product you already bought? Those days are behind us. Prepare for hyper-personalized recommendations at an individual customer level. This is what we call true Customer Intimacy!
ChatGPT-Powered Live Chat: Employ AI to support your Live Chat agents
Empower your Live Chat consultants to swiftly respond to queries with just a click, providing a more satisfying and engaging user experience. Thanks to the Generative AI engine behind ChatGPT, your customers will receive intelligent, personalized responses, while your agents concentrate on addressing more intricate inquiries. This is going to be a win-win situation for shoppers and support agents alike.

Upgraded Segmentation Center
We continuously work to provide increased flexibility and streamlined performance across the SALESmanago platform. Our team is currently crafting an upgraded Segmentation Center that will open new doors for our customers to create and calibrate Contact segments. Be prepared to strike the perfect chord between your audience and your messages.
Engage anonymous users and convert them into customers
To drive the engagement of all users across our customers' shopping estates, we are working on providing capabilities to profile anonymous users and include them in on-site campaigns, with the goal to convert them into identified Contacts and lead them to purchase.
Follow our brand new Product Hub on SALESmanago.com for more exciting news!