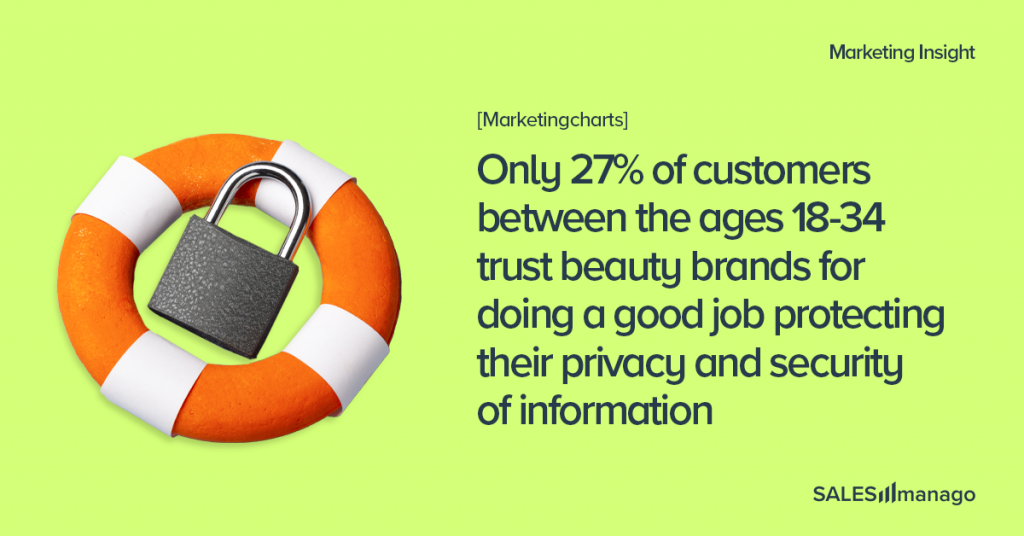 In today's digital age, beauty eCommerce has witnessed remarkable growth. However, with this success comes a growing concern among customers about the security of their personal data. In order to foster trust and confidence between beauty brands and their customers, leveraging zero-party data has emerged as a key strategy. This article explores the concept of zero-party data and its role in enhancing trust.
We will also discuss how implementation of a Customer Data Platform (CDP) and creating a comprehensive 360-degree customer profile can help gain customers' trust, by providing both better understanding of customer's needs and robust data security mechanisms.
Additionally, we will discuss how a Marketing Automation module can streamline the activation of this customer profile, ultimately ensuring a secure and personalized shopping experience.
Understanding Zero-Party Data
Zero-party data is a type of customer information that is willingly and proactively shared by individuals with brands. It includes data such as preferences, interests, and purchase intentions. Unlike first-party data, which is collected through customer interactions with the brand, or third-party data acquired from external sources, zero-party data is explicitly provided by customers themselves. This data is invaluable for beauty eCommerce brands as it offers genuine insights into customer preferences and helps build a stronger understanding of their needs.
Understand why Zero-Party Data change eCommerce landscape. Get free ebook
The Role of Zero-Party Data in Building Trust
One of the major challenges in the eCommerce industry is gaining the trust of customers who may be hesitant to share their personal information online. By leveraging zero-party data, beauty brands can create a reciprocal relationship with their customers, empowering them to share their preferences in exchange for personalized experiences. When customers feel that their data is respected and used to enhance their shopping journey, it establishes a sense of trust and confidence in the brand.
Customer Preference Center enables the customers to govern their data, and decide what the brand can know about them. Such an honest and straightforward approach elicites trust and mutual respect.
Zero-party data allows beauty eCommerce companies to create tailored experiences, such as personalized product recommendations and exclusive promotions. By using this data responsibly, brands can deliver relevant content that resonates with the individual customer, strengthening their bond and encouraging repeat purchases.
Leveraging a Customer Data Platform (CDP)
A Customer Data Platform serves as the central hub for collecting, organizing, and unifying customer data from various touchpoints. It integrates data from multiple sources, including zero-party data, first-party data, and other behavioral data. This unified approach creates a comprehensive 360-degree customer profile that provides a holistic view of each customer's preferences, behaviors, and interactions with the brand.
See how to make the best use of Customer Data Platform! Get free ebook.
A CDP enhances the customer experience by enabling beauty eCommerce brands to understand the customer journey across different channels. It allows marketers to deliver consistent and cohesive experiences across various touchpoints, ensuring that customers receive relevant content and offers based on their preferences, irrespective of the channel they engage with.
Enhancing the Customer Experience
The personalized experience is a crucial aspect of building trust in beauty eCommerce. Zero-party data enables beauty brands to take personalization to the next level. By understanding customer preferences and interests, brands can curate product recommendations that align with individual tastes, improving the overall shopping experience.
Moreover, zero-party data can assist in tailoring marketing campaigns to specific customer segments. By understanding what customers are willing to share, beauty eCommerce brands can create targeted promotions that resonate with their interests. This relevancy and personal touch significantly impact customer satisfaction and loyalty.
Overcoming Security Concerns
One of the primary reasons customers hesitate to share personal information is the concern for data security and privacy. Beauty eCommerce brands must prioritize data protection and transparency to build trust with their audience.
Implementing a Customer Data Platform plays a pivotal role in addressing these security concerns. CDPs offer robust security features that safeguard customer data, ensuring compliance with privacy regulations and industry standards. Brands can reassure their customers that their data is handled responsibly, ultimately fostering a sense of security and confidence in the brand.
Marketing Automation for Streamlining Activation
A CDP's 360-degree customer profile is a treasure trove of insights, but its real value is realized when the data is activated effectively. Marketing Automation modules integrated with the CDP enable beauty eCommerce brands to streamline their marketing efforts and make the most of the customer profile.
Automated campaigns based on customer actions and preferences ensure timely and relevant interactions. For instance, a customer who expresses interest in a particular skincare product through zero-party data can receive personalized emails or social media promotions related to that product. This level of personalization creates a seamless and engaging customer journey, further strengthening the relationship between brand and customer.
Conclusion
In the ever-evolving world of beauty eCommerce, trust and confidence are vital for success. Leveraging zero-party data, along with a Customer Data Platform and Marketing Automation module, empowers brands to overcome security concerns and create highly personalized experiences. By prioritizing data security, transparency, and personalization, beauty eCommerce companies can build a loyal customer base and drive growth in an increasingly competitive landscape. Embracing these strategies paves the way for a secure and fulfilling shopping experience, benefitting both customers and beauty brands alike.