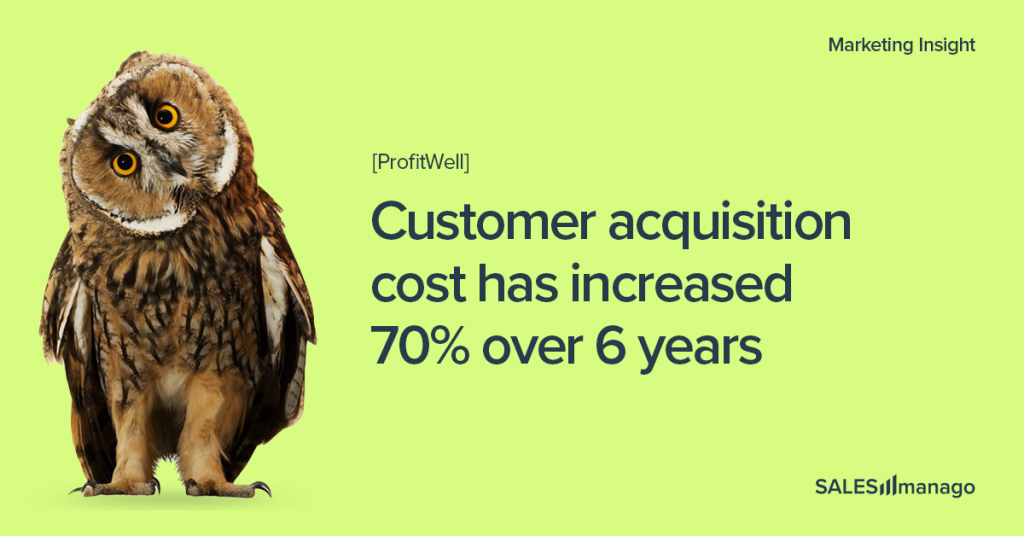 As in the Chinese proverb, we live in interesting times that challenge us to transgress our limitations and act more effectively—to put it simply, the lean way. In this article, we outline the most urgent challenges in today's eCommerce Marketing and provide clues on how to brace for the change that is already here.
Interesting times
First, the COVID-19 pandemic has heavily changed the dynamics of growth in e-commerce. With the pandemic slowly fading, people had started to see the future in brighter colors, and everything was slowly getting back to normal. Yet reality proved to be different.
Inflation more than doubled between March 2021 and March 2022. On the 24th of February 2022, Russia invaded Ukraine. These disruptions are having a crippling effect on all stages of the eCommerce business process (i.e., from sourcing to delivery and even consumption patterns and mindset).
Globally, eCommerce revenues have dropped by 3% in Q1 2022 and by 13% in Europe. At the same time, the world is going through an unstoppable process of digitalization, which requires further adaptation from eCommerce businesses.
An urgent need for a new approach to eCommerce marketing
This all made marketing in eCommerce one of the most exciting areas of today's business world—but at the same time, one of the most demanding. One could argue that all these global factors simply sped up the changes that were inevitable anyway. The fact remains that the new reality forced extra effort on eCommerce companies to deal with it. This resulted in new hyperaggressive competition strategies. In such a highly competitive environment, steadily growing customer acquisition costs suddenly skyrocketed.
On the other hand, growing customer demand for individualized relationships and superior relevance has resulted in the increasing complexity of the omnichannel experience. eCommerce marketers are also confronted by significant fragmentation and the increasing costs of marketing technology solutions—which, of course, mean reliance on IT and other difficult-to-find kinds of expertise.
All these challenges make it harder than ever to achieve acceptable conversion rates and returns on marketing investment. Marketers in eCommerce are supposed to act cost-effectively and deliver results faster in the context of increasingly complex marketing communication, the fragmentation of their toolset, and growing dependency on precious experts. These requirements seem to conflict with each other.
In reality, the implementation of strategies slowed, the impact lessened, and meeting revenue expectations became an ever-greater challenge. In their quest for growth, marketing teams are facing:
The never-ending demand for more resources while needing to be lean and differentiated;
Shortsighted "spray and pray" tactics instead of a long-term vision focused on building value;
The constant search for the ideal Martech stack setup and new tools instead of focusing on customers.
This creates a gap between eCommerce abilities and needs that must be addressed immediately.
State of eCommerce today: Pain points
To identify the major pain points of eCommerce marketing today, we simply ask our customers about them. The most prevalent answers we got were:
The inability to grow customer lifetime value;
Competing with the best customer experience;
The need to increase customer engagement as they are online;
The inability to build loyalty with customers;
The inability to bring customers back to your website and generate reorders;
Problems with keeping customers' interest high across their buyer journey;
The inability to lower customer churn;
The inability to increase order frequency;
Problems with increasing the average order value;
Problems with increasing the average order size.
How to become lean while increasing effectiveness: Three core principles
These are all very serious problems. Analyzing our customers' answers, we turned to the lean marketing concept, which was developed to address the seemingly contradictory needs of marketing teams: to act lean and cost-effective, yet deliver the best results and meet the revenue expectations of the CEOs. To learn more about lean marketing, read our previous Insight.
From the standpoint of a martech company, we can only say, go this way. There are platforms specialized in managing lean marketing processes that utilize Kanban and other useful tools.
However, we also formulated 3 core principles that define what to seek in a customer engagement platform and how to use it in lean marketing processes. These rules both set out the path for us in the software development process and guide our customers in its effective utilization—the lean way.
Customer intimacy: We implement self-learning solutions that leverage zero- and first-party data. Sticking to this principle enables the marketing team to know their customers better than their best friends. This results in increased loyalty and authentic customer relationships.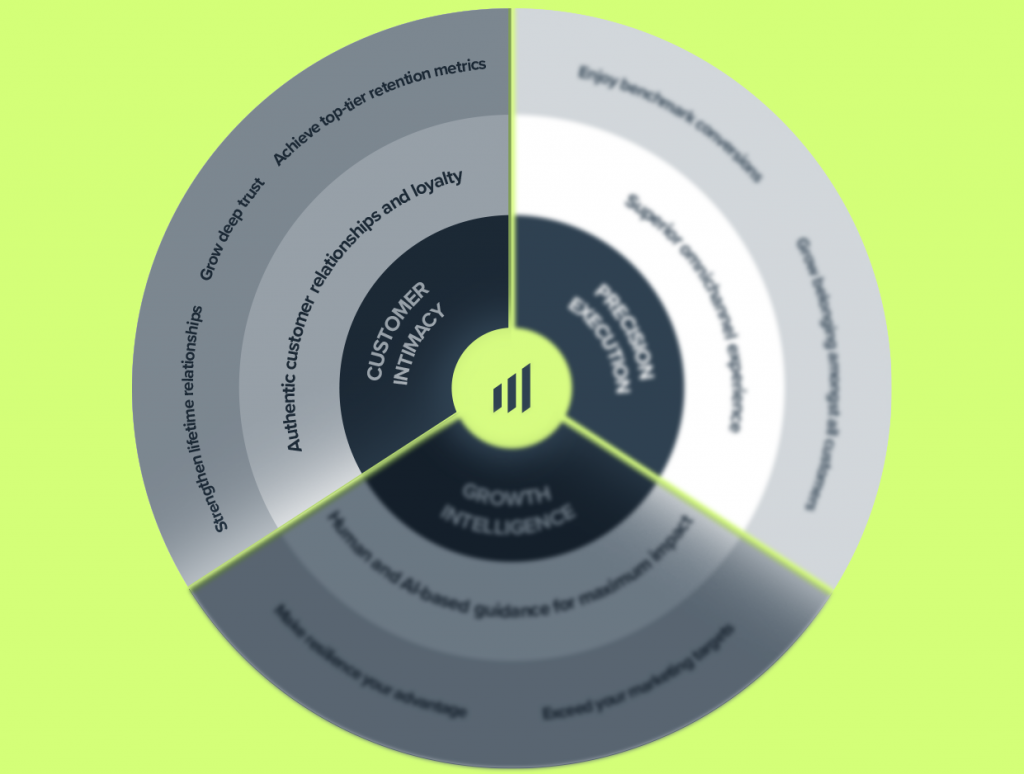 How do you benefit?
A self-sustainable ecosystem that gathers manages, and uses zero- and first-party data (single profile; no-code approach);
Capture all customer data automatically across all relevant sources;
Data enrichment (#1 on G2Crowd) that is dynamically updated with visitor identification and behavior and data tracking (24/7);
The customer is 100% in control of the gathered data.
Precision Execution: We combine the hyper-personalization of the omnichannel experience with clearly predefined processes. The effects are very straightforward: higher CR, AOV, and CLV and lower customer churn.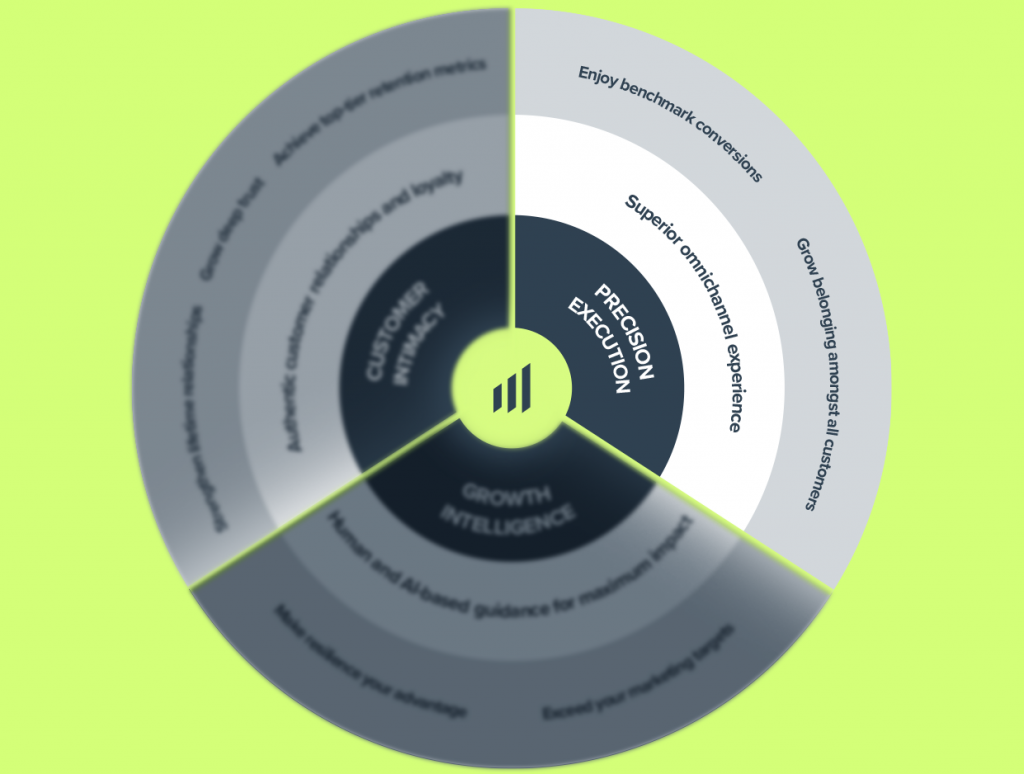 How do you benefit?
Predictive Modeling (#1 on G2Crowd) using Copernicus Algorithm drives CLV, churn, and Dormancy predictions;
Dynamic hyper-segmentation;
Recommendation Engine (#1 on G2Crowd);
Campaigns executed with 1–1 precision across all relevant channels;
Transparent multisource revenue attribution trail.
Growth Intelligence: Merging human and AI-based guidance to maximize the impact of your time, eCommerce budget, and strategy without dependency on IT. This enables your company to stay in full control of revenue outcomes.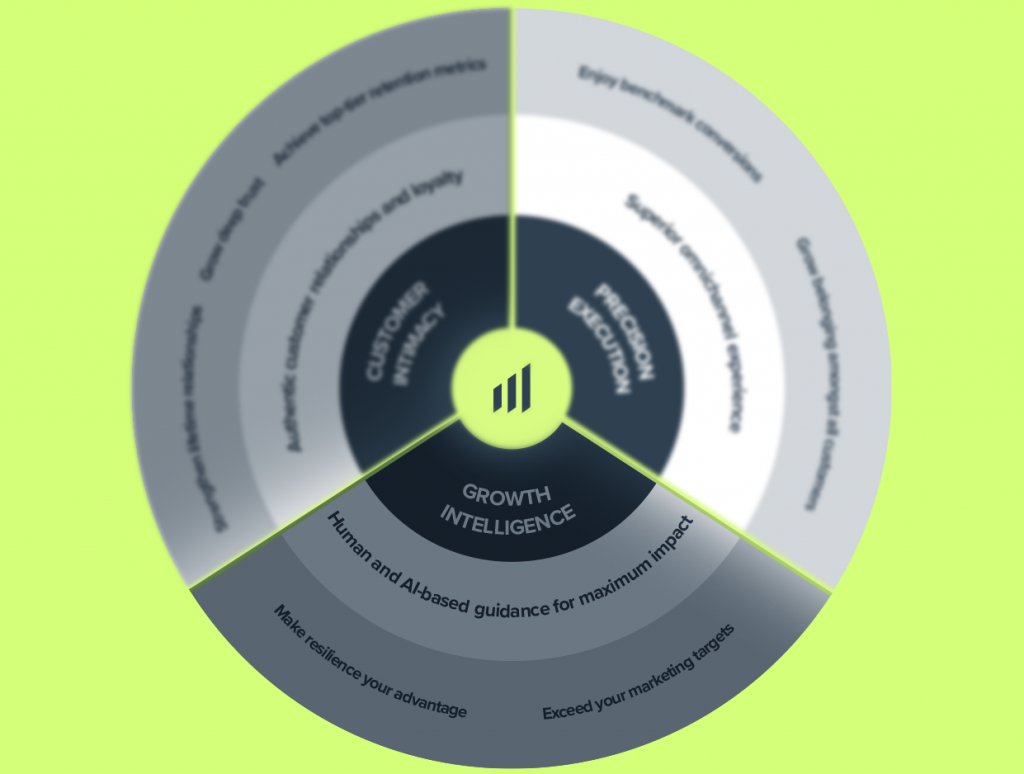 How do you benefit?
Marketing intelligence informing what works and what doesn't;
Step-by-step guidance from the system and from SALESmanago's personal support for the next best actions toward marketing excellence;
A no-code design to help non-tech-savvy marketers execute fast and drive business change without relying on IT
Adapt. Overcome.
"Before we founded SALESmanago in 2012, I had been a marketer for over 10 years. The idea was very simple: let's empower marketing teams and make them serious and trusted partners to their CEOs. Following that concept and thanks to the very hard and intelligent work of brilliant people, we have reached the stage of being one of the most recognized and fastest-growing providers of martech companies. I am absolutely excited to be a part of this excellent team supported by fantastic investors and partners and to benefit from this once-in-a-lifetime opportunity of being on a journey to build the next unicorn and a global leader of technology solutions for eCommerce."
Grzegorz Blazewicz, Founder and CEO