Statistically, my dog and I have 3 legs each. When it comes to details, statistics might not be the most accurate method of predicting an outcome. Yet, when it comes to overall trends and complex strategies, statistics are a must.
We're making big steps towards the end of the H1 of 2017. Let's see what to focus on while preparing the strategic plan for H2 and deciding where to apply marketing automation. Shall we?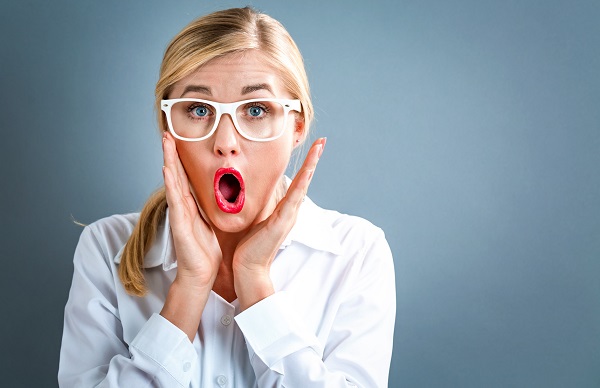 Add-to-basket rates grew by 3,75% in Q4 2016(UK) and 44% website visits come from smartphones (global). (
source
)
Rings a bell? If you haven't optimized your website for mobile yet, nor included mobile in your global strategy, please wait no more! The best time to have done it, was approximately five years ago.
On the other hand, the same report says that both global and UK conversion rates were lower in 2016 than in the year before. In Q4 2016, they saw their first increase since Q4 2015. This is another signal for you to pay close attention to both mobile optimization of the checkout procedure and behavior analytics. If it's "just" the checkout – simply upgrade the whole procedure by reducing the number of steps and making a (mobile and desktop) user-friendly design. And, of course, test it constantly to find a right balance. But what if the cart is just a shopping list, and your online store just met the ROPO effect*? If I were you, I'd want to know about that! But how? – You ask. The answer is: omnichannel interactions combined with buyer personas. First, embrace the fact that your clients switch between channels, and will do it whether you like it or not. There's not much you can do about it. So if you can't beat them – join them. It's as easy as it gets. As soon as you agree, you can start gathering behavioral data from various channels and use it to build buyer personas. Read more about them on the blog, or just download this free ebook to learn why, and how to build a buyer persona for your ecommerce. But wait, there's more. Once you have personas (usually you'd make more than one) you can prepare hyper-efficient automation processes for likely behavior scenarios. I highly recommend using the Workflow drag & drop wizard (see the instruction "for dummies") that is, a perfect tool for building complex and multi-level, multi-channel automated campaigns.
* If you don't know what ROPO means, read more here, or download this handy Digital Marketer's Dictionary – it lists more than 90 useful definitions, buzzwords included!
Consumers prefer traditional advertising to digital (Kantar Media)
You don't say, Sherlock? Research by Kantar Media has shown that UK consumers feel significantly more positive about advertising on traditional platforms, such as TV and magazines, than they do about online formats. And if you think about it, it becomes pretty obvious why they would made such a statement. We, human beings are a stubborn lot, and we hate being persuaded. So if we had to indicate the favorite type of advertisement it would be:
less annoying than others,
easy to ignore,
not like an ad in form.
It doesn't surprise anyone that respondents prefer traditional media ads over interactive, digital ones. A printed ad doesn't cover the text, and when you see TV commercials, you can just switch the channel. There's one more factor making them preferable for the audience – people got used to them over the years.
However, there's a huge "but…" in the whole situation. The biggest draw of all kinds of polls is the fact that interviewees share opinions that often have nothing to do with facts. So even if people claim to not like digital ads, it doesn't mean those ads don't work.
On the contrary – pop-ups work, sidebars work, email marketing is fine, and push notifications perform beyond expectations. So where's the catch?
Internet users armed with smartphones and wearables are spoiled rotten. That's right – if something, anything, delays the gratification, such as another level level in a browser game, YouTube video or access to an article, they feel heartbroken and start whining (I should know – I'm one of them).
Should online entrepreneurs give up on ads though? Given that online ads are predicted to account for more than half of all advertising expenses in the next few years, the answer should be: heck no! But how to appeal to an army of grown-up, tech-savvy emotional 5-year-olds? Here's where a marketing automation platform comes in!
First, take all means necessary to make your ads relevant. Even a 5 y.o. understands, that some things must be done, because it's good for them. But in order to get their permission, one must spend some time and explain it using logic and maybe some positive reinforcement. Apply the same approach to your audience. Get to know your 5 y.o. – prepare a behavioral profile for each of your visitors. Learn what they browse, what they add to cart, what they read about. Then try to get their contact details*: use forms, dynamic content, and test everything repeatedly. See which personalized banner converts best, and which landing page CTA button you should give up on. Then, there are RTB ad networks. The abbreviation stands for real-time bidding, and that's the simplest explanation on how they work. Automated systems bid on ad space according to individual viewer's profile to show them personalized (more or less) content. By combining Google DoubleClick with a marketing automation platform, you switch from an ad to The Ad – you reach visitors long after they leave your store, and show them the stuff they browsed and maybe something special to gain their attention. Incredible, isn't it? Read more here.
* Download the full Lead Generation Guide for Ecommerce, for free.
And finally – personalize your communication, for Pete's sake! It's about time to do so. Email marketing also counts as promotional content. The bad kind even has its own name: SPAM. There are dozens of variables that can be used to personalize emails, including behavioral, transactional and demographic data. Send people emails that mean something – use dynamic recommendations and mix recommendation scenarios. Wouldn't it be fun to send someone an offer containing shirts they browsed for, along with matching ties, and perhaps some time-limited offer for an expensive suit? Same applies to push and web pushes notifications, and texts. Research shows that people don't mind receiving a reasonable amount of notifications if they find them useful and relevant. Bear that in mind while preparing the next dispatch. And please – don't fixate on sales. Include some fun and informative content in your communication – build relations and work on customer lifetime value. It always pays off!
By 2019, 80% of world's internet traffic will be video. In the US, video will account for 85% of the total. (Source:
Cisco
)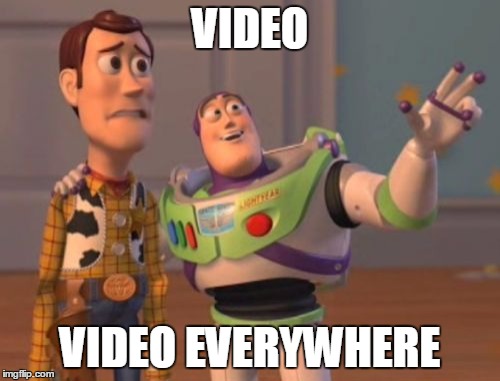 Videos kill static ads. The internet is all about easily digestible content. Take a look at a typical Facebook newsfeed. Scroll… Funny dog picture. Scroll… Anne's holiday pics (maybe I'll like them because I'm seeing her next week). Scroll… Oh, look! The video on how they make a Mentos & Cola rocket (I've just spend an entire minute watching this quasi-science funny video – magic). Scroll…
In the world of shortening attention span, content that can engage users for more than 8 seconds is worth real money.
Neil Patel, the content marketing guru, says: "People love to see videos. They're entertaining, easily digestible and can significantly improve your conversions. Content marketing is not always text in the digital marketing world."
Videos can be used outside Facebook too. There are website videos, email videos, Twitter videos, YouTube channels, and much more. Also, the content can be very different – from how-to's to software tutorials and webinar recordings, to backstage company insights.
Neil Patel also mentions that as per Treepodia, product videos can improve your conversions in any niche. For instance – in the gifts market, they increase conversions by 113%.

What's more, video consumption has seen a tremendous rise in the mobile channel (844% growth since 2012) – there's a good reason smartphones have those huge screens, right? Always plan a few steps ahead and include new channels in your strategy (again – omnichannel, fool!). Think of what you can share via video. For example, we have this simple, yet meaningful demo video.
Once it was ready, we shared it on various platforms, re-used, recycled and included it in many education cycles we run for our platform. So as you see, it's an investment that pays off. We even figured out how to use embedded videos to profile visitors. Here you can find the step-by-step tutorial. Feel free to use it!
And these were the three most important stats published in the past few weeks. Want to ask your own questions, comment and give your own insights? Join the discussion on Facebook!