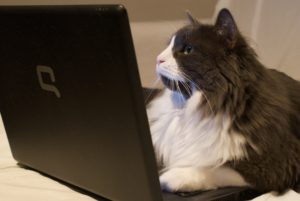 Wait, what? How? Anonymous contacts are named anonymous because they're… well, anonymous! It's not a matter of choice! What if I told you, that lead generation isn't only about landing pages, contact forms, and Facebook Ads? But let's start from the beginning…
According to internet live stats at this very moment, there are 3,5 bln web surfers and the number of websites oscillates around 1,1 – 1,2 bln. Diving deeper, we find out that at the moment this article was written the number of other blog posts written that day was near to hit 2,5 mln (thanks for reading this!), and the daily internet traffic crossed 1,5 bln GB!
Every day your website faces massive traffic. Some of the visitors came there intentionally, some of them found you via browser search or social media mention, and some of them clicked the link by accident. Just to remind you the well-known stat, only 1-2% of them is ready to make a purchase. The rest requires careful preparation and education before they will be ready for the transaction. Moreover, only the small percentage of this traffic is made by identified contacts. It makes addressing the marketing content a little bit complicated. Doesn't your heart bleed while you think about all those potential leads vanish from the website, and you have no clue how to cease them?
Whew… How can you increase your chance of gaining new customers then? Count on luck? Buy databases? Or maybe spend more bread and spray people with more aggressive ads?
No, no, and furthermore, no!
There are some practices that are both: ethical and efficient when it comes to lead generation. We already wrote about some of them, so I only remind you briefly the most interesting ones, and next I will describe one of the newest Omnichannel tool – web pushes.
Anonymous + Forms
Marketing Automation platforms allow you to create customized contact forms. It's rather simple – you pick the look, CTA, and fields to be filled, then you implement it on the website and mark the group that it will be shown to – in this case you pick the option of not showing the form to identified contacts, et voilà. Remember to offer something valuable in exchange for contact's email address, so she'll give you the correct data!
Forms + URL
Another application of contact forms is to match them to specific locations on the website. You can prepare several sets, so each user sees only those that are associated with things she searched for on the page. To put it more simply, if a person was looking for bath products for newborns, the displayed pop-up contains smiling baby who just finished a joyful bath. How does it work in real life? Read our Case Study and find out!
WWW + Dynamic Content
Another variant of forms is a combination of real-time monitoring with the dynamic content – you can re-show the users some products, which drew their attention during a visit on the website. It increases the chance of users exchanging contact details for a discount.
Users + Gated Content
Contact details such as email address or phone number have become the Internet currency. You should prepare in advance the base of content, templates, and guides that can convince the visitor to leave the real data on the page. The excellent idea is to collect previously created ebooks, case studies, and bigger pieces of content on platform integrated with marketing automation platform and create a download center.
Marketing Automation + Live Chat
Live chat is another element that allows you to generate new leads. If you integrate it with SALESmanago Marketing Automation system, you can be sure that everyone who starts the conversation in order to receive some help can be put in the CRM. Of course, if she leaves her email address.
Omnichannel
I want to focus a little bit more on this point because the omnichannel itself is quite extensive a concept. Omnichannel is a business model in which both: communication and sales are run simultaneously via different channels. However, all the actions should complement each other rather than duplicate.
The perfect omnichannel experience is a combination of experiences in different fields:
Web pages with personalized content (banners, forms, materials),

Emails (traditional newsletters, messages sent to database segments or dynamic, 1-to-1 emails),

Social media (where we don't spray random recipients with ads, but instead we target messages carefully messages, and adjust them to the messages users have already received),
Communications in RTB networks (personalized and consistent with the whole communication with the user),

Brick-and-mortar store (thanks to beacons and mobile apps can provide employees with the information about the customers who are currently inside the store, as well as to use the information about the store visit to build customers' profiles for the more precise communication in the future. It also applies to call centers),

Mobile Channel (text messages, website responsive design, campaigns dedicated to mobile devices, SEO, ASO, the mobile application and various messages associated with it, such as push notifications, in-app notifications or emails).
The goal, however, is not just simply a communication run in all possible channels. It's more like keeping mentioned communication in a consistent way. For example, if a user downloaded the ebook after clicking on the link included in your email, you shouldn't show her the same offer in social media. For all of it to make sense, it needs to be considered from a to z and must be logically integrated as a whole, and smoothly guide a customer through all the stages of the buyer's journey – from the first contact to the loyalty and retention. That's why it is so important to identify and monitor lead's behavior: when you track a user across all these channels, you gain a complete picture of her needs and expectations.
Relatively new members of the omnichannel family are web pushes – push notifications designed for web browsers.
The web push is a simple, short notice, that enables communication with users who have visited your website and agreed to receive special notifications. Web pushes' greatest advantage is that you don't need user's email address to send her these notifications! Web push also works for anonymous contacts.

An extra advantage, which is worth mentioning is that the contact does not have to be on your website, to receive such notification. The only requirement is an open browser window. It allows for both: the real-time communication and planning activities according to current events. Example? Imagine that you deliver food. An hour before the major sporting events, you can remind users that they must order food in advance, to eat delicious, hot snacks during the match. The possibilities are truly enormous. Your messages will be displayed to each user who will confirm their subscription while on the site, and then enables them to be shown by the browser. If someone declines you her permission – nothing is lost. The consent form can be displayed again after the time you can specify in advance.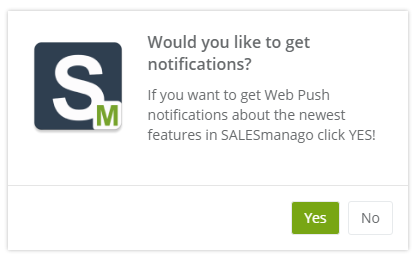 In fact, the only condition for web push to be displayed is an open browser window. The user doesn't even have to use it at a time – it can be even minimized on the taskbar.
What does the web push implementation give you:
a new way to communicate with contacts in your database,

communication with anonymous contacts (notifications do not need an email address to be sent),

a new criterion for the database segmentation,

improvement of sales performance by introducing personalized content for a specific product with redirection to appropriate subpage,

the possibility of expanding the database by redirecting users to a landing page

an additional tool for progressive profiling.
In conclusion, I am answering the question in the subject line: you can not afford to ignore anonymous contacts. You should use all means (and tools) available to transform them into prospects.