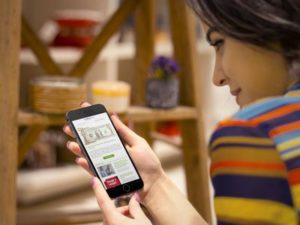 "To segment, or not to segment?" – It is no longer a question that marketers who use client databases for promotional activities ask themselves at night. The segmentation of the database itself significantly increases ORs and CTRs when combined with email marketing. Only 3% of marketers don't segment contacts, and this number is decreasing year by year. Looking from the different angle – up to 58% of revenue from email marketing came from mailings directed to specific segments, while messages sent to the entire database covered only 22% of this amount in 2015 (Email Monday). Jupiter Research says that thoughtful and relevant emails bring 18 times more income than the general shipping to the entire database.
You can segment your contacts according to different criteria. SALESmanago allows for:
behavioral segmentation – according to user's behavior in different channels, i.e. website, offline, mobile app,

transactional segmentation – according to user's transactional behavior, i.e.  purchase recency, frequency and monetary value,

demographic segmentation – regarding demographic data like age, location, gender, etc.
Customer segmentation is especially important in ecommerce. Many goods in online stores are already sorted into categories and people interested in specific items usually don't watch anything except them. Database segmentation allows to adjust the content of sent messages to the customer's interests and thus avoid filling his mailbox with unwanted messages, which she, certainly, won't open.
Database segmentation can be used for different purposes: analytics, alerts for salespeople, or the previously-mentioned email marketing.
There are many obvious ways to use segmentation while sending emails. One of the most important adaptions of the communication to the customer lifecycle. A potential or existing client should receive different types of messages at different stages of the buyers journey, for example:
Lead Nurturing cycle for a person who is new at your website

Discount coupon or invitation for a warehouse cleaning for returning customer – to enforce brand's positive image

A win-back message for a dormant user

This action alone is sufficient to increase your regular ORs and CTRs. According to our Consulting Department mailing stats change after implementing segmentation as follow:
OR increases by 16.87%

CTR increases by 54.67%

Opt-outs number decreases by 10,02%
How else can you improve email marketing stats?
One of the most effective ways is to use different account names for sending different types of emails.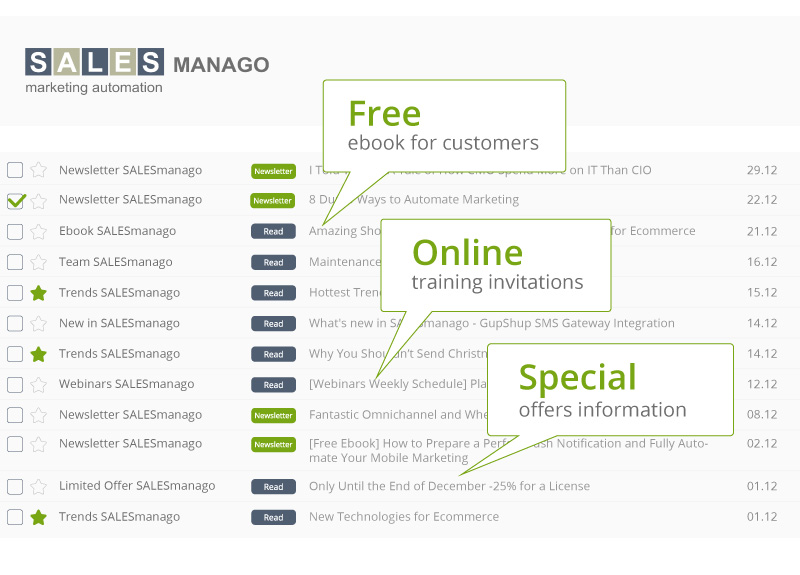 Example #1
Imagine that you own an ecommerce with sports equipment and you want to communicate the type of email to customers with the sender name. Of course, all accounts include the name of your store, but they also include a word like Team, Discounts or Trends. It allows a recipient to make pre-selection of emails right after looking at the incoming messages, so they can immediately decide whether they want to look at the particular email from you. What a neat and convenient solution, especially regarding the current flood of information that forces us to conduct such a selection within a few seconds. If we see only the name of the company as the sender, we assume in a hurry it is only some kind of advertising, so we rather won't bother.
How to implement this solution – a brief instruction:
Go to

Settings -> Email Accounts

and click

Add New Email Marketing Account

Enter details of new email account:

Name, Email, and Display name

If you want the responses to be directed to a specific address then type it down in

Reply to email

box

Use a

tag

system in your contact database, so you can easily and quickly address different emails

While sending a message always pick a proper

Email account

from a drop-down box
Example #2
A similar solution was applied by one of our customers, Energy Invest Group S.A. EIG S.A. is a modern company that combines the experience of financial institutions and technology companies and offers investments in photovoltaic farms and wind power plants in the civic model. In their case, the account is name is the same as the name of an expert assigned to individual contacts. Moreover, segmentation also uses the location data to assign contacts from various regions of the proper regional managers.
Thi simple solution significantly improves the process of communication between specialists and investors, as well as communication within the company.
How to implement this solution – a brief instruction:
Import contacts with a

tag

indicating who is its main owner

I the

CRM

tab pick

Manage contacts

Type in the chosen tag and pick the mass action

Add/delete contact detail

Pick

add contact detail

, as a

detail name

type picked name, i.e. email (

important

– the name shouldn't contain space characters nor accented characters), and as a

detail value

type a proper email address and confirm the action with the

Perform actions

 button

Repeat step 4 but as a

detail name

type something like manager_name, or name_surname, and as a

detail value

type a manager's data and again confirm the action with the

Perform actions

 button

Whilst setting the

Email Marketing Account

don't fill

Name, Email, and Display name,

but check the option

override account by contact custom properties

Fill

Override email by

(email) and

Override display name by

(manager_name)
[IMPORTANT] You can use those details when you create email footers – in HTML use the script $cst.date.name_detail$. The attribute will be replaced with detail's value. Moreover, you can add an attribute position, and photo (as a value just paste a link to the photo). More information about personalizing your messages – here.
How do you like this way of email personalization? Share your opinion!