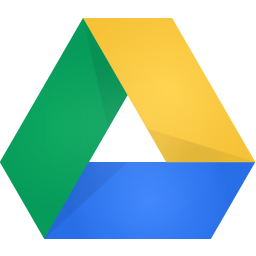 Do you use Google Docs as a note-taking device with a nice sharing option? Most of marketers do, but they miss fantastic features that increase productivity, help focus and create beautiful documents. Want to tap into that hidden potential?
Here is how.
---
Download Free Ebook and Win the Zero Moment of Truth. 
---
Useful keyboard shortcuts
Ctrl+Home: Back to the top of the document.
Ctrl+B: Bold.
Ctrl+Shift + E: Center align
Ctrl+Shift + L: Left align
Ctrl + Alt+ M: Insert comment
Ctrl+H: Find and replace
Ctrl+Z: Undo
Ctrl+Y: Redo
Ctrl+Shift+L: Create a bulleted list
Ctrl+K: Hyperlink
Ctrl+Shift+F: Full screen
Ctrl+Space: Clear formatting
Find more shortcuts:
Help -> Keyboard shortcuts.
Or you can create your own shortcuts:
Tools -> Preferences -> Automatic substitution.
Boost your productivity: research
With Google Docs, you can reduce the time you spend outside that one document you work on. When you leave the tab and stop browsing you expose yourself to distractions. Like when you just want to check one fact and end up scrolling Buzzfeed.
That's why you should use the Research option.
Tools -> Research.

That way you stay within the document while researching or looking for a fact, source or quote.
And when we're talking about efficiency – remember that you can use Google Docs offline. Working in full screen mode also helps.
View -> Full screen.
Working on small screens
Google Docs may be used on any devices, including smartphones, phablets or tablets. To make browsing, reading and editing easier, use a compact mode.
View -> Compact controls.
It simplifies the controls ribbon, so the view gets more minimalistic and extremely small screen-friendly.
Images: inserting and editing
You can not only upload an image like in any standard processor but also add it directly from the web, using an URL.
Use:
Insert -> Image -> By URL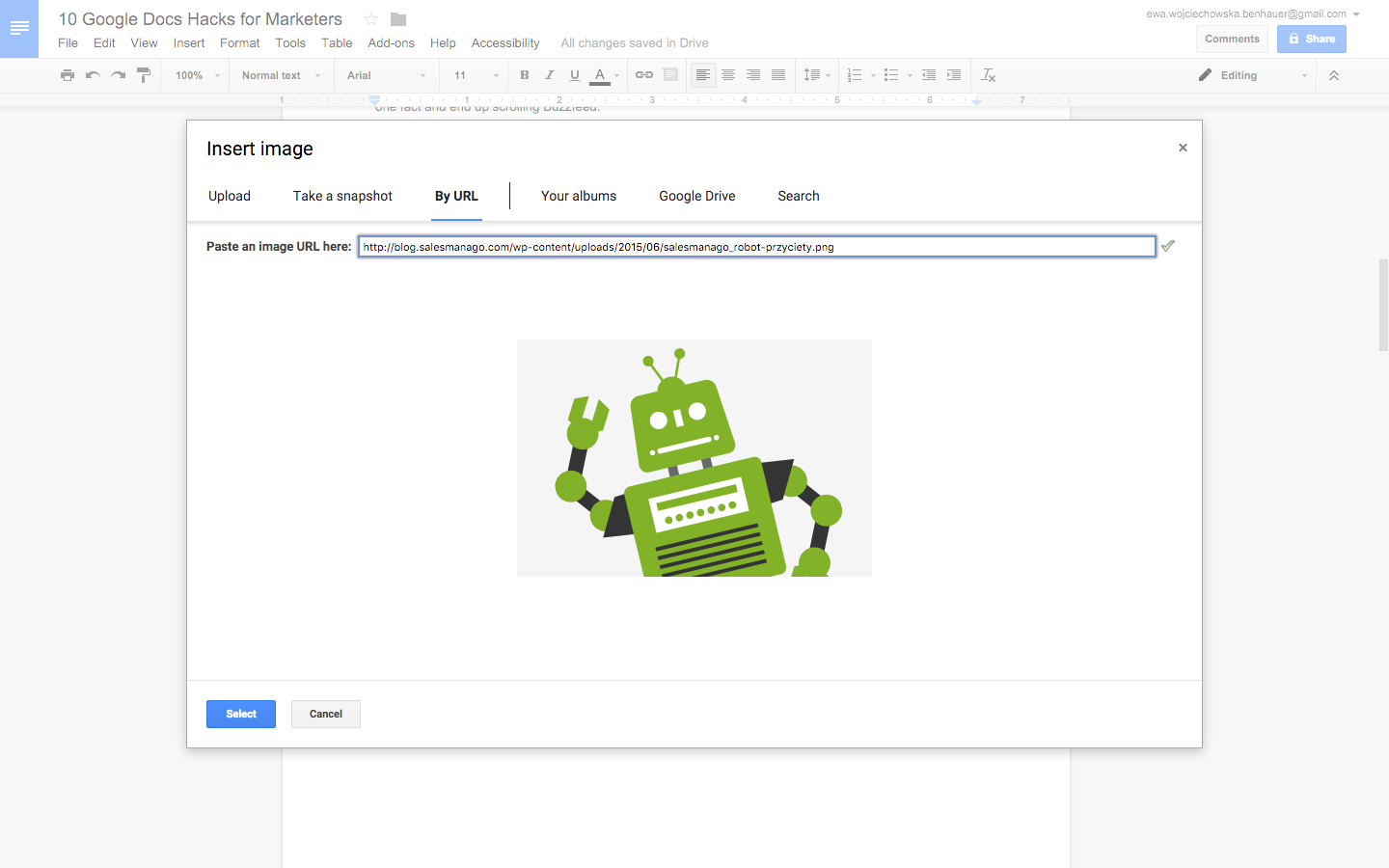 You can also insert a Google Map.
Images can be edited in the document, for example you can crop it.
Insert table of content
Table of contents helps readers navigate through the document and find the information they need quickly. The knowledge becomes easier to organize and consume.
Creating a table of contents in Google Docs is super simple: just click:
Insert -> Table of contents.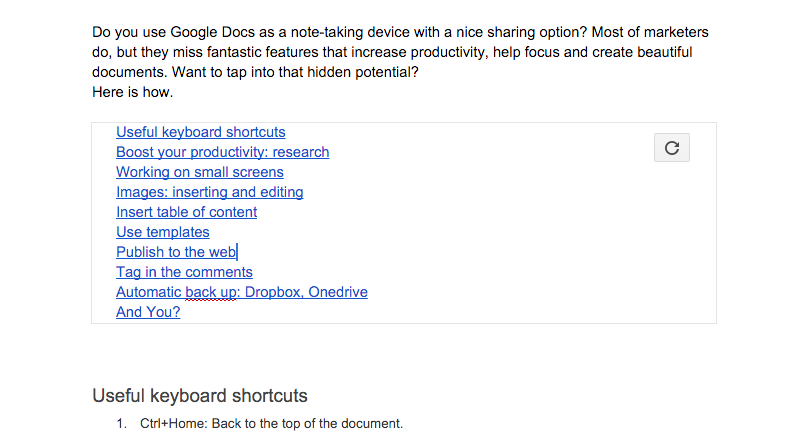 A box with table of contents will appear. You can move it and update using the round arrow in the right up corner, so you don't have to manually check it each time you make some changes in the document.
Use templates
A skillful marketers knows when to create something from a scratch and when to use a template or an app that will not only make her work easier, but also produce better effect.
That rule applies also to documents. Before you start building up your presentation or product offer, check out templates gallery.

Publish to the web
It's a feature that allows everybody access your document, A great idea for content distribution – just make your writing or survey available to everyone.
Tag in the comments
Google Docs are amazing for collaboration. You probably know various sharing options, revising document history or real-time editing. You know chat and suggesting option (instead of editing). But there is one rarely used feature: tagging in comments. When you make a comment that refers to a given person specifically, tag her (@ + email address) in the comment. Google Docs will automatically send her an email to draw her attention to your comment.

Automatic back-up: Dropbox, Onedrive
Many of you don't want to rely solely on one cloud storage. So make a back-up on Dropbox or Onedrive, especially for important documents.
You can import and export files and folders automatically with Zapier or other IFTTT apps. Set simple rules (such as: each new folder on Dropbox is automatically copied on Google Drive and the other way round), so no matter what happens you have a safe backup.
Read more about Zapier integrations with Google Docs.
If you don't know Zapier yet, check it out. It's highly useful, for example it can work miracles when combined with Marketing Automation platform.
Use add-ons
Google Docs offer a vast array of add-ons. Many of them are free (some are free only for a trial period).
Pay attention to an add-on for editing MS Office files and UberConference (a tool that allows having a conference and discussing the document in real time.
And You?
Do you use Google Docs? Do you like the tool or prefer something else?