SALESmanago, #3 Marketing Automation system in GetApp's quarterly ranking. Shopware – a leading German Ecommerce platform designed for B2B and B2C businesses. The merge of those two platforms resulted in the creation of the perfect tool to generate and manage leads and to boost sales and marketing department actions to the whole new level. Shopware offers extensive customization of online shops and can be further enhanced with the help of plugins and integrations. SALESmanago is the #1 Marketing Automation platform for ecommerce, tailored for the special requirements of this business profile. The SALESmanago – Shopware integration makes it possible to relay information between both platforms. The integration plugin is available in 3 languages – English, German and Polish.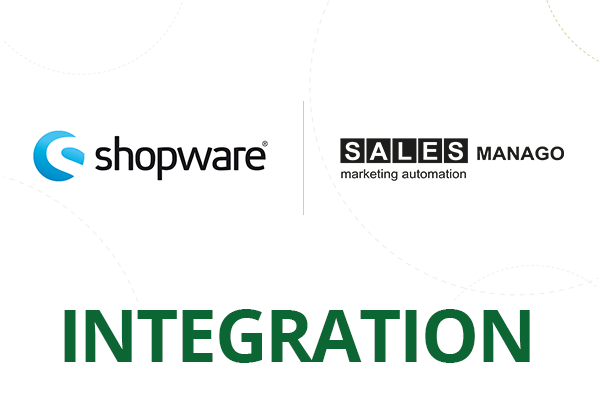 TIP: The plugin is fully compatible with Shopware v. 5.2 and newer. Older versions are partially supported and some features may not work in accordance with the following article.
Scope of integration:
Monitoring online shops that use Shopware with SALESmanago monitoring code.

Full support of newsletter sign-up forms:

creating new contact profiles in SALESmanago,

monitoring contacts acquired by contact and sign-up forms,

during each sign-in, the system checks if the contact has a tracking cookie. If no cookie is found, the system sends a request to assign one to the contact. If the contact is not in the database, a contact card is created based on information taken from Shopware database.

Synchronizing customer sign-ups and related information with contact cards (data is synced during each sign-up, sign-in and purchase):

full name,

street address,

email address,

telephone number,

date of birth,

company name,

subscription status (opt-in/opt-out),

The above data is synced automatically if it changes,

Contacts added to SALESmanago can be tagged automatically,

Moreover, every new contact acquired from a contact form is assigned a tag SHOPWARE, and a detail with the version of the platform.

Relaying external events Purchase and Cart:

For Cart events, information is provided when items are added and removed from carts.

Tags can be assigned to contacts when they register, purchase or subscribe to a newsletter.
How to integrate Shopware & SALESmanago
Sign into your Shopware account.

Open the Configuration tab and from the list of options choose Plugin Manager.

In Plugin Manager go to Installed:

Click Upload Plugin. Select the .zip archive with the integration plugin and confirm. The plugin will be uploaded to your Shopware account.

The SALESmanago plugin will appear on the list in Plugin Manager.


Click Install (a green plus icon on the right). Wait for the plugin to finish installing. When it finishes, a modal with settings will appear.

Fill in each field and click Save. Congratulations, your SALESmanago and Shopware accounts are now integrated.

IMPORTANT: You have to fill in at least the first 4 fields – if you leave any of them empty, the plugin will not work properly.
Shopware product specification:
We hope you'll have a nice time working with our tools. In case of any questions, please don't hesitate to contact us!