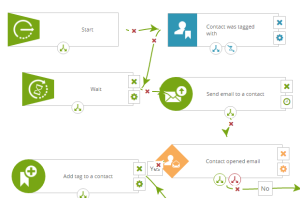 There are many kinds of people in this world – we apply a different approach to understanding our surroundings, our learning methods differ, and also we process the information in multiple ways. That's why you need to find out what works best for you. Automation processes are nothing more than a string of consecutive logical events, activated by predefined actions. They might be filtered by sets of conditions, and they can trigger other processes. Not all of us can, in the image of Mozart, imagine the process as a whole step-by-step scheme, and just transfer it methodically to marketing automation platform. For all those who prefer to sketch things before implementing them (and for those who appreciate some spared time), we launched the simple and visual creator of processes' automation – Workflow.
---
Do you want to know how to create a Lead Nurturing campaign step-by-step? Download free ebook
---
The theoretical situation: Mr. Public decides to buy a mattress. You happen to be a manufacturer and distributor of top, ecological, orthopedic mattresses, which you are willing to sell to Mr. Public in an unlimited capacity. The problem is that Mr. Public makes solid web research, compares opinions and prices. As the result, he has a wide range of companies to choose. How to convince him to buy your product instead of the others? There's a simple solution – use the Lead Nurturing. Introduce Mr. Public to your brand, your product, explain why the prices differ from standard ones, highlight the perks of using your mattresses and add a social proof – ratings and opinions of happy customers. Then automate the cycle and adjust it to Mr. Public's actions. You can pick from various techniques to achieve it: manual automation rules setting, Lead Nurturing creator, and Workflow. All of them will result in educating the potential client, but the road to the goal will vary. We want to present how to use our newest creator in a step-by-step guide

Now you just have to activate and save the process.
Boxes that build the scheme have some permanent elements:
the "x" icon deletes an element from the scheme

the gear icon allows changing element settings

the clock icon suggests time settings
Every scheme can be edited, redesigned and upgraded at any time. You can use multiple elements to create both simple and elaborate processes.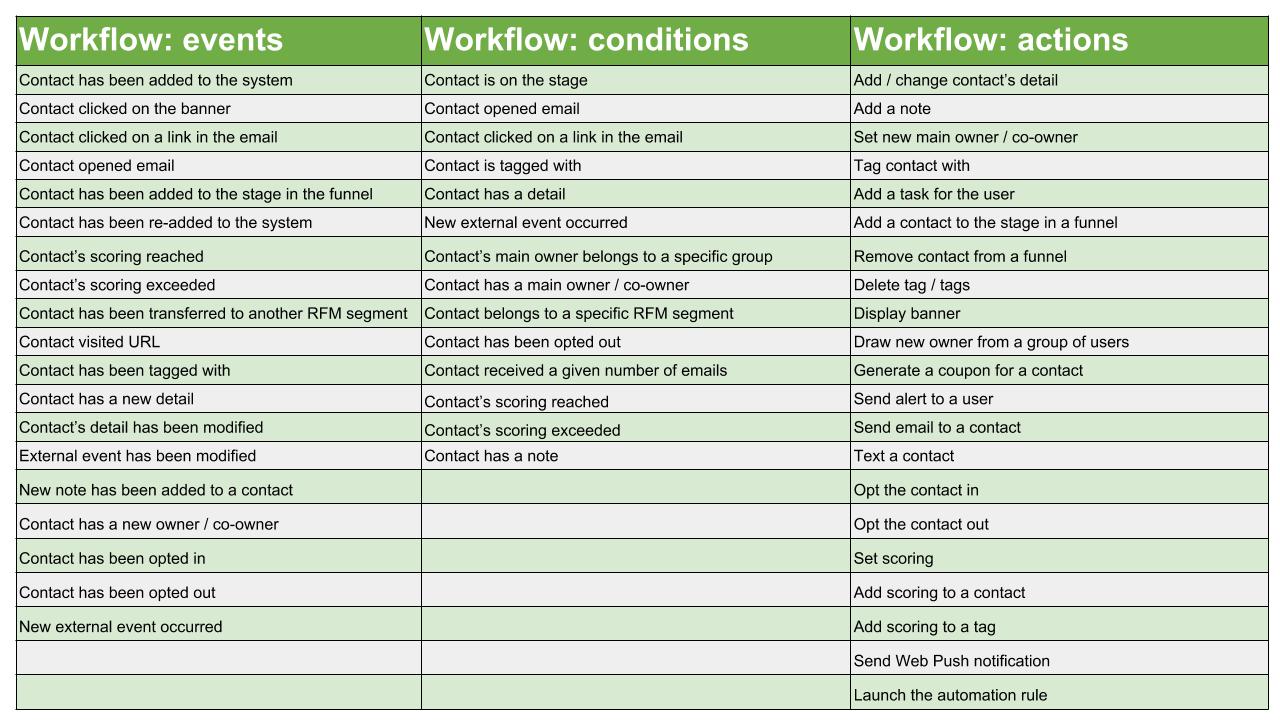 Campaigns created with Workflow creator are the elaborate version of the automation rules. Both of them can coexist and work as independent formations. While creating a campaign, you should use the one creator of choice to avoid directing the same actions to the users more than once, like sending the triple lead nurturing cycle or spamming with the same newsletter 10 times a day. On the other hand, a well-prepared set of automation rules can perfectly complete the full, elaborate Workflow process.
How to use Workflow in B2B, B2C & Ecommerce?
B2B
The purchase process and the majority of contacts between entities participating in B2B interactions are linear and schematic. Virtually every process – from simple sales alerts to moving contacts between the funnel stages, to multi-channel lead generation campaigns can be easily built with ready-made components in our visual drag & drop designer. Check this simple process of welcoming the new users of a trial version: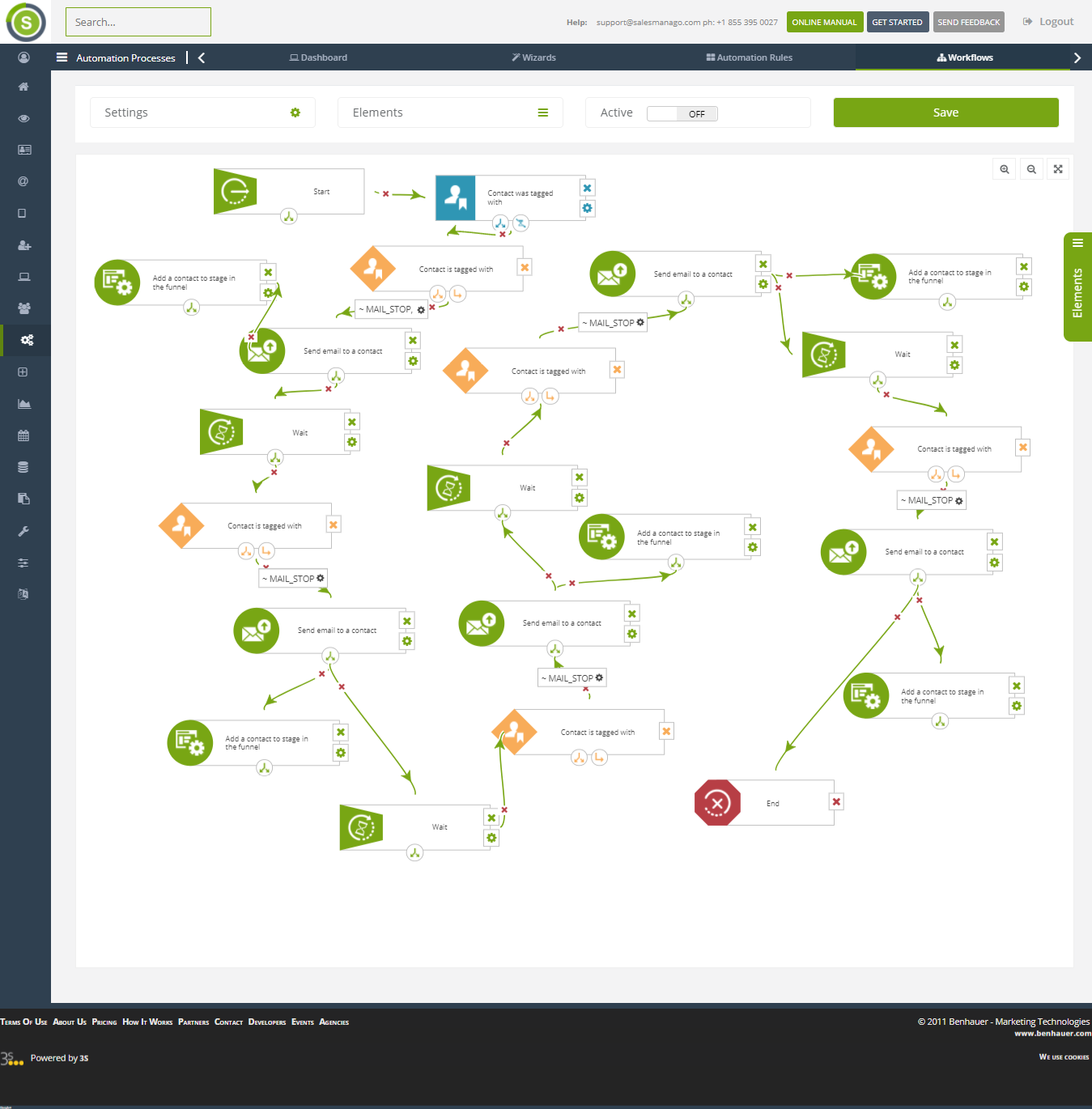 Ecommerce
B2C and Ecommerce representatives an also put this designer to a good use. Shopping paths in these industries are difficult to grasp in rigid frames. That's why the Workflow is such a great tool – it allows you to include multiple variables that affect the final outcome.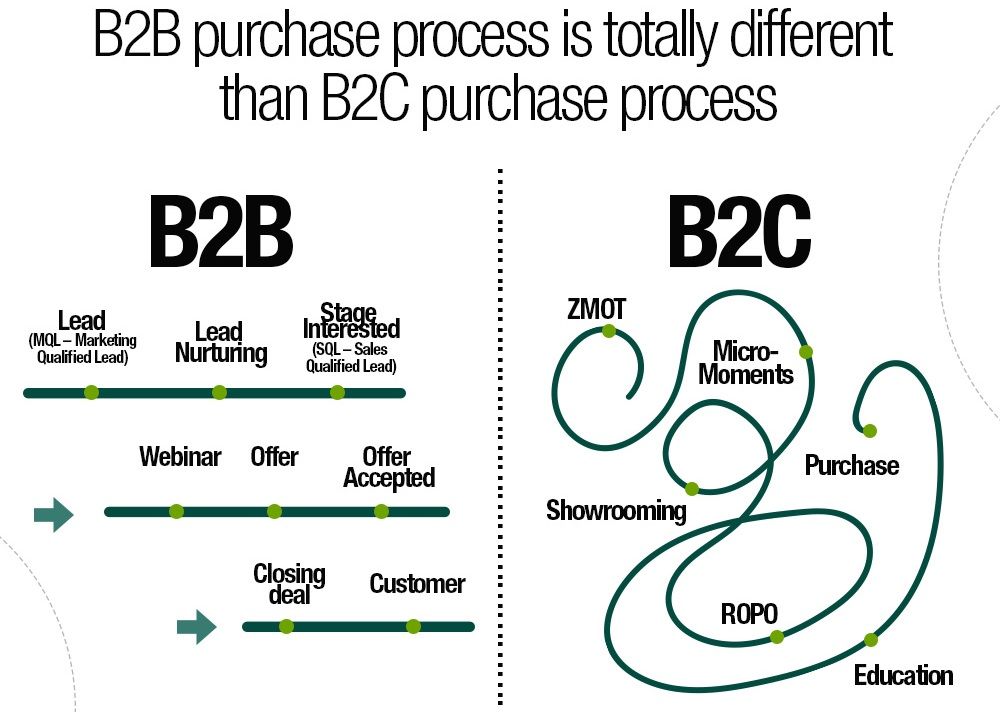 Also, the problems that concern these industries are different from those that bother the B2B entrepreneurs –  abandoned shopping carts, inactive users, and low sales conversions despite heavy website traffic.
By choosing the right elements you can easily create a workflow that will answer these problems. And if you spot some new problems you can easily complete your workflow with only a few clicks. Here's an example save-abandoned-cart workflow: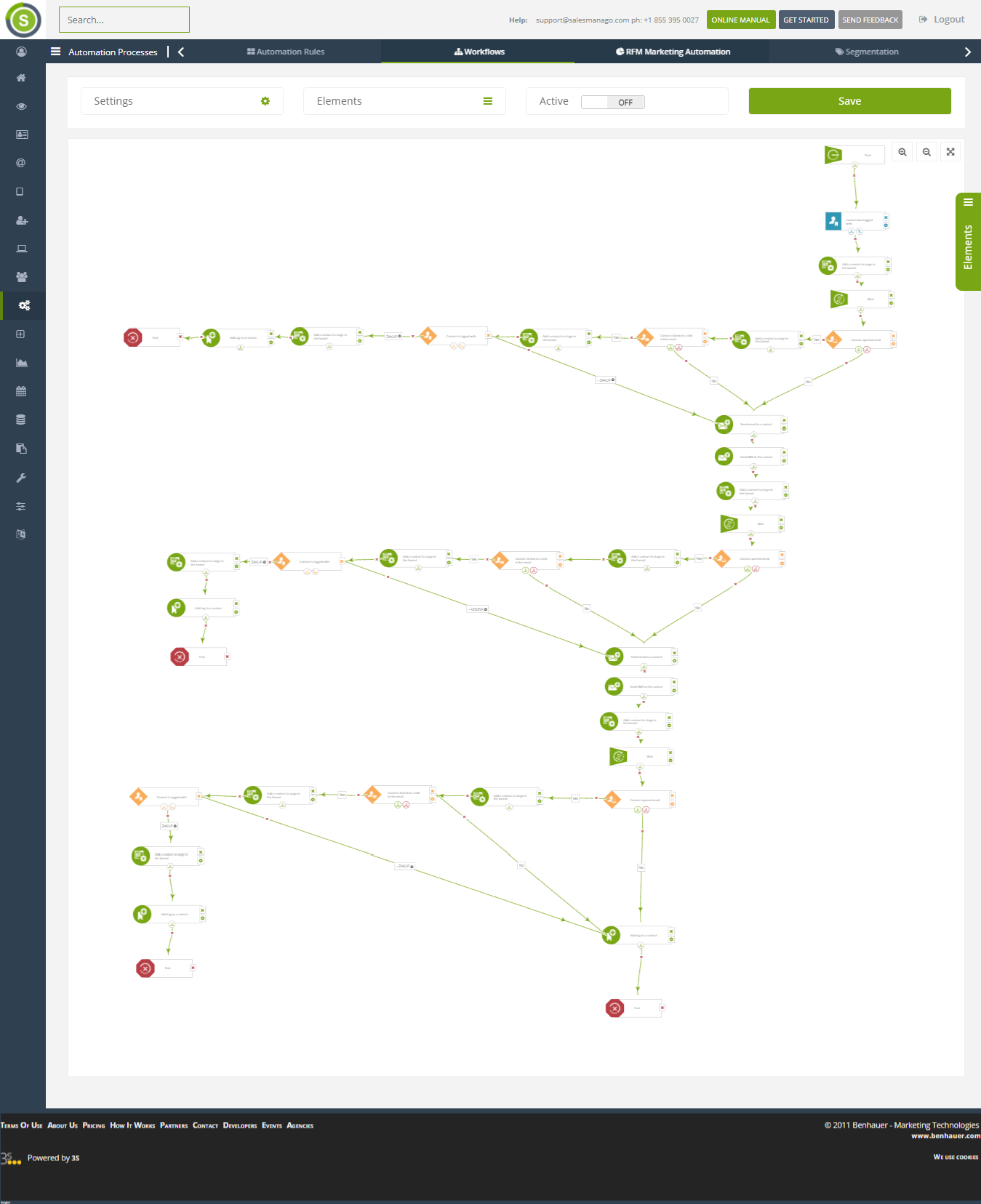 An additional advantage of our Workflow wizard is the ability to combine multiple channels and create smooth transitions between different communication modes, depending on the behavior of the recipient. Example – text reminder of unopened email – straight from the SALESmanago wizard: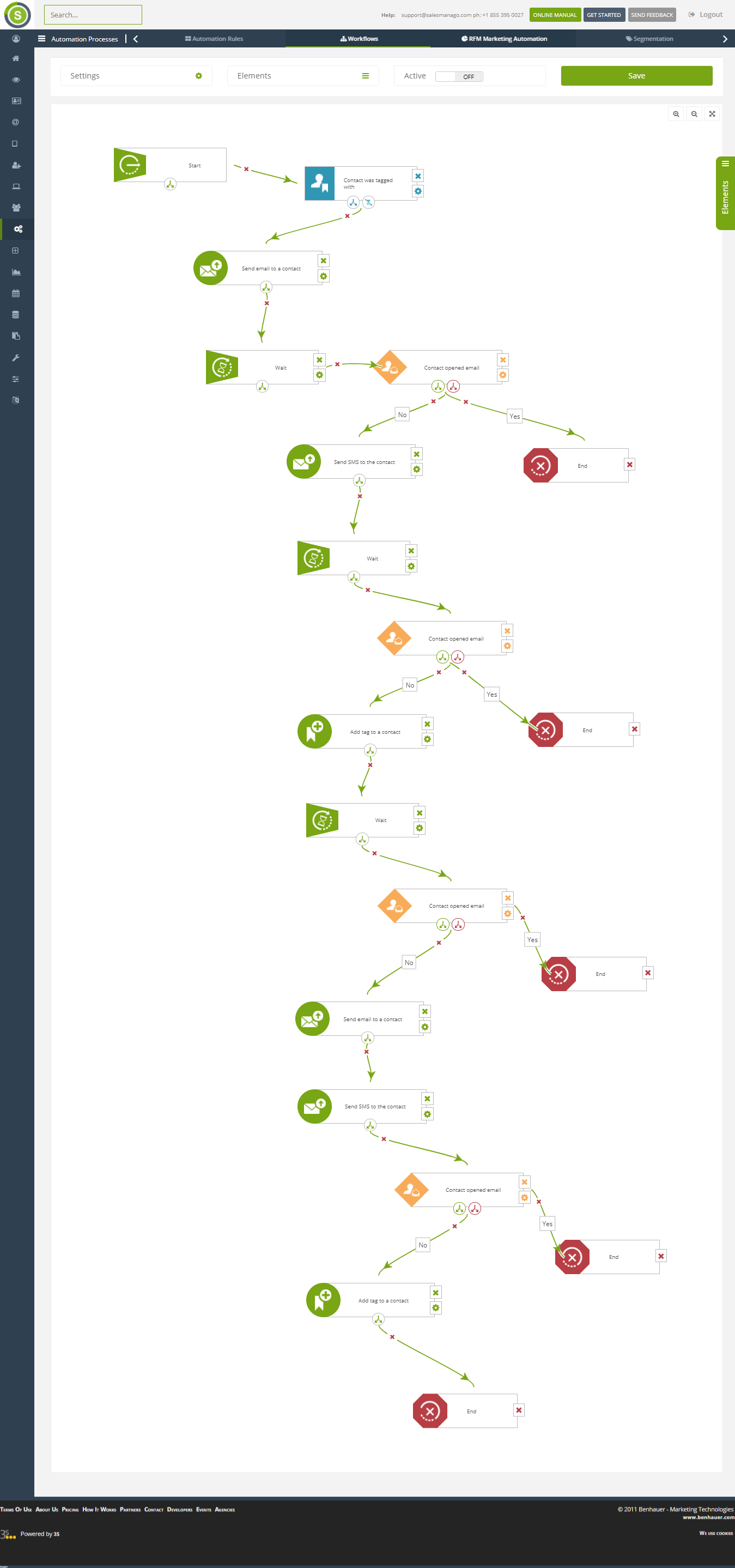 The described cases are, of course, only examples of the possibilities this attractive and intuitive tool's offers. It allows you to:
make the great first impression by sending a welcome message

automate the reaction to lead's website actions

generate the coupons after the purchase, and by sieving the sending with a system of tags, you can direct them to those clients that you want to keep (the guide to user segmentation)

increase the sales team's job quality by predefined alerts that keep them up-to-date if it comes to leads' actions

streamline and automate the database cleaning – get rid of non-prospective and fake contacts from sales campaigns
P.S. There are thousands of Lead Nurturing handbooks. Well, even we have written some of them. If you need some help with creating the messages, take a look a this, this and this article.