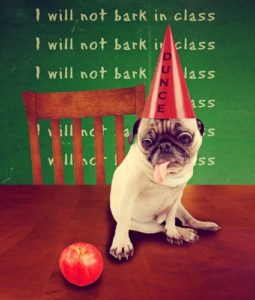 It finally happened! You have your own online business. You visited different websites looking for the best solutions, attended webinars and finally decided to buy software for marketing automation. The digital world is your oyster. Just a few steps and you'll run advanced RFM analytics,  Workflow with Chat Bot and full lead nurturing cycle. But before it happens, you need to master the basics. A workshop or tutorial would be handy, right?
We have great news for you. Over the past few weeks, we have worked like buzzy bees on the launch of a stand-alone e-learning platform. And there you have it! 10 concise, full of information, thematic lessons. Each of them ends with a 10-question test.
---
THE SUMMARIZING TEST – If you obtain a result of 90 points and above you can receive a FREE SALESmanago Marketing Automation Specialist certificate! Start your e-learning cycle NOW.
---
When you click on a particular lesson you'll be redirected to the sub, where you will find the following elements:
Title of the lesson

General overview

The list of the main topics

Educational movies/presentations – step-by-step tutorial on how to implement features

Extras

Dictionary in which we explain marketing terms

FAQ

Test – 10 questions to evaluate how well did you learn the lesson. You have the unlimited number of trials!
On the right you'll find the following buttons:
Lessons

Guidelines

Your results – results of all solved tests

Go to blog

Support – the button redirects you to support.salesmanago.com where you will find useful technical information and detailed instructions for using each available feature.

Last changes

– information about newest changes and upgrades

Summarizing test – It contains 100 questions about SALESmanago Marketing Automation. 1 question = 1 point. The test can be solved TWICE. Resolution time is limited and is exactly 1 hour. You better prepare for it, because if you obtain a result of 90 points and above you can receive a free SALESmanago Marketing Automation Specialist certificate.
In order to pre-empt any possible doubts, we inform you that the questions of the test are based on the materials presented on the e-learning platform. If you go through all 10 lessons – the final test should not cause you any problems.
If you have questions about the e-learning platform SALESmanago, please contact us: bok@salesmanago.pl.