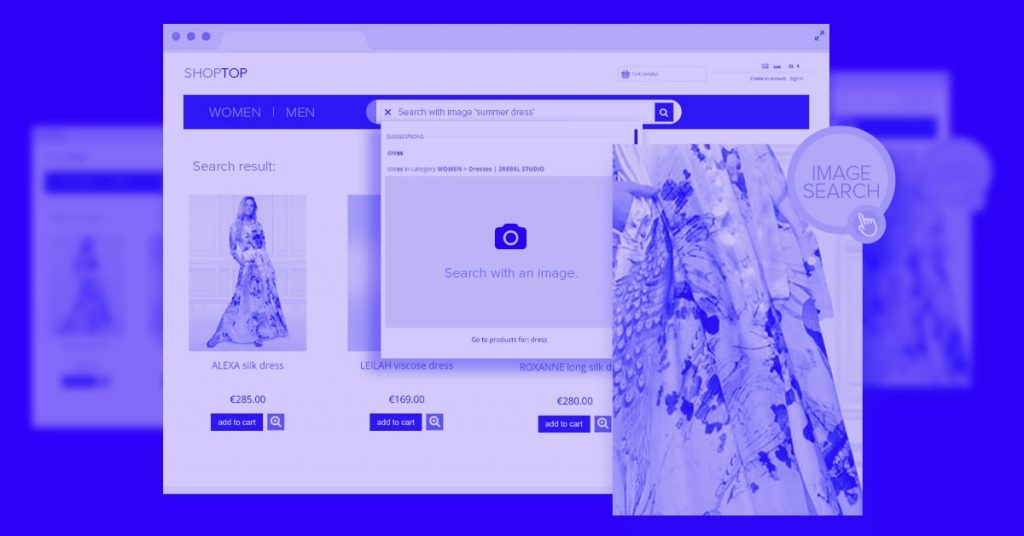 3 'Vs' of the future are often mentioned when discussed further-development of advanced marketing strategies and technologies. Two V's we've already covered – first as for video – events monitoring related to players, and second for voice – AI Voice Search. The third one, visual, has just arrived – Cinderella AI – Visual Products Search powered by Google Vision AI Engine. Why is the last one considered the most important piece of product search technology development? According to an MIT News report, 90% of information transmitted to the human brain is visual. If that's so – instead of following the trends, set new standards in searchandising. Improve your technology and implement SALESmanago Cinderella AI today for a breakthrough in Customer Experience.
How Cinderella found her shoe: What is AI Visual Product Search?
If you still ask yourself, why is Visual Search so important? I hasten to answer. Our culture is already dominated by visual perception, so it seems natural that we would use an image to start a search. No more digging deep to find relevant searches, by just one click Cinderella AI – Visual Products Search can provide multichannel shopping experiences by integrating online and offline world.
AI Visual Product Search is the last step that will bring the elements together: Search Engine Turbocharger mechanism, AI Voice Search, and advanced custom settings. But there are just pieces. Now, imagine it as a puzzle set. If you want to get a full picture and gain real benefits, implement a Visual Search, to see how this combination drives not only the Customer Experience but also Visual Experience, which nowadays, according to 59% of people is the most important (BusinessWire).
Join the product search revolution
Allow your customers (especially those using mobile phones) to upload a picture with a look they like and the AI Visual Search Engine will automatically display the products similar or fitting the desired look and feel.
Automatically display products looking similar or fitting to the products the customer is browsing through on your online store.
Use AI driven Visual Recommendations and display what your customers like and recommend them stylish products using various scenarios: visually similar to those in a cart, products similar to those viewed or recently bought.
Increase the value of the cart by recommending products matching look and style during checkout phase.
Provide personalized communication with your customers by delivering predefined stylizations that were created based on similar and complementary products that they were looking for before.
Visual search is taking the retail world by storm
Start a trend instead of following them, stand out of your competition and come out against customer expectations by deploying AI Visual Product Search,
Sell to clients that have already made a decision, enable your regular clients to check whether your website has the same or similar product and they desire,
Transfer real-world pictures into real-deal by integrating online and offline shopping experiences, promote 'shopping with your camera' idea, and eliminates the frictions between seeing and buying,
Shorten path from search to conversion, speed up the process of searching for products not only on the website but also develop further mobile experience,
Improve shopping journey, reduce steps needed to find a perfect product to one and optimize search-time providing image-search-mechanism,
Eliminate search obstacles, no more wondering how to describe the products you are looking for, simply upload the image and enjoy the search results.
See how Cinderella AI – Visual Products Search works when integrated with your ecommerce platform:
If you are our customer or you not and would like to implement and test the engine on your website simply let us know by writing to support@salesmanago.com
Implementation takes less than a week!