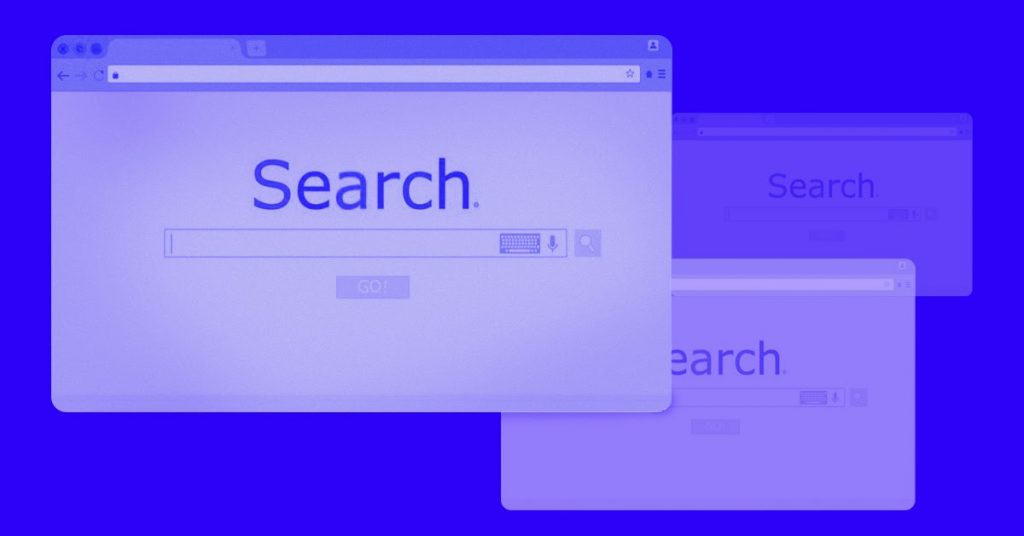 72% of websites completely fail to meet expectations for search results (BigCommerce). Basic eCommerce search engines are not able to understand and deliver relevant results, especially when 34% of users search for non-product related content (Baymard). The new SALESmanago solution answers these problems. Search Engine Turbocharger is a mechanism which supports the operation of a traditional search engine but is tailored to the individual needs of the customer. This allows you to create perfectly customized campaigns.
Frustration with a general product search decreases sales and sours the Customer Experience
The statistics speak for themselves, users who are dissatisfied with the returned results do not decide to buy again, and new customers immediately go to competitors' websites.
39% of purchasers are influenced by a relevant search (ThinkWithGoogle),
Level of churn and burn reaches 68% (Forrester),
15% of search engines have a 'broken' search query type performance (Baymard),
Better search engines are definitely needed for eCommerce. Search Engine Turbocharger sets new standards in targeted searches. What differentiates it from standard products on the market is advanced AI and NLP. But that's just the start! SALESmanago Turbocharger also provides 3 additional options for creating non-standard search campaigns – product, filter, or transferring the customer to a selected page in response to search items. Sounds complicated? Nothing could be further from the truth. It is easy to use and allows you to measure the effects of your activities.
Create a thematic product campaign in 5 minutes
Customers who use eCommerce search engines don't expect them to merely understand basic phrases. They want them to be tailored exactly to their requirements and product interests.
Search Engine Turbocharger allows you to create a search campaign by choosing any keywords that will return the selected products as a result of entering them on the website.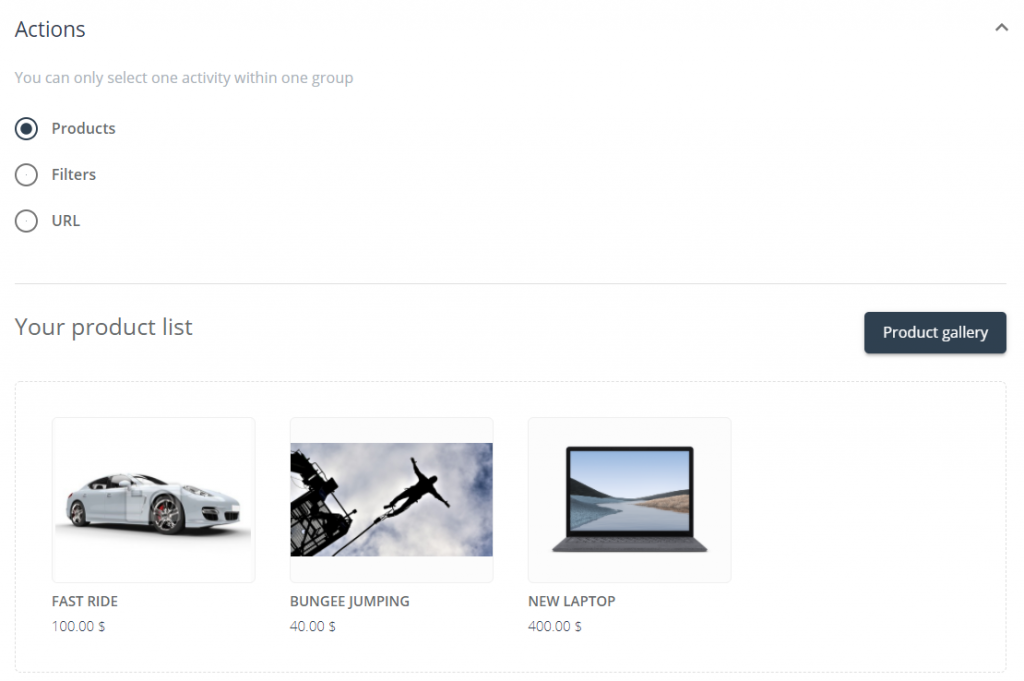 Let's suppose the user entered the value 'Perfect gift for my boyfriend' in the search box.
Thanks to the latest technologies, the mechanism checks which typed phrases match the keywords:

Perfect gift for my boyfriend
And as a result, it returns exactly the products that you selected in the Advanced Settings panel.
Filter campaigns can increase the efficiency of searches and increase the number of perfect responses to queries
What if the search engine could return products that include selected filters in response to entered queries? No more tedious and often cumbersome selecting filters on product pages (especially on mobiles). The mechanism itself intelligently interprets the entered phrases and provides only products that fall within the set price ranges or filters. In addition, knowing that clients search for products that we do not have in our database, we can decide specifically which results will be returned by the search engine, and thus generate more sales.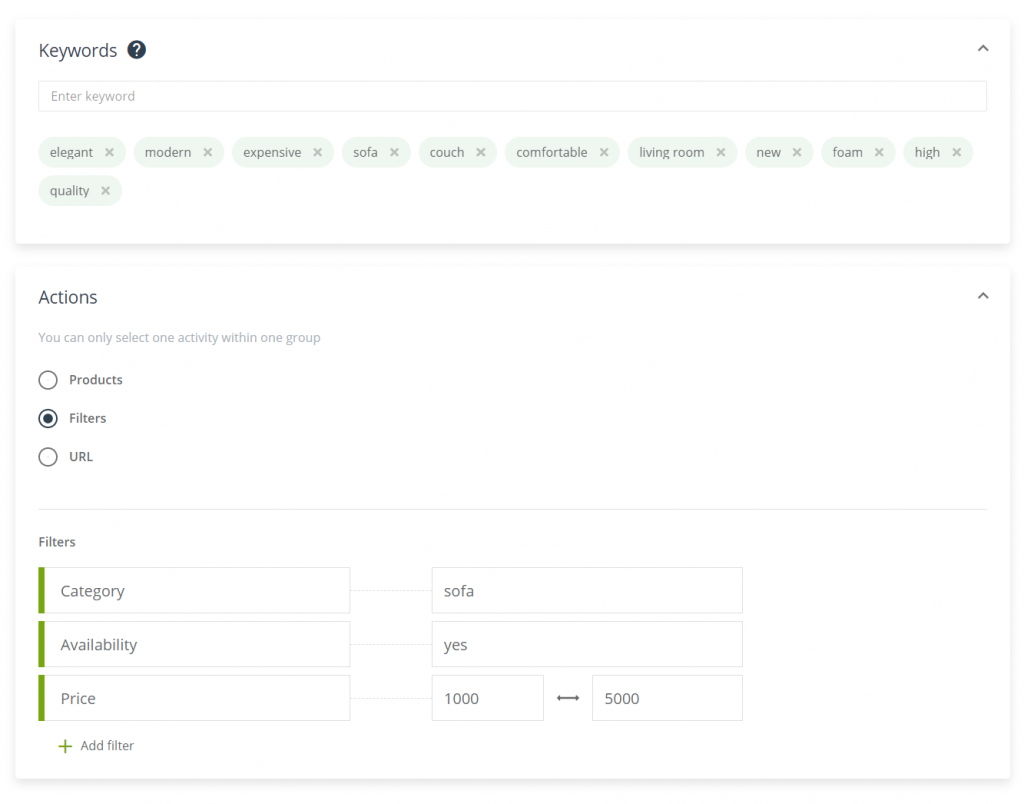 If a user who is looking for an EXPENSIVE sofa on your website has to scroll through dozens of products that do not match the typed query, they will most likely leave your store. To prevent this, just set appropriate filters e.g. the price range of the products searched for, availability or categories.
Link a page with a ready-made campaign and increase sales of selected products
Online Stores often have a separate listing page for seasonal sales. Now you can redirect users to it immediately after entering the appropriate phrases in the search engine, and thus increase campaign results, improve sales results, and get seasonal products flying off the shelves in a simple and super fast way.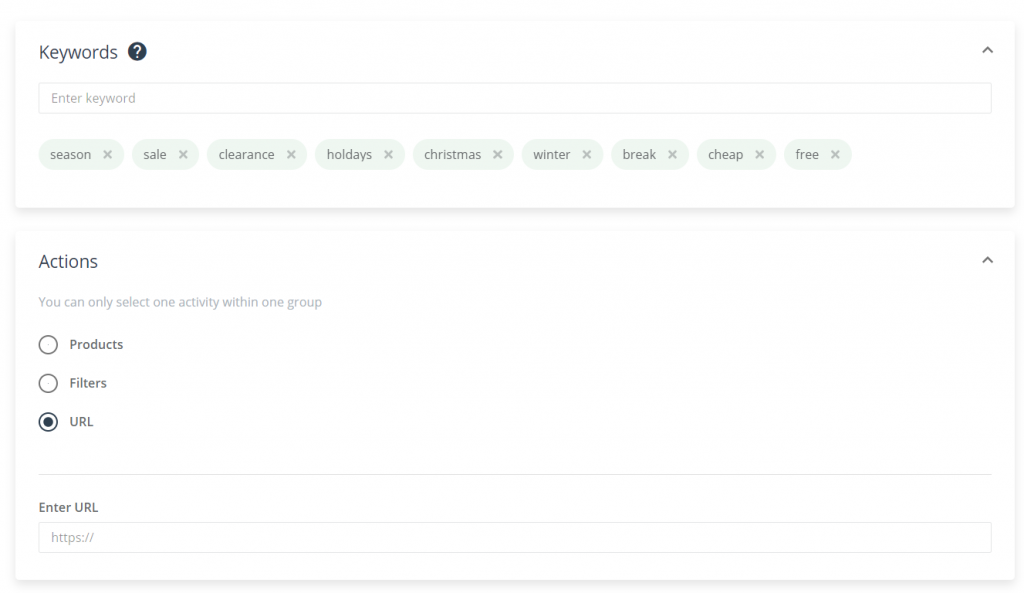 How is it done? Simple, in the Actions tile, just enter the address of the page you want to redirect the user to. That's it – the campaign runs itself.