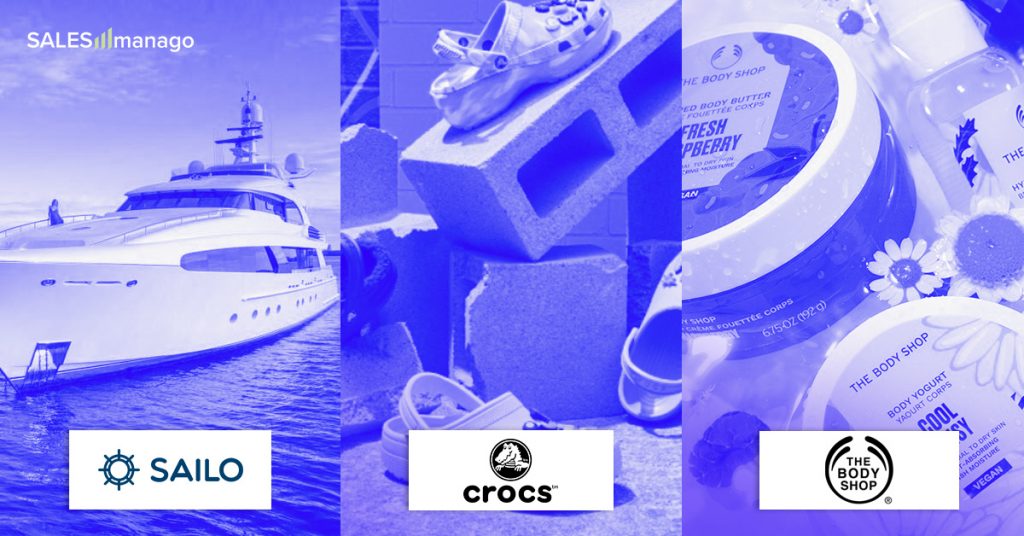 SALESmanago is currently the largest independent European Customer Data and Experience Platform provider that operates across 50 countries, with over 100 Partners all over the world. Recently the platform has been chosen by some great new customers including Crocs and The Body Shop thus enriching the already impressive group of 2500 mid-market and enterprise customers that includes great global brands such as Starbucks, KFC, and  BMW. Along with customer growth, the platform has added a couple of new exciting features including Personal Shopping Inbox for next-gen online store personalization, Customer Preference Center and Hyper Segmentation Center.

More recognizable brands decide to deploy SALESmanago
Customers' stories are proof that SALESmanago manages to answer the challenges that modern eCommerces face. The group of over 2500 mid-market and enterprise customers worldwide has expanded to include more well-known names. The ones that recently joined are Crocs – the richest company in the footwear segment, The Body Shop – eCommerce with over 40 years of experience in the beauty sector, the world-known brand with excellent product and vision to change the world, and Sailo – the absolute leader in their industry, the biggest boat renting company in the world. These brands have found their place right next to Burger King, Victoria's Secret, Starbucks, New Balance, BMW, and many others.

New tools helping eCommerce growth
What makes the world's market leaders choose SALESmanago is a special approach to platform development and focus on providing innovative tools that aim to continuously improve Customer Experience. The company's strategy is based on quarterly system updates that follow steps of a thoughtfully planned roadmap.  
In addition to the already well-featured system that includes: Command Center, Visual Product Search, Voice Commerce and Search Engine Turbocharger, SALESmanago recently introduced new updates. Here's a short overview of the latest features.

Personal Shopping Inbox
Customers treated uniquely are keen to come back to the store. Personal Shopping Inbox is a tool that makes every purchase a personal experience. With this feature, it is possible to:

Create a dedicated personal space in the online store, where customers can find products based on their transactions, interests, and past activities, which results in higher store conversion.
Reach both identified and anonymous customers with special individually crafted offers, discounts, and product recommendations as an encouragement to more frequent returns.
Enable your customers to share their needs by creating wishlists and lookup for the products they previously visited.
Customer Preference Center
It's the response to all uncertainties connected with changes in the cookies policy. This feature not only helps with collecting data with the proper approach but also helps gather them in one place and analyze them to prepare communication with customers, according to their needs. Customer Preference Center allows you to:

Ensure Customer Experience on the highest level while being mindful of data ethics and communicate with customers through their selected channels and at their preferred times.
Enhance 360° customer profiles by adding declarative data to the customer view and use zero-party data for even better personalization of marketing campaigns.
Give full control over data share to their owners – customers, that can select their preferences and have access to all of their consents and the possibility to change it anytime.
Hyper Segmentation Center
A new perspective on traditional segmentation designed to improve the Customer Experience. Hyper segmentation Center harnesses the power of AI to create, edit, manage and analyze all segments from one unified, user-friendly dashboard. This feature allows to easily:

create the most advanced segments by combining all data collected in CDP, such as behavior, transactions, customer characteristics, etc.
target the most meaningful groups of contacts for specific campaigns without composing new ones manually for every marketing action,
understand individual preferences of customers to leverage one-to-one personalization and real-time customization of marketing campaigns.
The perspective for the future
Company Roadmap includes many new features that will debut later this year. In the upcoming months SALESmanago is going to introduce AI Buyer Persona Analysis, AI A/B/X Testing Center & Website Optimization, and a new Landing Page Designer and Drag & Drop Email Designer.