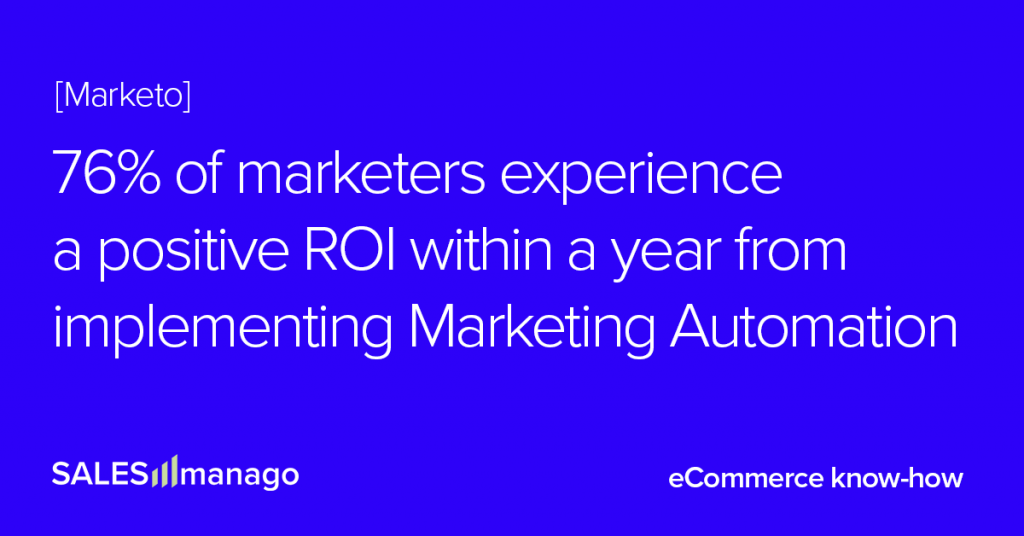 Even if it sounds like another redundant invention, Marketing Automation increases sales for 80% of marketers (Business2Community). eCommerce is facing various challenges, and Marketing Automation is a solution for them. Your executives may be reluctant to innovate, but this article will prepare you to perfectly present MA to your CEO.
The biggest challenges faced by today's eCommerce
Running an eCommerce business these days is not a simple task. Customers are more and more demanding, and the competition does not slow down and responds to people's expectations immediately. With full awareness of the daily challenges faced by marketers, Marketing Automation is a solution to most of them:
Differentiating yourself
Identical campaigns will not arouse the interest of customers. Especially not at a time when their e-mail boxes and social media are full of promotional content. Email content that a client is not interested in often leads to unsubscribing.
Marketing Automation provides audience targeted options, and personalized 1-to-1 offers that will keep your customers interested, and often budge them to make a purchase.
Nurturing customer loyalty
If a customer visited your site once, it would be a mistake not to make every effort to make them stay, especially while your competition is constantly lurking for your clients. However, if a client must spend a lot of time on your website to search for items they are interested in, they will get discouraged and leave.
Thanks to Marketing Automation you will be able to adjust your offer in real time. AI engine predicts customers desires and keeps their attention by social proof and popups.
Shopping cart abandonment
Regardless of the size of the business, every eCommerce suffers from abandoned shopping carts. eCommerce brands lose $18 billion in sales revenue each year because of cart abandonment. [Sleeknote]
Reminding your customers of viewed products is essential to lower your abandoned carts percentage. For this purpose Marketing Automation uses numerous communication channels, such as email, web push, or Facebook ads to make them reconsider their choices.
Providing omnichannel experience
Customers expect quick and easy access to your brand through various unified touchpoints, such as website, phone, email, and social media. It is you who must try to reach them, not the other way around.
If you want to improve your total sales, and average order size, value, and frequency, Omnichannel is crucial. Integration of all touchpoints and communication channels allows you to plan where and when your content will be displayed, and Marketing Automation allows you that.
How to present the benefits of MA to your CEO
Implementing a new system into the company is always the decision of the executives, and they are not always positively disposed towards innovation. They also will not like the idea of wasting their time on talking to you. They will probably put you off and say they don't have time, but if you manage to talk to them eventually, you need to know what to say. Here are 8 sentences, that might help you:
Our competitors use it.
One of the aspects that is constantly on your CEO's mind is how to be better than their competition. That is why you should provide them with the list of brands from your industry that use Marketing Automation.
We can improve our current operations.
Present your CEO the list of already existing marketing actions with an explanation of why they are not as effective as they could be after the implementation of Marketing Automation. Maybe you send standard, identical emails to your customers, when you could be sending personalized offers?
This is an investment.
Your CEO won't spend money on anything without having a clear proof that this money won't go down the drain. Collect data that proves it is truly beneficial, e.g. after implementing Marketing Automation New Balance made a 200% increase in OR and CTR which translates to real financial results.
This is the solution to our problems.
Consider the issues that bothers your company the most. It could be the lack of customers' loyalty or high percentage of abandoned carts. Whatever it is, make your CEO aware of how Marketing Automation can solve this problem.
This is a method of enhancing Customer's Experience.
A memorable and smooth experience is crucial for building a loyal customer base. However, this requires considering that your webstore must be adjusted to not only desktop, but also mobile users. To provide the best digital experience Marketing Automation uses an omnichannel method.
Our priorities are growth, productivity, innovation, and competition.
Surely your CEO will appreciate that you take into account the priorities of the entire team. Fortunately, Marketing Automation positively influences all of the mentioned fields.
We will take more care of our loyal customers and gain new ones more efficiently.
To have a successful business you need both – loyal and new customers. Every executive is aware of this fact and I am sure that a solution that will keep those two groups satisfied is something that your CEO cannot ignore. 
We can get more done, faster and with fewer resources.
All the repetitive, manual tasks that were previously done by the staff, now can be automated, which means that the system allows employees to focus on other activities that will streamline your marketing.
Our plans could be based on the data we need, not on intuition.
Marketing Automation system allows you to analyze the client's entire journey. This data gives you the ability to focus more on the areas where your marketing still needs an improvement to be able to reach potential clients. You won't waste time and money on ineffective marketing actions.
A brief summary
The current market is not indulgent towards eCommerce businesses. The competition is fierce and each individual customer is at a premium. Every day marketers struggle to stand out from the crowd, keep customers for longer, convert abandoned carts into completed transactions, and reach customers through different touchpoints.
Marketing Automation turns out to be the solution to this struggle, but convincing your CEO to implement innovations can turn out to be a tedious process. Remember that you need to show above-average patience to be successful. Proper preparation and the selection of relevant arguments are the basis in an interview with the CEO. Support your arguments with evidence, mention your competition, focus on how Marketing Automation will positively affect your company, and it is very likely that you will meet a positive response.
Marketing Automation is crucial in eCommerce. After the implementation of this system your company will meet the requirements of even the most demanding customers without unnecessary effort. You just need to make your CEO aware of this.
If you have any questions, set up a 1-to-1 webinar with our specialist.