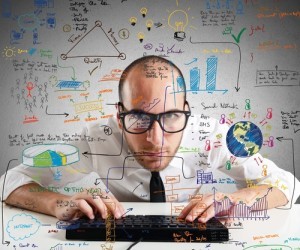 Do you feel like Winnie the Pooh sometimes? The more you look inside (Analytics) the more Piglet (your audience) isn't there. You stare at the sad, flat graph and think: "How will potential customers find my business? How to show them my brand? How to let them know that I exist and wait for them? If I could only attract them to the website! If I had money for a big campaign…"
But there are a couple of tricks you can use to boost traffic even if your resources are limited.
---
10 Ideas for Omnichannel Marketing.
---
Use Rich Snippets
Rich Snippets mean additional information about a website, displayed in the search results. They include:
– ratings
– reviews
– people (e.g. the author of the post)
– events
– product
– price
– description
– images
Applying that method increases the likelihood that users will click the link.

Give something for free
One of the cardinal rules of business is reciprocity. When you get something for free, you feel obliged to give something in return. Cialdini showed how it works in marketing.
What can you offer for free to attract users to your website?
– a valuable material: an ebook or a report
– free trail
– free webinar
– free tool
– free tool
Offering something for free attracts more traffic. Use such incentives to acquire contacts: give them in exchange for users' email addresses.
Find your keywords
You can use these free tools:
Try also Google auto-complete – that simple method sometimes delivers impressive results.
Content: Sky scrapper technique
Sky scrapper technique means producing content that will help you benefit from the current buzz around some post written by someone else.
A simple guide to sky scrapper content generation:
– identify a trending post in your field with tools such as Buzzsumo
– write something valuable on the same topic: try to provide more data on the subject, or enrich the original piece in another way
– ensure that it reaches the right audience. Find people who referred to the original post, and write to them, informing about your post. As Brain Dean shares, in 11% of cases, the blogger will add your link.
Effects? Great content, established relationships and valuable links.
Promote other's content
Make lists of the most interesting posts on the given topic, the best blogs in the field, the most inspiring quotes or the most relevant reports. Promote other's content so they can learn about your existence – maybe they will start to read you and link to your content one day? Also such posts are more likely to be shared because we all like to show off.
Such material will be helpful to your audience. There are so many great pieces around the web, and even important ones can be easily missed. So from time to time prepare such list instead of producing an original post.
Be active on popular websites, forums and groups
Find the most important blogs, portals, and forums for your brand. Check also social media groups, for example on Facebook or LinkedIn.
When you're in, don't waste energy on spamming with links to your site: it won't do the trick, but will only alienate users, not to mention that you might get banned. Engage in discussions instead. Try to be helpful and deliver value.
Such groups or forums will also inspire you: see what problems and questions potential customers have and answer these with your content.
Pumpkin Hacking – a new SEO methodology
This strategy refers to the process of growing a giant pumpkin. To achieve that you must:
– plant pumpkins
– weed them and see them grow
– recognize the one that grows at the fastest pace
– remove all the pumpkins and leave only that one, so nothing disturbs it and it can have all the space and minerals it needs
How SEO specialists adapted that method? It means that firstly you test a lot of keywords and type of content. That way you identify what works best and focus all your energy and attention on that.
Test long-form content
Google prefers meaty, long, in-depth posts. Buffer research indicates that a preferable post length is 1600 words.
We observed that trend on our blog – last year the most often viewed posts were over 1000 words:
30 Must-Have Apps for Marketers: knowledge, creation, social media: 1041 words
Inbound Marketing Is Dead, Apps and Mobility Killed It. Time for New Push and Outbound Marketing: 1845 words
5 TED Talks Marketers Must Watch to Improve Their Efficiency and Style: 1092
Content repurposing
When you write long posts requiring a lot of work and research, use them more than once. How:
– use data or stats from your post to create an infographic
– turn a post into a SlideShare presentation
– collect a couple of related posts, update them, add something new and produce an ebook
– create a podcast based on a post.
Don't be afraid of such practice. You put so much effort in writing your piece, so distribute it in all channels.
Put social media plugins on your website
Thanks to plugins users will be able to share your content quickly, so you will gain the new audience. But plugins are not enough! First, think about your target audience.
Most marketers equate target audience with actual and potential customers. But the customers are not going to share your content – why would they? Customers will be happy to read it and maybe use some of your tips to improve their business. That's all.
But your peers, fellow experts in the field would share. They might comment, argue with you, refer to your data. So take them into consideration when creating content.
The plugin itself won't work: try to understand the mechanism of sharing your materials.
Approaching influencers
If it happened to you, you know: one link on an influential blog can work wonders. But approaching influencers is a delicate matter. How to handle it?
– Do research. Make a list of the most important people in your field.
– Read influencer's blog, like and comment. By "comment" we mean "provide insightful and relevant remarks," not "spam someone's blog with links to your website." The blog is a blogger's space, not an advertising pillar.
– Write a piece inspired by influencer's work. It might be a discussion with her recent post or case study of her campaign. This method is recommended by Neil Patel.
– Write a piece describing how you applied influencer's tip or tool and what effects it delivered.
– After having done one of the above, send an email with a link to your post.
– You can also ask about an expert opinion to a material you prepare.
Remember:
– don't behave as if the blogger owned you something (like link or time for testing your product). She doesn't.
– Be polite.
– Some bloggers put a price list on their blogs. Check it out to know how future cooperation might look like.
Write guest posts
Write guest posts and open your blog for others. It will help you gain a new audience and get valuable links.
A guest post must be relevant and of high quality, so users will be eager to check out your website. Otherwise, it's just a waste of time.
Don't forget about YouTube
YouTube has over a billion users — almost one-third of all people on the Internet. It's the second largest search engine. Preparing a movie will take more time and energy than writing a post, but it's worthwhile.
Don't think that YT is a medium only for light content, suitable for ecommerce or b2c. 73% of b2b marketers declare that YT marketing positively influenced ROI (Carla Marshall).
Put logotypes on the website
When somebody visits your website for the first time and doesn't know your brand, she needs an instant confirmation that you're trustworthy. That's why you should put on the website logotypes of your customers or media that wrote about you.
What if you're just starting and have no customers or media coverage to show? Then put logotypes of the services or platforms your product integrates with (like Gmail, Dropbox or Facebook) or of your partners. That will raise your credibility.
Traffic is not enough
Your aim is not to attract users, but to convert them. It's about sales! That's why you should use Marketing Automation solutions, such as:
– contact forms (preferably personalized)
– tracking user behavior to deliver relevant offers and content
– A/B testing.
Also, join tomorrow's webinar with Jeff Bullas! He will tell us about the strategies he used in order to boost his website traffic to over 4 million visitors a year without paying Google and Facebook a cent. Click the banner below and join now: