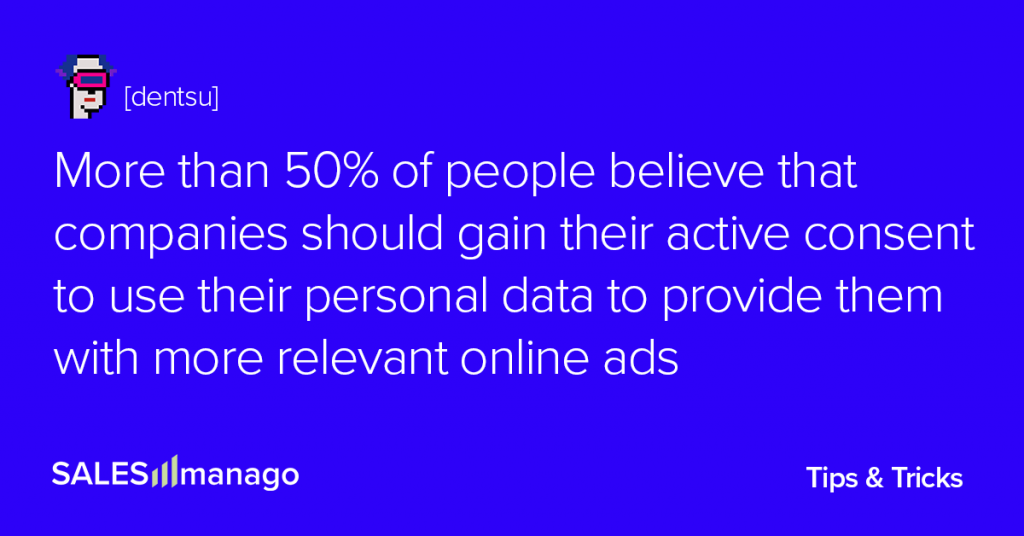 The post-cookie marketing landscape creates a plethora of marketing opportunities. To navigate it efficiently, it's worth exploring alternatives to third-party data-driven marketing. Here are 20 tips from top experts on how to navigate this world and create ethical campaigns with the resources available.
Almost half (49%) of respondents believe that data privacy is a shared responsibility between businesses, individuals, government bodies and technology innovators (iProspect x Microsoft). The data-harvesting bonanza had to come to an inevitable end. Numerous regulations such as GDPR and the CCPA were merely an interlude to the actions of giants such as Google and Apple deciding to move away from unethical third-party cookies, which are often handed over in murky circumstances.
This is a clear and strong response to consumer concerns:
91% of consumers are concerned about the amount of data companies can collect about them (iProspect x Microsoft), and 42% have taken steps to limit the amount of data they share online. (dentsu)
Only 15% of consumers believe they are getting good value in exchange for letting companies have access to their data. (iProspect x Microsoft)
One in two (52%) believe organizations should get their active consent to use personal data to provide them with more tailored online advertising. (dentsu)
So whether we want it or not, the legacy third-party data-driven marketing system is in for a robust transformation. Already, many marketing professionals seem to be honing in on how to ethically acquire data and use it wisely. Fortunately, it yields positive results as brands slowly regain consumer trust.
So how do we tackle this challenge?
8 tips from Deloitte on how to deal with the demise of third-party cookies
In the report: How the cookie crumbled: Marketing in a cookie-less world Deloitte gives 8 specific tips to help strategically plan the transition from third-party cookies to first- and zero-party data.
#1 Build on your data
Streamline first-party data collection. Precise, careful and thorough implementation of data collection mechanisms will provide a solid foundation for targeting and personalization for users who have already engaged with your brand. Remember, however, that starting early is key to success, as collecting enough data takes time.
#2 Play the technology card
Implement best-in-class cookie consent management solutions, if you have not yet, to ensure that the first-party data you have is fully compliant and future-proofed. Also, clearly communicate to your customers how you process and protect their data to increase their trust.
#3 Explore second-party data from technology leaders
For example, Google and Facebook offer aggregated but detailed audience data collected on their platforms (including Google Search, YouTube and all sites within the Google Display Network, as well as Facebook and Instagram) through their advertising networks (Google Ads and Display & Video 360 and Facebook Ads Manager), completely free of charge (as opposed to third-party data).
#4 Stay informed about ethical third-party audiences
Not all external audiences rely on cookie data. Some of these groups can be targeted using for example VisualDNA, which transparently aggregates its audiences based on personality quizzes. More of these non-cookie-based audiences should emerge in the next two years, once third-party cookies are banned.
#5 Explore publisher data
Major publishers typically offer display, video and native buys using the data they have, when contracting directly or through auctions.
#6 Use unusual personalization tactics
Campaigns that use deep personalization through clever geo-targeting and time-parting (often referred to as 'moment marketing') typically generate high engagement and even lead to advertising awards, yet they are still not widely used in the industry.
#7 Rethink your martech ecosystem
Try to reformulate your data ownership and technology policies to get the most control, visibility, and utility out of your own data. First-party data is now more important than ever, and owning all your data will act as a safety net in case you need to swap agencies or tools, which might otherwise result in data loss.
#8 Win trust and maximize profits
Maximize expected profits with a better customer experience based on increased customer trust, combined with cleverly personalized messaging to reach them when they are most likely to commit to doing business with you.
12 tricks from SALESmanago Marketing Automation practitioners
For more specific advice, we turned to expert practitioners who implement effective marketing strategies using the latest technology on a daily basis.
#1 Maya: Play the Gated Content Right
Trick: Prepare high-quality downloadable content and exchange it for zero- and first-party data
What's the shtick: Content consumers are more likely to exchange data in exchange for tangible benefits and the promise of responsible use of the information. Leverage forms and landing pages to clearly communicate to your audience what they will gain in return for their data and how you will use it. Remember also to prepare content based on the real interests of your buyer personas to motivate each of them to leave additional information. Use website hyper-personalization to make your landing pages even more attractive and easily adapt them to the needs of an individual person.
Additional resources:
[Free Ebook] Data Ethics & Customer Preference Management – These trends will dominate eCommerce
[Tips & Tricks] 5 super advanced and turbo effective segmentations for eCommerce
Maya Kowalska: For many years, has helped many global B2B and eCommerce brands create and execute effective content marketing strategies spiced up with top martech solutions.
#2 Luke: Create automated scenarios for anonymous users
Trick: Leverage SALESmanago CDP capabilities to automate for anonymous users and effectively respond to each contact's behavior.
What's the shtick: Website Automation Rules allow you to run automatic scenarios on your website that will also work for anonymous users. Based on their behavior in real time, you can modify the content on the site, offer help or propose subscription to a newsletter or Web Push notifications.
Additional resources:
[Read more] Website Automation
#3 Luke: Personalize your website
Trick: Capture user interest through customized content and banners on your website.
What's the shtick: With the information collected in your CDP, even in the absence of third-party cookies, you can effectively personalize your site to achieve the desired conversions. With the combination of first- and zero-party cookies with the information collected in your user profile, you can use them at any time to make your website and its individual elements more appealing to potential and current customers.
Additional resources:
[Read more] Website Personalization
Lukas Jordan: For several years associated with SALESmanago, where with a smile on his face he implements the most complex Marketing Automation scenarios. Miracle manager and specialist in building positive relations in the business (post-cookie) world.
#4 Roxanne: Value relationships with existing customers, but nurture those who aren't yet ready to buy
Trick: Use a slow approach to educate potential customers to bring them closer to buying on their terms.
What's the shtick: With Lead Nurturing you will prepare a potential customer to make a purchase – a well prepared program can increase the conversion rate by up to 50%. It will allow you to provide key information, comparisons or concepts to direct the thinking of the potential customer and, as a result, accelerate the completion of the sales process. Directing recurring messages to prospects and analyzing their behavior in response to those messages (first-party data) makes it easier to segment contacts and pinpoint the hottest leads for sales. Automated welcome messages will also work great to immediately identify a potential customer's area of interest and equip them with knowledge about your business or product offering.
Additional resources:
[Tips & Tricks] Lead nurturing x 6 steps of successful Lead Nurturing x Alan Weiss' Persuasion Theory
[Free Checklist] Effective Lead Nurturing – Free Checklist
Roxanne Lempart: Head of Customer Success, she is experienced in implementing Marketing Automation strategies. A very friendly and smiley person who is always willing to help others.
#5 Dagmara: Verify your database and send win-win messages
Trick: Tailor messages to specific audiences based on information about their transactional behavior.
What's the shtick: Use the RFM Marketing Automation module that segments your contact database using transactional data. It allows you to appreciate loyal customers by sending them tailored messages and to target special offers for premium customers based on collected zero-party data. And for less engaged you may introduce incentives to mobilize them. You can perform all actions in one panel and you don't need to create additional segmentation.
Additional resources:
[General overview] RFM Marketing Automation
[Technicalities] RFM Marketing Automation
Dagmara Zilska: One of the most experienced Project Managers at SALESmanago, she is eager to share her wealth of experience with others to help them understand the benefits of properly leveraging the platform's potential.
#6 Tatiana K.: Increase your revenue with dynamic first-party data-driven retargeting campaigns
Trick: Use the fact that a user has browsed a specific product on your site to send them a tailored offer
What's the shtick: With the collected data about customers' interests on your website, you can reach out to them through various channels such as email, SMS, Web Push to get them to come back to your website and purchase the product they are looking for. CDP collects data about browsed pages, products put in cart, favorite products. Furthermore, you can always ask the user to indicate their preferences regarding the communication channels in which they want to receive messages and thus create relevant segments in the Hyper Segmentation Center. Use this information and target personalized offers to customers based on their actual interests.
Additional resources:
[Tips & Tricks] Shopping cart abandonment and recovery: the definitive guide for e-commerce
[General overview] Customer Preference Center
Tatiana Kozeniuk: For several years has worked as a Marketing Automation Specialist in SALESmanago helping loads of companies around the world to implement the most complicated marketing campaigns and get as much as possible out of them.
#7 Ela: Target messages using zero-party data you collect in SALESmanago
Trick: Target customers precisely using advanced filtering.
What's the shtick: Advanced filtering allows you to effectively reach the right customer groups. Appreciate them with birthday emails, split them into age groups, exclude inactive contacts from mailings. This will gain you your users' trust and reduce the risk of unsubscribing from mailing lists. Use filtering and observe the growth of OR in the analytics panel.
Additional resources:
[Read more] Advanced emails addressing
Ela Cieluch: Heavily involved in one of the largest projects supported by SALESmanago, she successfully tackles every challenge with her vast knowledge, experience and thoughtful approach.
#8 Tatiana S.: Analyze the results of automated emails and conduct A/B/X tests to learn more about your audience
Trick: Testing messages sent by automation processes allows you to spot the items that attract your customers' attention and encourage them to perform a particular action effectively (e.g. open a message and click the link in it).
What's the shtick: Simply check which of your dynamic and regular emails and personalized banners are producing better results. You can check a maximum of four messages at once. Messages are randomly selected and sent to designated recipients. Opens and clicks are counted automatically. In the test, you can set the proportion of the banners coverage before and after the test. For example, you can decide that the message with the highest click-through rate (CTR), will be displayed far more often than others. As a result, you can use the knowledge about your customers to better adjust the design of your website and email communication to their preferences.
Additional resources:
[Read more] A/B/X tests of messages sent by automation rules
[Read more] Workflow: creating an automated campaign
[Tips & tricks] How to use A/B/X tests for marketing campaigns optimization and higher conversion
Tatiana Sapel: Professional Project Manager, currently supporting the world's biggest brands. She is characterised by efficiency and conscientious hard work tailored at achieving the benefits desired by her clients.
#9 Jacob: Analyze first- and zero-party data and predict future customer behavior
Trick: Reduce churn risk and tailor messages using predictive analytics.
What's the shtick: Using predictive analytics will allow you to predict future customer actions. Based on the collected transactional and behavioral data (based on your audience's past and present actions), you can adjust your marketing efforts accordingly to reduce the risk of losing a customer, thereby increasing your profits.
Additional resources:
[Read more] Prediction and purchase dashboard
Jacob Sieprawski: One of the top professionals at SALESmanago, through his experience of working with clients from various industries, he is extremely knowledgeable about Marketing Automation strategies, a part of his daily routine.
#10 Tomas: Tailor the content displayed on your site to each user according to their preferences
Trick: Apply personalized widgets, banners and messaging across your site to tailor content to each individual user.
What's the shtick: Make your visitors feel at home with real-time personalization that lowers your site's rejection rate. Replace generic offers with personalized ones, tailored perfectly to their needs. Use data about your visitors' preferences and profiles to help them find what they came for right where they are searching. Tailor site content to each individual contact in real time.
Additional resources:
[General overview] Personalizacja strony WWW
Tomas Tomczyk: Experienced Marketing Automation specialist with strong technical knowledge. He has a lot of successes in his portfolio and thanks to the acquired skills he supports his clients and less experienced colleagues very effectively.
#11 Kate: Build audiences based on your own data
Trick: Show your audience ads on Facebook and ad networks based on their interactions with your brand.
What's the shtick: Use Social Media as a communication channel to reach your audience. Build groups based on specific information about individual contacts. Display personalized ads that encourage them to return to the site and resume their interrupted actions. Referring to specific actions (first-party data) and information provided by the recipient (zero-party data) will ensure they see content that is meaningful and valuable to them. Use compelling pop-ups to collect data, which will help build knowledge about your audience through a series of questions that are contextually tailored to the content they are browsing.
Additional resources:
[Read more] Custom Modal Designer
[Read more] Wizard: Pop-up/Exit pop-up Express
#12 Kate: Avoid the pitfalls of third-party cookies by enabling Web Push Notifications for messaging
Trick: Web Push notifications rely on first- and zero-party data to ethically engage your audience with your brand.
What's the shtick: Fully leverage your knowledge of customers and their behavior within your online store to create engaging notifications. Send beautiful and effective static notifications reminding recipients about products and topics they were interested in on your site. Create attractive Dynamic Web Push notifications and send product recommendations using the scenario of your choice to encourage subscribers to visit a product page. Avoid ad networks that use third- and second-party cookies because Web Push notifications reach your subscriber base via browser.
Additional resources:
[New Feature] Engage customers with Web Push Notifications 2.0: One to one, AI rich content, no code, multilanguage and fully CDP driven
Kate Rejdych: Chief Product Officer at SALESmanago. She has been supporting strategic product development for years. She combines analytical skills with great curiosity about the martech industry and new technologies market. Featured in the report Strong Women in IT.
How to survive in a digital cookieless world – a brief summary
As we read in Gartner's 3 Steps for Marketers to Prepare for a Cookieless World: "Marketers should expect substantial and sustained disruption to digital advertising to last through the first half of 2023, or longer." We should dismiss the delusion that the third-party data-lypse will be unnoticeable and painless. Anyone who wants to efficiently perform marketing in the digital world must take specific actions aimed at shifting old paradigms and habits.
The support of those who have already walked this path is priceless in such a situation. If you want to share your ways to a cookieless world, or find another one to suit your business, contact your SALESmanago Success Manager!