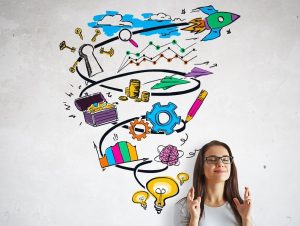 It's been a while since I've made a recap of top articles on digital marketing and marketing automation. To make up for this gap, I've picked TOP 10 articles from Q1 2017.
Digital Advertising: Will This Investment Pay Off? 
Knowing that by 2021, advertisers will spend up to 50 percent of their marketing budgets on digital advertising (up to $299 bn USD total), it would seem to be the only marketing activity worth pumping money into. However, much like any other gold rush, as this trend progresses, it brings its own ethical and economic dilemmas. For example, Jon Wilkins, executive chairman of agency Karmarama, pointed out that: "Funding of extreme websites is just one of a myriad of complex, opaque issues around digital marketing, it is not the issue, it's just one of them, and that's what's made this so complicated." See experts answer this question and mention other potential risks of using digital marketing without proper strategy.
Pesky Robots Are Stealing Our Jobs! 
Some of us expected the automation boom to redesign the job market landscape for good. But what we had in mind was for the most part positive – that intelligent systems would take care of dull tasks and automate activities that can (and should) be automated, so we have more time to spend on other activities. Now that artificial intelligence is ours to command, we no longer hesitate when it comes to delegating tasks that require the supervision of someone wittier than a coffee machine. However, in some cases, automated solutions outperformed real people. Canadian press reports that automation could put 4 in 10 Canadian jobs at high risk in the future, even those safe, white-collar ones.
A Big Dream of Big Data – The Next Frontier Trends 
There is no innovation when it comes to marketing strategies. Everything has already been introduced to a market not once, or twice, but multiple times throughout the years. People get tired of seeing the same ol' tricks over and over again. What can a marketer do to stand out? The only way is to combine the best ideas that drive hot trends and root marketing actions in data analysis. Learn how to give a game-changing twist to overdone tactics.
The Heart of Digital Communication
What is the living center of marketing communication in the digital world? How to track customer behavior across multiple channels and provide a seamless customer experience across all brand touchpoints? And finally, how to address the key challenges of omnichannel marketing? Read this article to find out.
Email Marketing: How to Get More Responses With Only One Word?
Despite the appearances, it isn't some useless clickbait. The article presents an interesting research case on how you should end your emails if you want to get more responses. Don't overthink! Ockham's razor cuts your complicated strategies to pieces. See how to resolve this problem the easy way.
Email Marketing: A Few Tips for Retailers 
The first rule of Email Marketing is: You do talk about an email's goal.
The second rule of Email Marketing is: You DO talk about an email's goal.
Tailor content to the message's main purpose. It is that simple, yet somehow people tend to forget it. But that's just one of a marketer's dilemmas. How many goals can you set for one email? One, two, five? Find out with this article!
100% free  – Inside Out and Up director Pete Docter, Brave director Mark Andrews, Inside Out story artist Domee Shi, and Ratatouille animator Sanjay Patel share insights into the art of storytelling. Use this opportunity if you want to play in the big league.
So I Heard, You Wanted to Be a Digital Marketer 
I found you a handbook on how to outshine them all with your wit and personal branding. Jokes aside, if you're thinking of starting a career in digital marketing, be sure to read the tips listed in this marvelous article written by Laura Leebove.
Mobile Corner
How Cheap Smartphones and Fast Internet Increase Demonetization [Case Study – India]
Emerging Markets are The Next Big Thing in Mobile Advertising [White Papers]
News in Our Library:
The Great Book of Generating Leads for Ecommerce
5 Ecommerce Problems and how to solve them using Marketing Automation Platform, Part 1
5 Ecommerce Problems and how to solve them using Marketing Automation Platform, Part 2