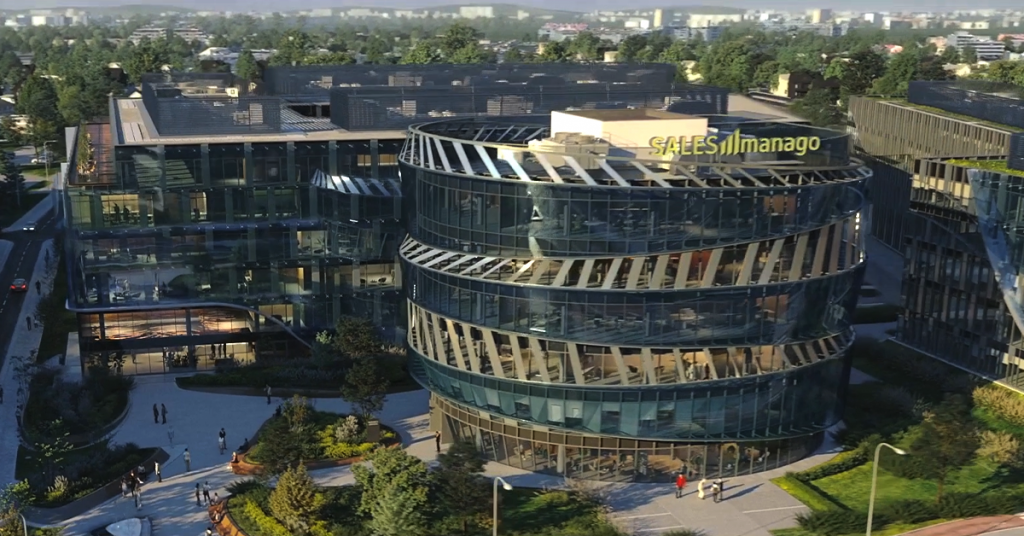 SALESmanago, Poland's largest and fastest-growing company creating eCommerce technology solutions, is set to become the single occupant of a new, eye-catching building located in Ocean Office Park in Krakow's Zablocie district in August 2023. The unique office, developed by Cavatina Holding, will provide modern working space for nearly 700 people.
The new building (Ocean Office Park D) – which will become the new, flagship headquarters of SALESmanago – provides an impressive 4,700 sq. m of comfortable, well-equipped working space over 5 levels. Under the building there will be extensive parking (100 spaces) equipped with a charging infrastructure for electric vehicles. The infrastructure will also cater for the needs of cyclists – including locker rooms and showers. Thanks to the use of energy-efficient and sustainable solutions, the building will be eco-friendly and certified under the international BREEAM standard.
The investment in the new office aligns with the dynamic growth of SALESmanago, which at the moment employs 360 consultants, data scientists, and engineers across 2 different sites in Krakow. The company is also opening offices in Amsterdam and London to further expand its global operations – currently SALESmanago solutions are used by more than 2,000 eCommerce companies in 50 countries.
"We don't merely employ people – our mission at SALESmanago is to inspire individuals to be their best selves. To do this – we are completely re-styling our work experience – which means advancing our culture through a more personal approach, and setting everybody up for success to accelerate our business growth. Our new headquarters at Ocean Office Park is a key part of our People strategy – and will provide a spacious, attractive and high-performance collaboration environment for our fast-growing team. It's also a beautiful, totally unique building that inspires confidence – a real, exciting statement of intent and a perfect new HQ for SALESmanago." says James Eastwood, Chief People Officer at SALESmanago.
The unconventional architecture of the complex, as the name of the project suggests, takes inspiration from the ocean. The façade of the building involves the use of "double skin" technology, which increases the thermal and acoustic comfort inside the building and further enhances the visual qualities of the building. Ocean Office Park also benefits from state-of-the-art space management tools, providing SALESmanago, and other tenants, with access to comprehensive space planning, reception registration, conference room management and parking space availability services.
With so much thought and design going into the 'well-being' of people working at Ocean Office Park, it is no surprise that the building will also be certified under the WELL Health-Safety Rating – providing additional assurances of the importance of creating a safe and comfortable working environment.
Experts from the Walter Herz consulting agency supported the company in selecting the new office.
The new office is located in a hot-spot of Krakow, easily accessible on foot or bicycle, and only a short walk from the city center. The complex is also easy to reach from different parts of Kraków and surrounding districts thanks to a well-developed public transport network with stops nearby. In addition, Galeria Kazimierz, just a few minutes away by car, provides access to a wide range of services, shopping and dining options.
"We understand well the rapidly changing needs of companies like SALESmanago, operating in a very dynamic market environment. We offer comprehensive services that include not only providing top-quality office space, but also consulting, design and finishing services. One of the tasks that post-pandemic offices are supposed to serve is to attract employees to the offices, integrate them and meld with the company, offering a homey vibe with solutions that spark innovation. Complemented by service units, shops and medical facilities – Ocean Office Park sets a standard for what an innovative workplace should look like" – adds Natalia Jaglińska, Leasing Director at Cavatina Holding.
SALESmanago will move into their new headquarters at Ocean Office Park in Q3 2023. The company was supported in selecting their new office by experts from the consulting agency Walter Herz.
For more information on the Ocean Office Complex contact:
Łukasz Zarębski
e-mail: lukasz.zarebski@cavatina.pl
tel. kom: + 48 533 889 240
www.cavatina.pl