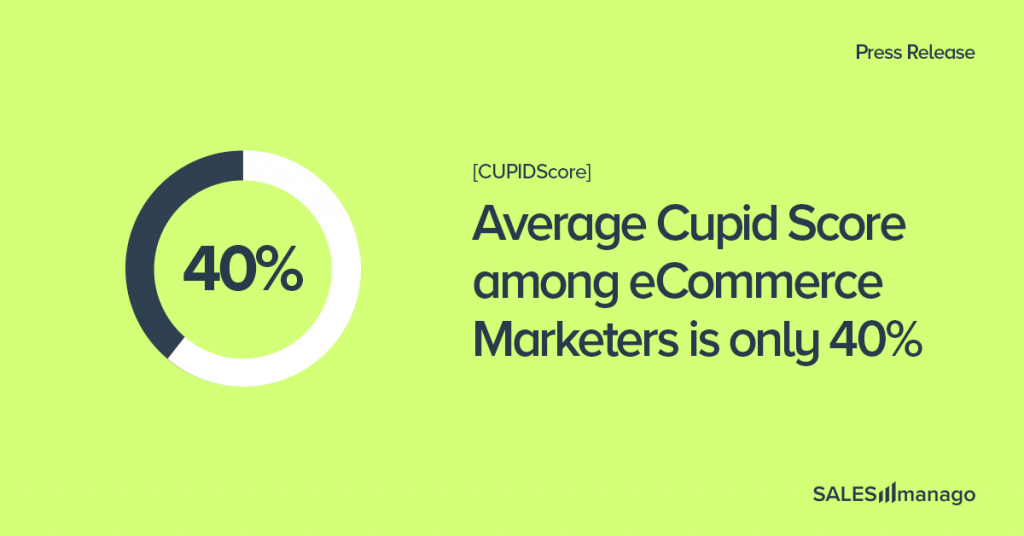 SALESmanago launches findings from its CUPID Score, which calculates how successfully ecommerce marketers are measuring customer engagement
SALESmanago CEO calls for marketers to embrace Customer Data Platforms to tackle these challenges
Kraków, May 10, 2023 — Customer intimacy and convenience are key challenges for ecommerce marketers across Europe. That's according to research gathered from SALESmanago's CUPID Score, a new industry standard for measuring customer engagement and experience.
SALESmanago, the leading customer engagement platform for ecommerce brands, launched CUPID in February 2023. The free assessment provides a breakdown of results across five key areas: Convenience – communicating with customers at the optimum time – Understanding, Personalisation, Intimacy and Data. Those who take the assessment receive a score out of 100, in addition to a breakdown of their results in each category.
Results since its launch reveal that out of 500 responses, the average score was 38.57 out of 100. Measuring customer intimacy (34.83) and convenience (37.73) received the lowest average scores, with customer understanding (41.71) and data (39.74) receiving the highest. Middle of the road was personalisation, at 39.4 out of 100.
"The results from CUPID Score so far emphasise the need for a better understanding and measurement of customer engagement," said Greg Blazewicz, CEO at SALESmanago. "With an average of just 40%, there is a long way to go for ecommerce marketers to improve their customer engagement. One way this can be achieved is through embracing Customer Data Platforms, which can enable businesses to deliver personalised and relevant experiences to their customers, ultimately improving customer satisfaction and loyalty."
Customer Data Platforms empower ecommerce marketers with analytics, optimisation tools and marketing intelligence to provide a single customer view and better retention strategies. This includes targeted email campaigns and loyalty programs. CDPs also help to avoid the misuse of data by having GDPR-compliant preference centre options and first-party data collection via the platform.
"Becoming a trusted revenue partner for their CEO is the North Star for marketers, yet many aren't embracing the tools available to do so," Blazewicz said. "This starts with adopting Customer Data Platforms, which ultimately increase customer engagement. It should be a priority for all marketers in 2023."
To find out your CUPID score, visit the website here.