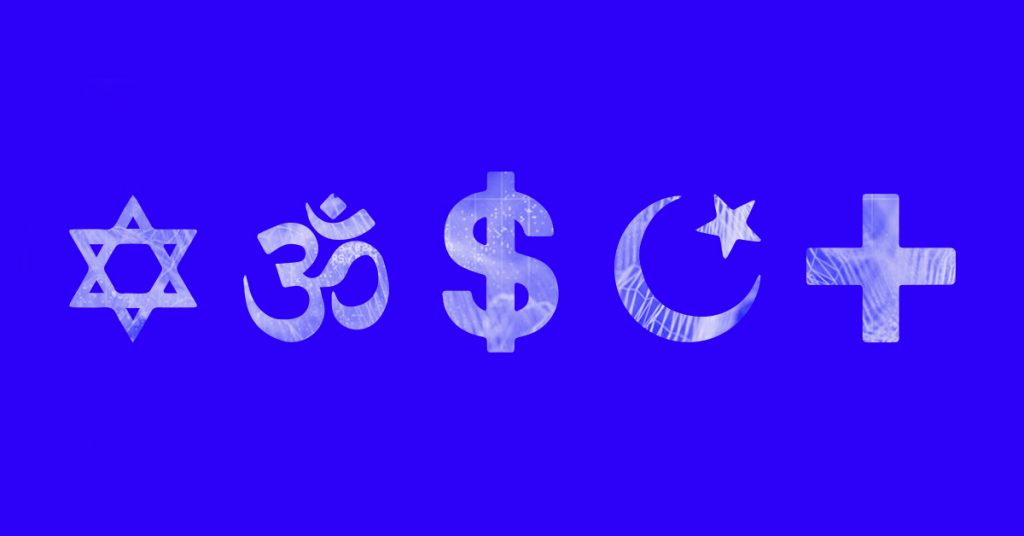 The faith-based industry is getting more and more popular, spreading its range on different branches such as literature, cinematography, and even fashion. Just like Mel Gibson's successful movie The Passion of the Christ gained $611M worldwide, the fashion company Forever21 is stamping Bible verses on their bags, counting on better sales. Companies have realized that by touching the immense demographic of religious people, they can reach much higher numbers.
Foundations of Faith-based marketing
If I say that religion is a business and to add, not a bad one I think no one would be surprised. Every year a widely understood religion contributes over $1.2 trillion of socio-economic value to the United States economy with as much as $437 billion coming from faith-based businesses. Such businesses can cover different fields, the most popular ones being Kosher and Halal food industries, religious literature, and as the example listed above states – movies, media, or fashion. Coming down to one definition, I would describe faith-based marketing as the integral correlation between religion (or religious beliefs) to business and marketing.
Targeting strategy
For a considerable time, marketers were targeting certain groups using mainly demographic data. After the emergence of mass media, a need to divide consumers into more specific groups arose, to make strategies more profitable. And so potential customers were sorted by standard categories such as age, sex, income, or degree, which as it turned out, wasn't enough.

With the new technology, software, and strategies marketers moved to a new stage of advertising using additional data, which allowed them to concentrate on more individual aspects of clients, such as their passions, preferences, online behaviors, and most importantly beliefs.
To put it in numbers, Christianity as the largest religion counts over 2,3 billion people. That being said, targeting this group can deliver huge income for companies, just by listening and living up to their requirements.

Understanding needs and beliefs
To comprehend the needs of religious customers, marketers should have at least a superficial overview of what religion defines. It isn't only (like the popular opinions states) a set of orders and prohibitions collected under divine command, but it affects behavior, thoughts, and attitude towards society and individuals. That implies Religious beliefs can influence customers' perception in the case of marketing. A good example would be alcohol prohibition in Islam, hence companies are coming with alcohol-free cough syrups, which are purchasable by Muslims.
Successful campaigns
As an example of successful marketing referring to religion, Sunsilk Bangladesh a beauty company providing hair products came up with Hijab Refresher dedicated to Hijab-wearing women. Sunsilk not only showed the desires of their religiously diverse clients but also how to fulfill them.
In 2017 United Colors of Benetton released a spot on India's Independence Day showing cultural coexistence, community, and the game of Cricket – one "religion" that unites all. Heartwarming commercial, using religious symbolics did not in a reality show any of the company's products, but for sure took advantage of faith-based emotions to play with the viewer.
Are faith-based companies more reliable in the eyes of customers?
"Mary, Jesus' mother, had 100% faith that He could resolve the issue at hand"
Assuming that Christian based businesses are following their religious doctrine, a given organization can be seen as a more reliable one. Visiting domains with quotes like the one above can convince customers that the company is not only adapting principles of particular beliefs but also introduces them as more prevalent, which contributes to the religion itself. In this case, it is not a religion that supports marketing, but marketing is the tool to support religion.

In the name of faith
There is no scope of doubt that religion is a vast tool that appeals to the masses. From the business point of view – no holds barred. Obviously, in terms of marketing, it was a timeless decision to integrate religious beliefs with the promotion. Faith-based strategies allow companies to gain even more, even faster, and as some claim, in the name of faith. The question occurring while covering this topic, is it ethical to use religion in such a mundane matter? This one I would like to leave unanswered.