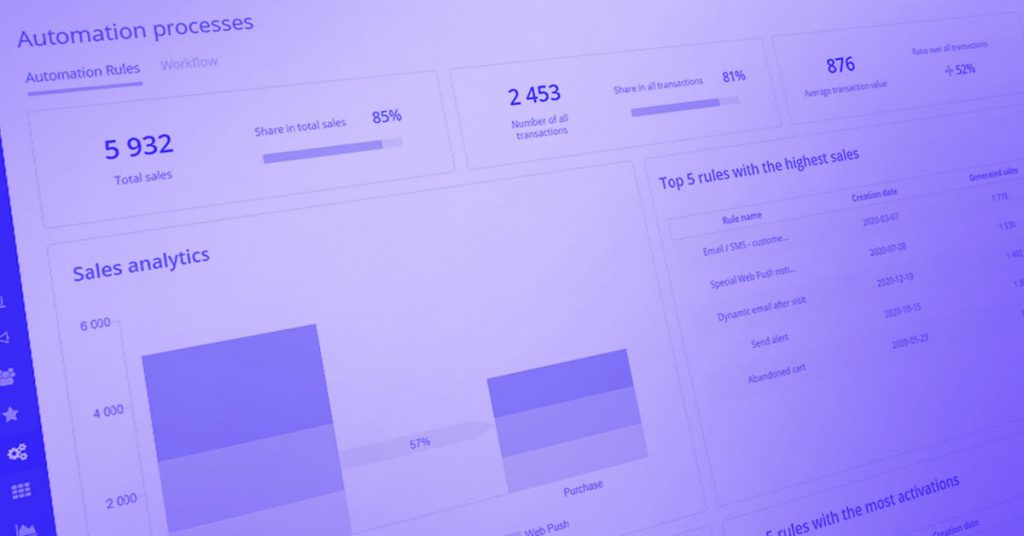 37% of (EmailMonday) marketers believe that one of the most important possibilities of marketing automation strategy is to measure its performance. By considering that 75% (MooSend) of email revenue comes from personalized campaigns, we have realized that the key feature of SALESmanago system analytics is easy access to the most important statistics of automatic multi-channel campaigns. And there it is – a new Automation Process Dashboard for SALESmanago customers.
The ability to immediately track results of automated campaigns is not only time-saving but also helps to achieve the goals faster
Improving the quality of conducted campaigns is impossible without proper analysis, error correction, and careful comparison of previous results. However, this is a time-consuming job, and as you know – time is money. Even 74% (Review42) of marketers say that the biggest benefit of marketing automation is saving time. So why should Marketing Automation technology not help us automate the understanding of the results generated by our marketing activities?
89% of marketers ranked improving the ability to measure and analyze marketing impact as a top priority (Responsify),
Only 58% of marketers say they are often successful in achieving their marketing goals (Responsify),
Only 29% of marketers said they had no issues or delays in getting results from automated campaigns (VentureBeat).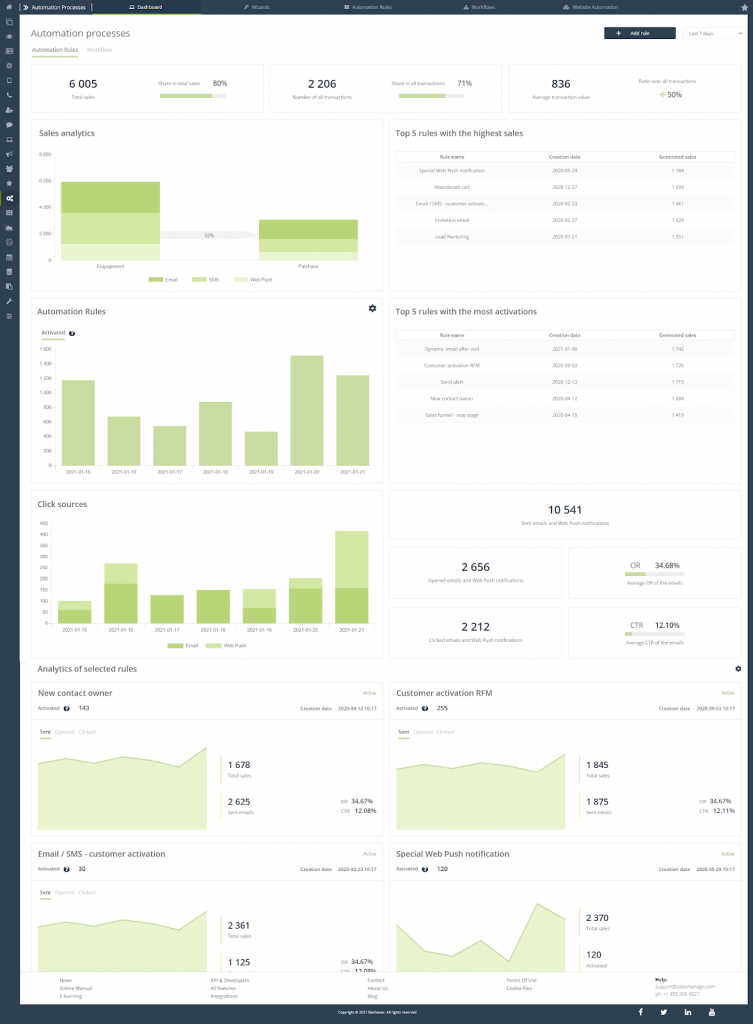 Deeply analyze results generated by your multichannel marketing campaigns, and based on this regularly improve your strategies. Track revenues from each process and see which channel achieves the highest profits.
4 points that will make you look at analytics in a completely different way
Measure sales generated with all communication channels you used in your automated campaigns and check what part of your total sales is coming from the automation,
Analyze how the engagement created with each communication channel translates into sales from your automated campaigns,
Easily access the list of best performing automation processes and workflows and learn what results each of them is generating. Improve the omnichannel communication process to boost conversion across the entire customer journey,
Based on data from the detailed analytics panel, make the right decisions, react quicker, and refine your campaigns without worrying about achieving marketing goals.
How can Automation Process Dashboard affect 1-to-1 campaigns and guarantee profit growth in every company?
Observe which of your Automation Processes bring the highest revenues and on this basis refine the strategy of less profitable marketing campaigns,
Learn from mistakes, use the possibility of viewing statistics for each individual Workflow and Automation Rule, and quickly assess whether the marketing activities undertaken in a given process bring results,
Compare the ratio of revenues from automation processes to total sales in your eCommerce and check if you are successively mapping, personalizing, and optimizing the path of each customer,
Analyze how email messages, SMS messages, and Web Push notifications statistics have changed in 1-to-1 campaigns and easily monitor changes in average OR and CTR of emails, to check if you reach their intended marketing goals,
Monitor customer activity by checking the number of activations to decide if additional processes are needed to stimulate them.