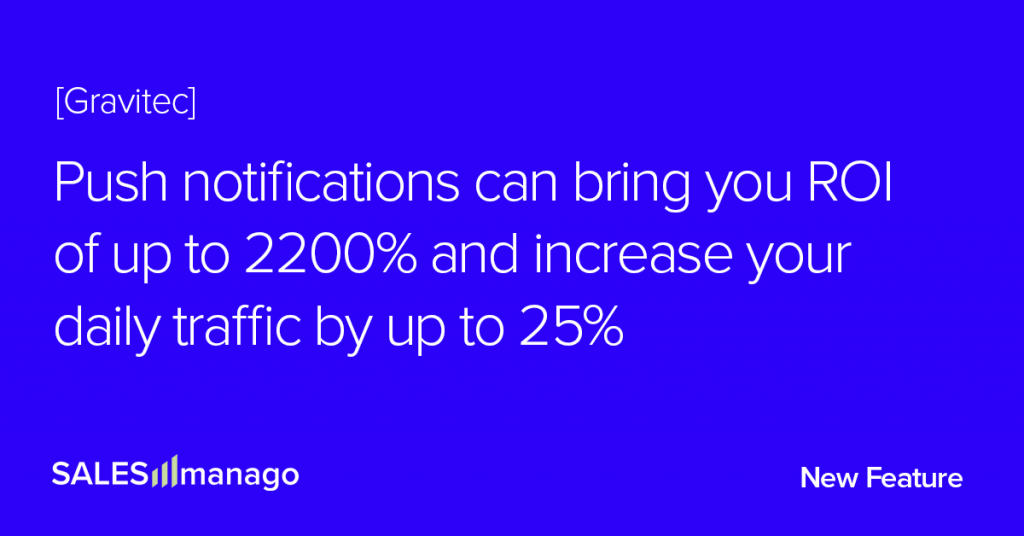 According to Gravitec, Push notifications can bring you an ROI of up to 2200% and increase your daily traffic by up to 25%. How's that possible? Web Push Notifications are fast, versatile, dynamic and extend the brand's reach. No wonder that MarTech companies go an extra mile to make them even more unbeatable as a marketing tool.
Web Push notification: efficient, convenient and upgraded
When they first appeared, Web Push notifications were an interesting alternative to other marketing communication channels. They allowed marketers to quickly reach even those customers who did not leave their email address. Web Push notifications' great advantage was that they were displayed on screens even when the recipients were using a browser but were not on the sender's website or social media profile.
Over time, it turned out that the recipients appreciated this type of communication and responded very well to the messages. And the better the notifications are tailored to their needs, the more engagement and profits they generate.
In this situation, it becomes a challenge to make Web Push Notifications even more effective, easier to implement and tailored to consumers' needs. Combining them with AI-driven recommendation engines and CDP data brought Web Push notifications to a whole new level.
Easily engage customers with multi-language, codeless, CDP-driven one-to-one Web Push Notifications 2.0
Web Push Notifications 2.0 outperform traditional Web Push notifications in many ways. From codeless implementation, to multi-language, dynamic content, to advanced segmentation of addresses. Here's a highlight of Web Push Notifications 2.0 uniqueness.
Reach and engage both anonymous and identified customers by offering them bespoke content – including multi-language versions of notifications and consent forms – in one of the best consent-based communication channels, through personalized Web Push notifications.
Use multi-faceted CDP data to hyper-target your campaigns and enrich your omnichannel strategy – choose whether you prefer to communicate with consumers using desktop, mobile or both.
Stay in touch with the users that are interested in your offer but not ready to leave their contact data yet.
Benefit from the codeless implementation of a simple yet powerful tool that enables creation of effective campaigns.
Enjoy a wealth of features such as 1:1 personalization, detailed analytics of the campaigns or option to select the device to which you want to send Web Push notifications.
Target multiple markets at once – create various language versions of consent forms and notifications in one easy step.
How to use Web Push Notifications 2.0 in eCommerce to engage customers and increase sales?
Here are just a few ideas on how to use Web Push notifications in everyday business:
Complete your omnichannel and use fast, dynamic Web Push notifications to send your audience personalized, engaging content bypassing busy inboxes and non-stop texting streams.
Easily prepare native or graphic consent forms and start using them immediately with no-code implementation.
Use the best practices of consent-based marketing. Gradually build trust and strengthen relationships with your customers, starting with notifications that don't require them to leave contact details.
Prepare for incoming changes in Google algorithm. Start using Web Push notifications as an alternative for pop-ups and forms. Avoid SEO penalties for inconvenient website content and still communicate with customers.
Circumvent the heavily-used ad blockers. Leverage the fact that ad blocking plugins do not have any effect on Web Push notification delivery and keep the conversation with your clients even if they are blocking ads.
Inform about price drops and special offers even when users aren't active on your website. Use Web Push notifications' multi-language, AI rich content to serve users the information that will engage them and will result in higher conversion rates.
Leverage personalization & impulse buying mechanism combo to get higher conversion rates with personalized recommendations and abandoned cart Web Push notifications.
Use CDP data to address multiple stages of customers' relation with a brand: from new customer, to an active client, to a dormant customer with a high propensity of churn. Send Web Push notifications that are relatable, appealing and engaging.
Standard Web Push Notification tools vs. Web Push Notification 2.0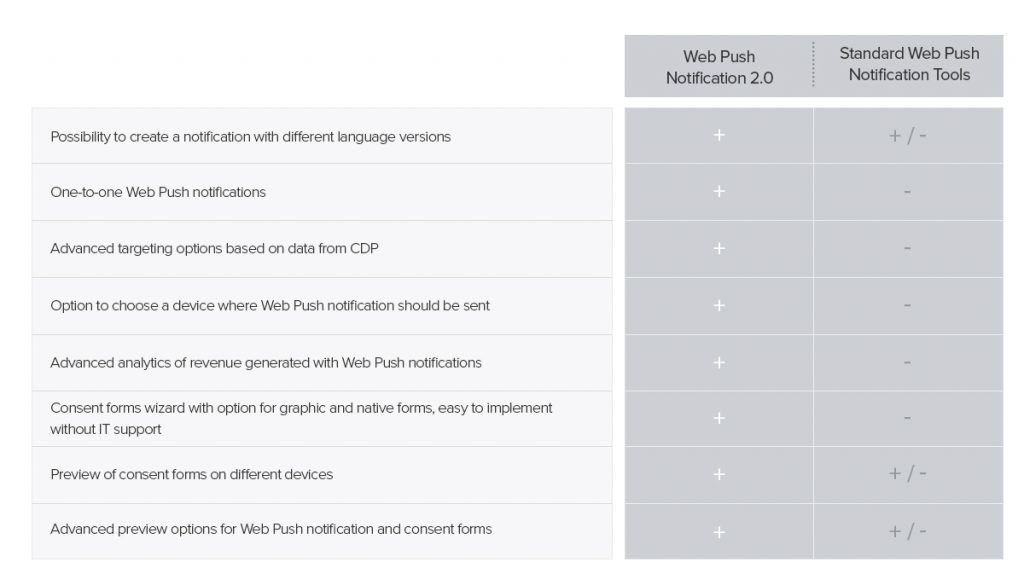 Web Push Notification 2.0: Wrap-up
Web Push notifications are a neat, efficient and versatile channel. The richness of features such as dynamic content, CDP data-based segmentation of recipients or codeless implementation of multi-language native or graphic consent forms makes them even more valuable as a marketing tool. There's more to know about them, so we strongly recommend our Research and Case Study that show the power of Web Push notifications:
And for those who want to check how Web Push Notifications 2.0 can boost their eCommerce KPIs, we recommend a 1-to-1 demo webinar.