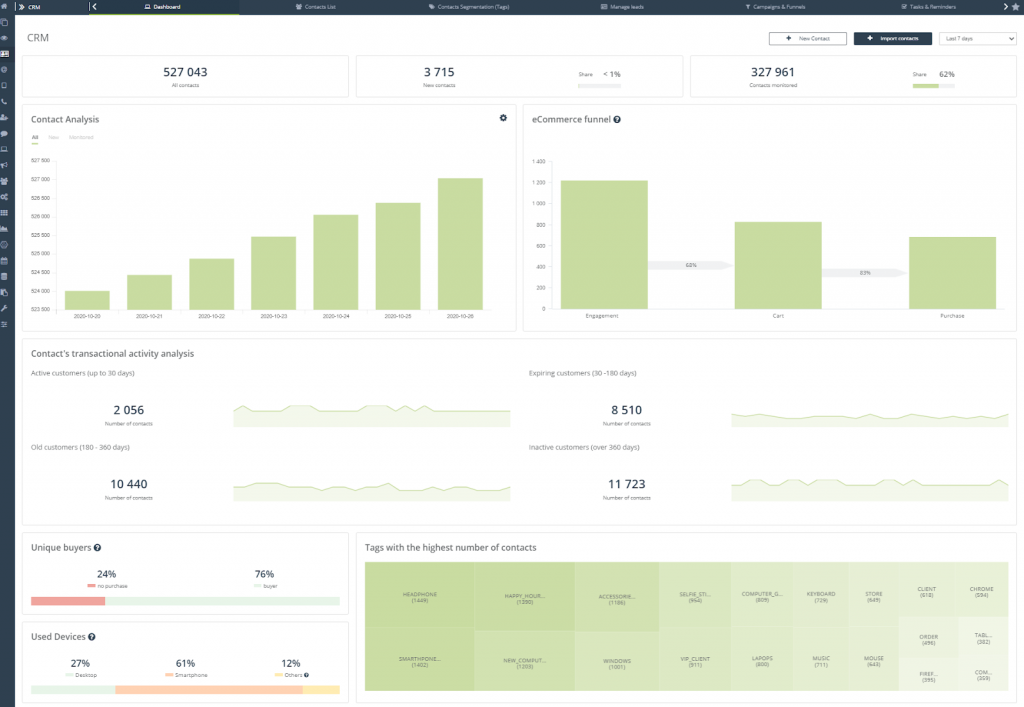 The beating heart of our CDP is the extensive base of contacts that you can perform many distinct actions on – after all, what's the point of advanced marketing solutions if you don't have a way to effectively analyze your contacts base in preparation to subject them to specific campaigns? For this reason, we've streamlined the CRM part of our system so that it includes all the contact information necessary for advanced campaign analytics, with all the contacts information right at your fingertips.
The CRM Analytics Dashboard allows you to investigate the growth and health of your customer base and their activity over time, which tells you exactly which of your contacts remain active and which haven't been active for a while. With it, you can clearly see the purchasing activity of your contacts, specific funnels they've been assigned to, and went through, and keep up with customers that have lapsed in their activity to plan special campaigns, and by using the eCommerce Funnel, you'll be able to view the current transactional activity of your contacts and assess their sales potential. The Dashboard will display to you the most important segments of your userbase, the most numerous ones, the most active ones, the ones converting the leads most effectively, the kind that you should focus on while they're showing great interest and activity.
You can also take a far-out view of your database and see how your metrics changed over time as a result of your past and ongoing campaigns. This allows you to run more tests and establish which actions, performed on which segments of your user base, and at what time, were the most effective.
In the new CRM Dashboard, you'll be able to:
Analyze the growth, health, and engagement of your contacts' database in the transparent CRM Dashboard
Use eCommerce Funnel chart to display the current transactional activity of your contacts and evaluate your sales potential
Access the information on the customer segmentation based on the time since their last purchase to track the number of active, expiring, old or inactive customers and the change of their quantities in time
Display the list of the most numerous customer segments in your database
Oversee the progress of leads transferred between different stages of your sales funnels
Use a quick view of your hottest and newest contacts to check easily who you should contact in the first place.
Compare how your contacts database changes in a specific time and analyze how you can improve your lead generation strategy.
How to start using the CRM Dashboard
This feature has been implemented as a core part of the CRM section of our system, meaning it is now available for all users of our system whenever you enter the CRM tab. It contains predefined charts containing a wide range of important values pertaining to your contacts base, which you can customize by specifying dates to see a wide picture of your campaigns or to focus on a short period of time to see exactly what happened there.
These charts are intuitive and flexible, providing you with a wealth of information to review before you have to run advanced analysis to get detailed reports. They provide a great place to start and will immediately alert you both to the presence of potentially problematic spots or gaps in the activity of your contacts, as well as to moments of greatest campaigns' effectiveness.