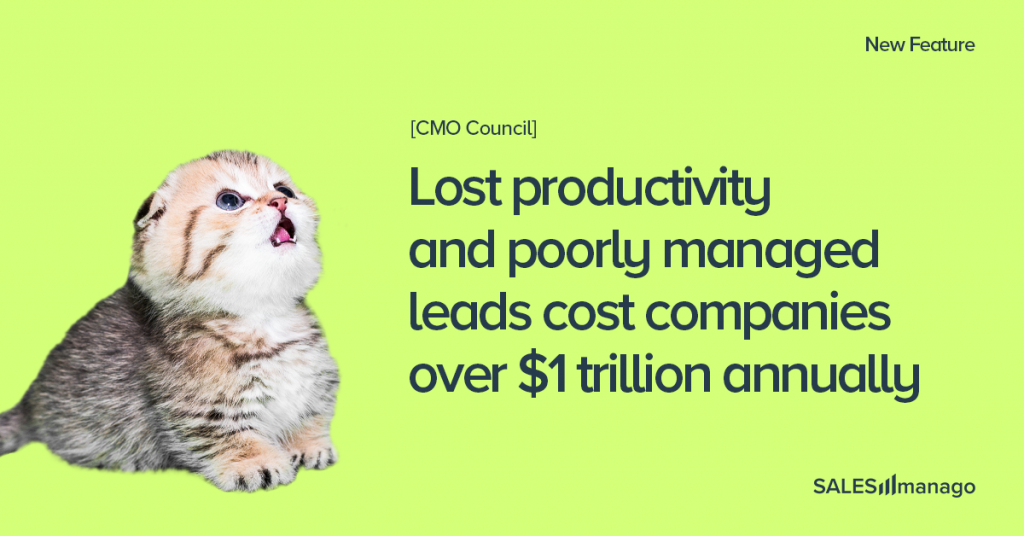 Lean Marketing requires efficiency, but such a title may seem outrageous. It turns out, it is not an over-the-top expectation, but actually a solution. You can do this – if you have a proper Workflow. In this article, we will explain what Workflow is, how it works, who is responsible for its efficiency, and ultimately – how to take advantage of it.
Lost productivity and poorly managed leads cost companies over $1 trillion annually. Some of these costs could be avoided with database automation software. (CMO Council).
In our previous article on our latest feature, we explained the factors driving the incredible growth of Workflow Automation solutions. Here, we want to provide you with a grasp of what a powerful tool Workflow actually is.
How do workflows work?
Workflows are a part of the marketing automation phenomena, so some context is needed before we can discuss them in detail.
According to Gartner, "A marketing automation system is a system that helps marketers execute multichannel marketing campaigns by providing a scripting environment for authoring business rules and interfaces to a variety of third-party applications."
Clearly, the efficiency of such a system depends entirely on the competence of its creators. So, what about Workflows?
"Workflow rules let you automate standard internal procedures and processes to save time across your organization. A workflow rule is the main container for a set of workflow instructions. These instructions can always be summed up in an if/then statement." (Salesforce)
Workflows are simply command structures. We usually visualizing them as a flow because they foresee consequential instructions, that make marketing automation strategies operationally possible.
What makes up a Workflow?
What is a workflow and what does it do?
Workflows use an "if/then" structure to execute certain actions when a certain condition is met. An automated Workflow, at least in an eCommerce marketing context, always involves:
Different touchpoints in the customer journey
Conditions for steps within the Workflow (these may be user or customer features or behaviors)
Actions that are automatically triggered by such instructions, such as sending an email to a contact on a list or adding a new contact to a list.
In general, every Workflow is configured like a predetermined set of instructions in a specific order to obtain two objectives:
To facilitate a visitor's transition to becoming a customer (conversion)
To trigger a circle of lead nurturing, creating greater awareness and increasing purchase motivation.
At SALESmanago, we consider this to be part of Customer Intimacy.
In summary, Workflows distribute content and personalized (or hyperpersonalized) messages to members of a company database:
On the different touch points provided by the digital strategy, which correspond to different moments of the customer journey
To give the decisive impulse to the activation of a conversion
With the ultimate goal of creating interactions and, above all, creating Customer Intimacy
But exactly how do Workflows achieve these goals? What features or actions on the visitor or customer website should trigger what actions?
When addressing these questions, the marketer's competence is key and can even override the competence of the creators of the marketing automation system.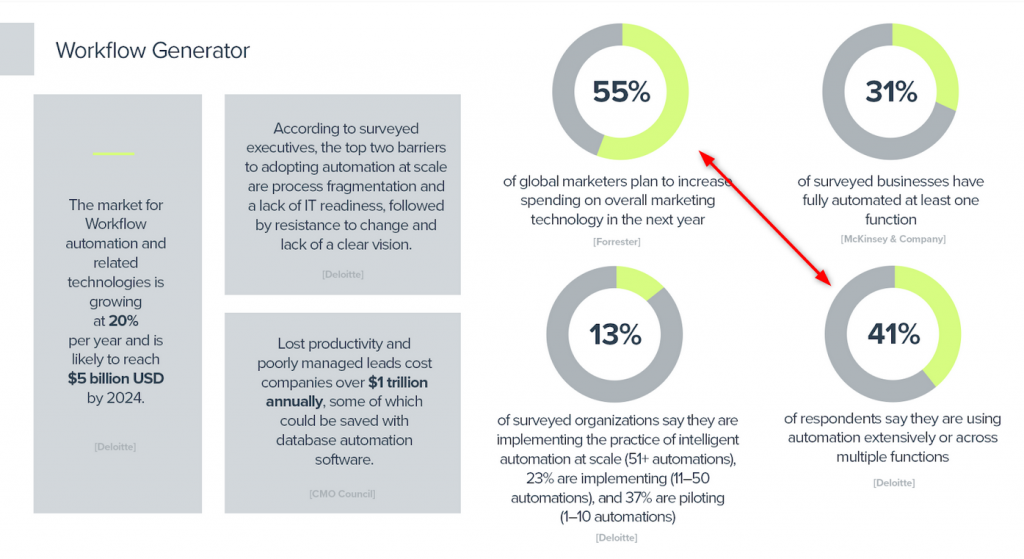 Examples of the Workflow goals and tactics
The key factors of a successful, efficient Workflow are:
Clearly defined marketing goals
Proven, tested tactics
Awareness of the potential of different channels
Let's look at two examples of expertly crafted Workflows. The first was created by Marcin Ostrowski, a marketing expert who works regularly with such companies as Eurospin or RC Lens.
The marketing goals of this workflow are to increase customer engagement and build customer loyalty. To do this, Marcin uses the Lead Nurturing tactic. Remember, Lead Nurturing is not a goal in itself, it is just a tactic to achieve the goal.
Marcin decided to execute his tactic omnichannel, via:
Email Marketing
SMS
Custom audience
Details: Lead nurturing begins when a contact is added to the system. We send an introductory email, and then we try to determine the best way to communicate with the contact. Lead Nurturing involves delivering the same content to each lead, divided into installments, using the best channel for that lead. So, we check if the email has been opened. If so, we send two more emails. If not, we check if we have a phone number. If so, we send a message telling the lead that some interesting information is waiting in their email inbox (if the client's Lead Nurturing is uninteresting, then do not conduct it at all) and then follow up with another email. Then we check if that email has been opened. If so, we send the rest of the content by e-mail, if not, we follow up again via SMS.
If we don't have a phone number, we resend the email to make sure the first one wasn't sent to spam or otherwise lost. If the second email is opened, we end the Nurturing channel. if it isn't opened, we add the contact to the custom audience list and GAds to increase brand presence without providing nurturing content. For customers with SM Mobile, a separate lead nurturing is created when they install the application. If the customer has his own application, both workflows should run simultaneously.
Another example is a Workflow created by Aleksandra Urban, an expert working with Cenomi Group, Nahdi, Alphorm, and Miss Group. This Workflow has several interconnected marketing goals: Lower customer churn, Increase customer lifetime value, Increase customer engagement, Hyper-personalize customer experience, build customer loyalty.
To do this, the workflow uses the NPS survey tactic, executed via three channels:
Email Marketing
Mobile Push
Mobile Marketing
Details: Email: After a purchase, we wait (time to be determined) and then check whether the contact has opted-in. If so, we send a message with a link to the NPS survey if not, finish the workflow. After sending this message, we wait (time to be determined) and then check whether the contact has clicked on the previous email (with the link to the NPS survey). If so, we mark the workflow complete; if not, we do not send follow-up.
SMS: After a purchase, we wait and then send an SMS with a link to the NPS survey. We then wait again before sending a follow-up, and at the end, we add the path end tag.
Web push notifications: These follow a similar pattern.
Website personalization: After a purchase, we wait and then launch a WAR, which is designed to display a chat encouraging the lead to provide feedback. We wait and then check whether the contact has visited the page (and thus seen the chat window). If so, we check whether the contact has a tag that the consultant could have manually assigned to him after leaving a review. If the contact has this tag, we finish the workflow. If there is no tag, we run another WAR which is designed to display a pop-up to an NPS survey. If the contact hasn't visited the page, we add a no-campaign tag.
Omnichannel: After a purchase, we wait and check whether the contact has subscribed to the newsletter. If so, we send an A/B test email. If not, we check whether the contact has a tag (web push consent). We wait and then check whether the contact has provided a phone number. If so, we send an SMS; if not, we check whether the contact is in SM Mobile. If they are, we send a mobile push; if not, we check whether the contact is saved on NS. If so, we send an e-mail; if not, we run a WAR that opens a chat window encouraging the contact to write a review. We wait and then check whether the contact has visited the URL. If so, we send a web push; if not, we send a follow-up email. At the end, we add the tag of the finished path.
Why does it matter who creates a Workflow?
While marketing automation software is a solution in itself, Workflow templates created using such software can be brilliant and effective or flawed and ineffective.
Marketing automation software designers can create a seamless, intuitive interface that allows users to build and execute a Workflow with multiple features, options, and customization possibilities – without coding. But in the end, you will be left alone with the program to do the best you can with your own expertise … or will you?
Modern marketing automation systems require constant development, especially if they are connected to Customer Data Platforms, and the skilled eCommerce experts at Martech work with some of the greatest eCommerce brands in the world. Their Workflow Libraries catalog the most efficient proven marketing tactics and can help companies achieve their most ambitious marketing goals.
In essence, a Workflow Library allows marketers access to the most skilled marketing experts in the world. Of course, you will need to experiment with the available templates to find the best one for you, but with our modern Marketing Automation Software and Workflow Libraries, you can be sure that you are starting with solutions that not only work, but are responsible for the success of some of the greatest eCommerce brands in the world.