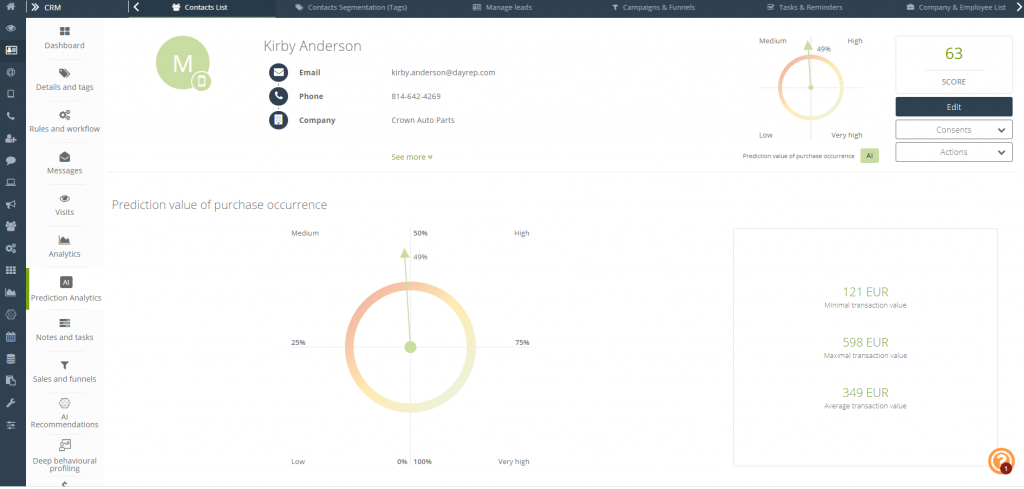 Use a new dimension of analytics in your communication strategy and execute marketing campaigns and automation processes based on predictions of our AI & Machine Learning engine. Increase customer retention and lifetime value by predicting the next customer purchase or their churn and sending perfectly tailored offers at the right time and through the channel with the highest conversion probability.
Use AI Predictions Analytics and:

Analyze the life value (CLV) of each customer, their probability to buy again, or leave (churn).
Identify behavioral and transactional patterns of customers in your store to learn about the average CLV, frequency of purchases, order value in your store, and use this information for predicting their next actions.
Segment the contact database based on the probability of purchase occurrence and customer churn. Identify which contacts are more likely to buy now, or to which you should send a special offer to activate and don't lose them.
Conduct dedicated marketing campaigns to the individual customers in workflows and automation rules with the use of predictions of their actions (e.g contacts with a low probability of purchase occurrence).
Analyze the best communication channels with the highest probability to purchase from a given source, to reach the right people with the best offer in the best communication channel.
How do predictions work in the SALESmanago system?
The system collects data about all transactions of the individual customer and determines:
the time between purchases
average order value
time of the first and subsequent purchases
source of conversion (utilized communication channel)
On this basis, predictions of the next purchase, churn and the best communication channel are created. Similar analyzes are performed for the entire customer base. This allows you to see the values of average variables for all customers – what is the average CLV, order value, or a number of purchases.
The individual prediction allows the system to segment the entire base depending on the value sought (on the degree of probability of purchase or churn). Additionally, it shows which channel converts best and is most often chosen by customers (ex. SMS, search engines or banners)

Use the predictions in your marketing campaigns
Having predictions at the individual customer level, the system segments customers into two dimensions – purchase and churn probability. Basing on that, you can use:
campaign targeting – you can select specific users with, for example, a high probability of churn occurrence and a low probability of purchase occurrence, and dedicate them the appropriate marketing activities to trigger specific actions. Such segmentation allows for suitable planning of marketing strategy,
automated processes as conditions – you can specify definite conditions in your workflow or rule, so that a given action is performed only for customers, e.g. with a specific churn probability level.