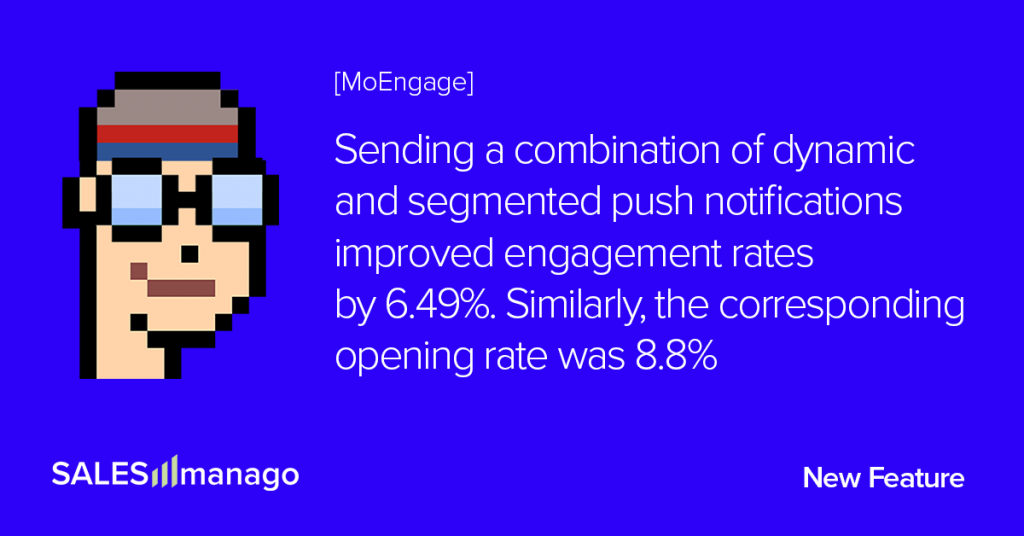 Dynamic Web Push notifications make a striking difference in marketing results. According to MoEngage, it increases engagement by up to 6.5%. It also translates into revenue in your online store. From now on, you have the ability to use the complete Dynamic Web Push Notification tool to deliver fully automated, CDP data-driven, and AI-powered dynamic content in omnichannel campaigns. Surprise your customers and discover new levels of eCommerce engagement.
Dynamic Web Push notifications: A fully-fledged sales tool
The Web Push channel has been known and loved for a long time. It's effective, fast, and bypasses popular blockers in marketing communications. What's more, it uses browsers as a delivery medium, so it doesn't compete for visibility with other advertisers. However, until now there was no tool that would combine both the versatility of mass mailings and convenience and effectiveness of automatic, personalized 1-to-1 messages with the benefits of dynamic content and a full spectrum of CDP data. And all this is worth the effort.
Web Push Notification personalization on various levels is essential and well received by recipients. Content- and address-level personalization based on CDP data significantly increases their effectiveness. Adding fully personalized product recommendations takes the game to a whole new level. What's more, the ability to use them in both mass and automated, personalized, 1-to-1 activities greatly expands the omnichannel marketing advantage portfolio of every eCommerce owner.
Dynamic Web Push notification: A comprehensive personalization tool for omnichannel marketing
Dynamic Web Push notifications are brief, customer data-driven, and multi-language messages with personal recommendations displayed in a browser window that can be sent as both mass and 1-to-1 communications.
Enrich multi-level workflow processes with CDP-personalized Dynamic Web Push notifications as part of the omnichannel customer experience.
Leverage advanced CDP data-driven targeting options and send perfectly personalized notifications to identified subscribers in your database.
Upgrade your mass remarketing with AI-driven personal recommendations and encourage subscribers to revisit your website.
Amplify in-store revenue with dynamic, automated 1-to-1 Web Push notifications based on past visits and customer preferences.
Boost relationships with your customers by sending perfectly tailored messages with meaningful content to improve their customer experience.
Stand out from the competition and target multiple markets at once—create various language versions of consent forms and notifications in one easy step.
Analyze how the engagement created with 1-to-1 and mass Dynamic Web Push notifications translates into sales from your automated campaigns.
Spice up your omnichannel with multilingual, CDP, and AI-powered personalized mass and 1-to-1 Dynamic Web Push Notifications
Dynamic Web Push notifications are a versatile tool dedicated to eCommerce. They allow presenting monitored contacts with super-personalized product recommendations in many ways. This boosts chances of clicking on the offer, making it suitable for both new and potential customers, as well as dormant ones who have stopped visiting the website. Here are some ideas on how to use Dynamic Web Push notifications in your daily work:
Complement your omnichannel campaign by sending customers compelling Dynamic Web Push Notifications to prompt them to go to a product page.
Increase your revenue by recommending products recently viewed on your site by sending personalized, 1-to-1 Dynamic Web Push notifications to monitored subscribers of that channel.
Recover abandoned shopping carts with a new channel by sending visually appealing notifications containing automatically personalized offers with products left in the cart.
Prepare a mass Dynamic Web Push campaign where each of your monitored contacts will see perfectly personalized product recommendations based on their preferences.
Encourage your audience to return to your site by sending them tailored product recommendations via Dynamic Web Push notifications using advanced AI-based recommendation engines.
Conduct effective, personalized remarketing not only in ad networks and in your own store, but also in a browser-based channel that bypasses marketing consents and ad blockers.
Leverage CDP first-party data to personalize both the content and addressing of Dynamic Web Push.
Comparison between standard and Dynamic Web Push notifications