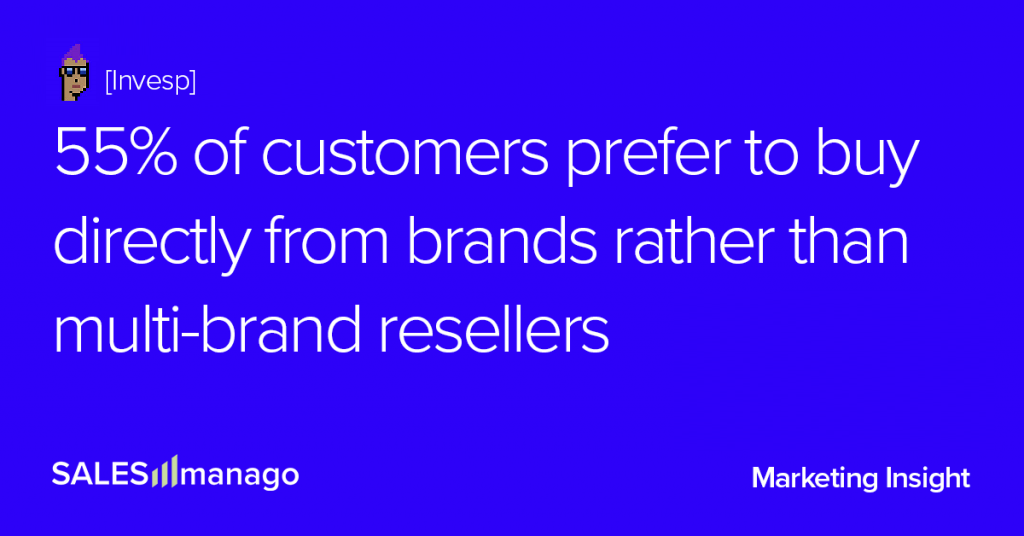 Everybody agrees that the D2C strategy sky-rockets in the retail industry, and is, potentially, the next big thing for the manufacturers. It is seldom mentioned that it's actually great for various eCommerce entities. Choosing the right model is key.
What D2C business is
For example, Andy Dune, founder of Bonobo, observed that Zappos's growth had little to do with the product itself, but much to their excellent service. In response, Bonobo developed a culture of ultra-responsive customer support and saw their direct traffic rate increase by 53.3 percent. It was all about a great customer experience.
Direct-To-Consumer is an e-Commerce strategy that allows companies, like manufacturers or CPG brands, to bypass the traditional chain of supply – wholesaler, distributor, retailer – and go straight to the consumer. No middlemen. Cost efficiency is the most obvious reason to go D2C. But there are more.
Reasons to move to D2C
According to the Direct-to-consumer Purchase Intent Index, 69% of Americans who are familiar with D2C brands made at least one purchase from such a brand last year.
Besides delivering what consumers want, there are other advantages:
Reducing dependencies
You don't have to rely on distributors or retail partners. The less you are dependent on other businesses, the better – this harsh lesson, taught by the 2020 pandemic, sank really deep.
Know your customer data
Selling via a third party does not give you access to the customer data. You don't see customers' reactions to certain products, so you don't have the basic information on how to improve customer experience.
D2C allows you to be at least one step closer to your customers. SALESmanago will help you not only gather a tremendous amount of data about your customers. It will also enable you to use this data effectively to your advantage.
Control your brand
The way the customers think about you is partially shaped by the customer experience provided by the third party. It may be good or bad, but you don't have direct control over it.
With D2C you gain back this control because you communicate directly with your customers.
Expand your territory
Distributors and retail partners have their reach and you cannot do much about this. No matter how excellent your product or service is, your partner's networks and centers have their limits.
D2C enables you to transcend these constraints and reach even for the globe.
Reduce costs
One might argue, that the current post-2020 reality, with record unemployment rates, forces the companies to tighten their budgets, reduce the costs to meet the requirements etc. The truth however is, that the cost-efficient solutions always replaced traditional ways of achieving the same result.
D2C done right will enable you to strengthen the bonds with the customer while reducing the cost of the process via automation, self-service, and D2C shipping.
5 strategies within D2C model (and their pros and cons):
Not everyone is a manufacturer. Choosing the right strategy for your company involves careful evaluation of the business to ensure the goals, resources, and investments align with its values. Furthermore, you also have to have technological capabilities to support moving to D2C.
The most common D2C strategies present on today's market are:
Touch point commerce
This D2C strategy enables you to embed commerce in non-commerce digital touchpoints, like social media, games, and IoT. Involves the consumers stronger, enables to gather feedback, and braces the company to employ new methods of connecting with the customer in the future.
It gives great:
Insights. Embedding commerce in other kinds of activities will provide you with a unique view of customers' behavior, customs, preferences.
Customer Experience. Additional activity during the shopping process turns it into something special and, by definition, fun.
Convenience. Taking part in an activity that is exciting and natural creates no burden for the users in the process.
Flexibility. Many possible formats and a variety of products and services possible to sell in such a way give the brand great business flexibility.
Affinity. Going that extra mile for the consumers and providing them with something less mundane than ordinary shopping bonds them with the brand stronger.
Weak as a source of:
New offerings. It will not make way for the new offerings to the market any easier.
Product development. Additional action and fun help to sell the product, but it is not designed for product development, however great insight into customer preferences will surely be of help.
Digital Revenue. Another side of gamification is slowing down the purchase process. A little smaller group of dedicated customers will eventually generate a decent amount of revenue.
Any e-commerce brand will be able to employ this strategy.
Succes example: Mymuesli
Personalized D2C
Establishing one-to-one relationships with the customer via personalized programs, involving backend technology and e-commerce capability. Through personalized contact via forms or quizzes, detailed information about customers' needs is gathered. Then the product is carefully selected from the offer to perfectly suit these needs. Increases engagement through customized experience and provides insights.
It gives great:
Insights. A one-to-one relationship with the consumers will provide you with perfect insight into their needs and customs.
Product Development. This strategy is designed for those who plan to develop their product as the bond between the customer and the brand tightens and information is gathered.
Affinity. Delivering a tailored product along with knowledge sharing, guidelines, etc. will create an exceptional level of brand affinity, leaving the consumer almost with no alternatives after a while.
Convenience. In an extremely consumer-oriented strategy, they will feel that the brand takes many decisions out of their hands, answers all the questions, and provides them with all the necessary expertise.
New offerings. New offerings emerge naturally as the brand gets to know the clients better.
Customer Experience. This strategy is centered on providing the best customer experience possible.
Weak as a source of:
Digital Revenue. Loyal customers will pay gladly for tailored products and expertise, but the customer service process is both time and effort-consuming.
Manufacturers have the most tools for this strategy.
Succes example:Just Right Pet Food
Subscription
This strategy provides the company with a direct source of revenue through recurring shipments of an item tailored to consumer needs.
It gives great:
Affinity. Going that extra mile and delivering a product when it is needed creates a strong bond between consumers and a brand.
Flexibility. Any FMCG product can be subject to a subscription strategy.
Digital Revenue. The best strategy for a stable income for the brand. Moreover, the time of purchase is an option predefined by the brand and accepted by the consumer.
Convenience. Having a product at their doorstep when needed takes one thing from the consumer's head.
New offerings. As the existing subscriptions work well for the consumers without their attention, there is plenty of room to present them with new products to fit into a subscription strategy.
Customer Experience. A very convenient form of purchase in pair with excellent customer service makes the consumer feel treated individually.
Insights. A choice of products for subscription says very much about the needs and preferences of the consumers.
Weak as a source of:
Product Development. This strategy is centered around recuring delivery of the product as it is. In this sense, it is about certain habits. And although there is always room for change, we are talking more about minor improvements than development.
This strategy does not assume product development. Any e-commerce brand can employ it.
Succes example: Dollar Shave Club
Digital store
Fully functioning e-commerce website aimed at the sale of company's products, and generate immersive customer experience through content.
It gives great:
Affinity. Customers tend to trust and prefer the retailers they know. The same is true about digital stores. If the customer service is without flaws, the customers are unlikely to turn their back on the brand they can trust.
Flexibility. Any type of goods can be sold with this strategy.
New offerings. The structure of the digital store is ideal to highlight new and special offers. Moreover, this is what the consumers are used to and what they expect.
Insights. Most digital stores offer a large variety of products. On-site behavior patterns provide the brand with very valuable data.
Weak as a source of:
Product Development. This strategy does not assume the product development, however, the feedback may help introduce improvements, especially in the case of the manufacturers.
Digital Revenue. A fully functioning e-commerce website is built around the transaction. A broad spectrum of clients, making decisions faster than in the case of other models, will generate decent revenue. Discarded cart however is also a norm, and lack of personalization will make the clients choose by the price.
Convenience. Of all the presented strategies this is one of the least convenient. Depending on the UX execution, it may be even confusing. The consumer does not have to visit the retailer, but all the choices are still to be made and the consumer is usually left with them with only minor guidance. The personalization is usually also minor.
Customer Experience. Depending on the execution, industry, the price range of the products, etc. the experience may even be delightful. But it is still simple shopping, with no extra mile in it.
Great for most e-commerce brands.
Succes example:Nespresso
Knowledge hub
This strategy engages consumers through content. Builds unique engagement centered on the brand – informs, educates, inspires.
It gives great:
Customer Experience. Education and inspiration done right will always be a delightful experience.
Affinity. Sharing knowledge and expertise creates a strong bond and a sense of gratitude on the consumer's side.
Weak as a source of:
Insights. This strategy is not centered around gathering consumer data, though the way consumers interact with content, shifts in their interests, and purchase intent, will surely provide the brand with some insight.
Product Development. By interaction and feedback, some information may prove useful in product development, but this model is not the best choice in this field.
Flexibility. Knowledge or know-how the brand shares are not flexible in themselves, because they are not a matter of preference or opinion.
Digital Revenue. The nature of knowledge sharing and lack of e-commerce infrastructure is not designed to generate revenue. For this, consumers should be redirected to another source, i.eg. digital store.
Convenience. It is not the simplest way to buy a product, more a way to create brand affinity.
New Offerings. Since the activities are not backed by e-commerce infrastructure, there is no room for this strategy to offer new transactions. The strategy is centered on the value of the product, not its price.
Any consumer brand will do fine with this strategy. It is, however, very specialized.
Succes example:Patron's Cocktail Lab
The future of the D2C business model
Even after stratospheric growth during the pandemic, the D2C retail model does not slow down: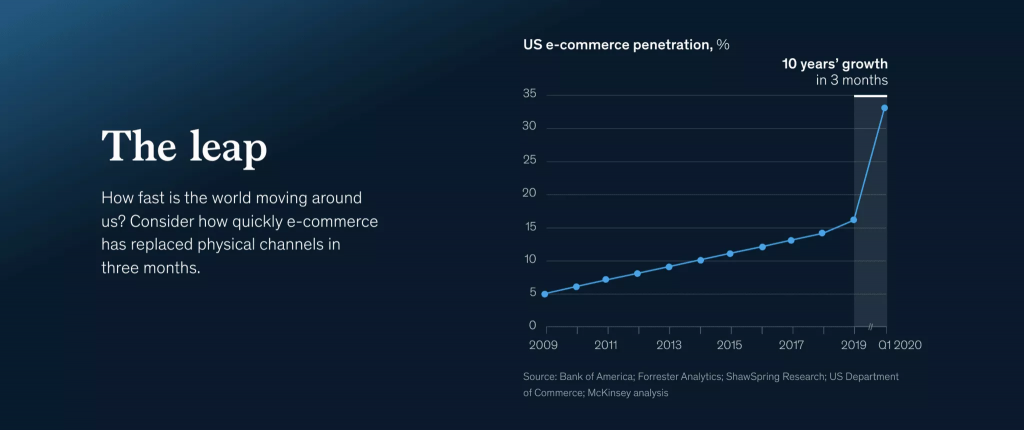 The e-Commerce industry has seen ten years of growth compressed to three months! And it is projected to maintain 19,2% growth in 2021. The message, especially to all the consumer brands, is clear – D2C is not just a passing trend, rather a natural evolution of commerce. For a consumer brand, ignoring the evolution will likely mean to fade into the past.