Four-fold sales increases, conversion rate going up by 200% and 2.5 more email campaigns clearly show the vital importance of Black Friday for e-commerce. However, more than a half of those who buy on that one day never come back to renew their purchase. Do digital marketers do all they can to effectively milk the Black Friday impact all year round?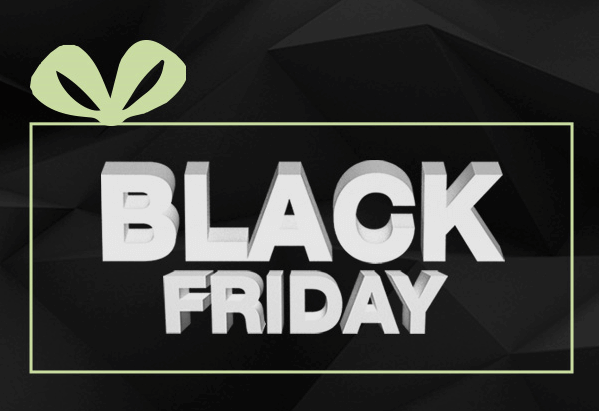 It's been already almost a year since the last Black Friday and the whole retail and e-commerce sector is getting ready for this year's sales festival falling on 29 November, We have analysed last year's Black Friday sales data for selected European e-commerce sites including over 52 000 transactions and 11 million emails. Below you will find 5 facts that will help you verify to what extent of your Black Friday sales and marketing activity makes sense and much more.

Transaction numbers soar five-fold on Black Friday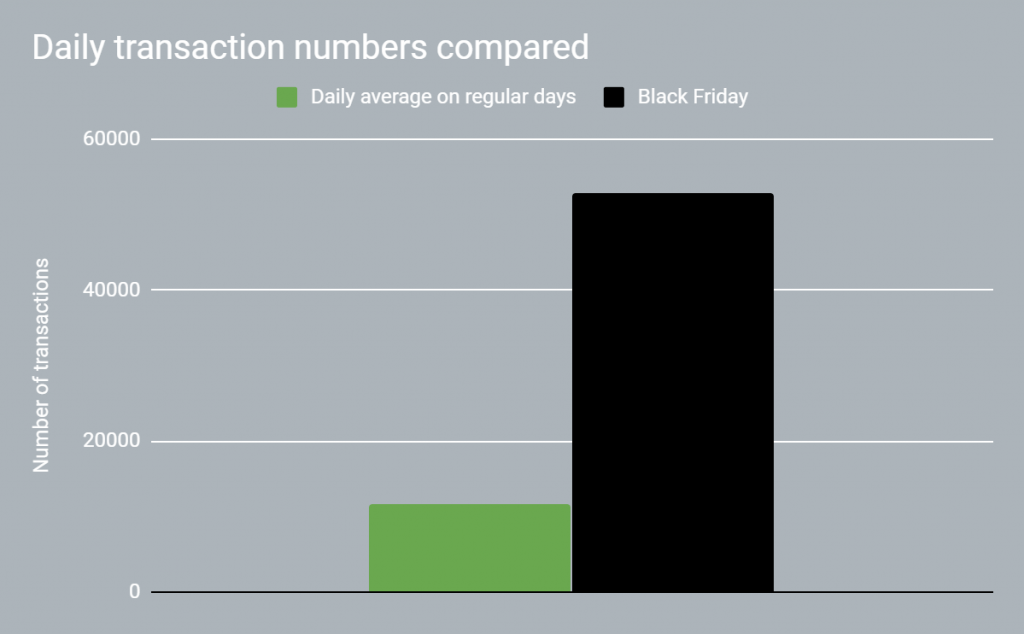 With the average daily number of transactions recorded throughout the year in the group of analysed companies being slightly over 11000, last year's Black Friday saw as many as 52000 of them, which means a tremendous accumulation of traffic in retail outlets.
Leaving aside the capacity challenges that come with increased traffic, which can strongly impact customer experience, it is important to make sure that those who visit the shop will find there what they are looking for and, once they have found it, make the purchase.
In order to increase the number of transactions generated through marketing automation, use:
product frames with 1-to-1 and AI recommendations on the product list page, product page and shopping cart page
exit-popups for those who are about to leave the e-shop with no purchase, containing dynamic content recommending products viewed during the visit
dynamic emails sent one hour after a no-purchase visit, with products viewed by the customer and recommendations of similar products discounted for Black Friday
dynamic emails with products from abandoned carts sent one hour after the customer abandons the cart.
Black Friday sales grow fastest through emails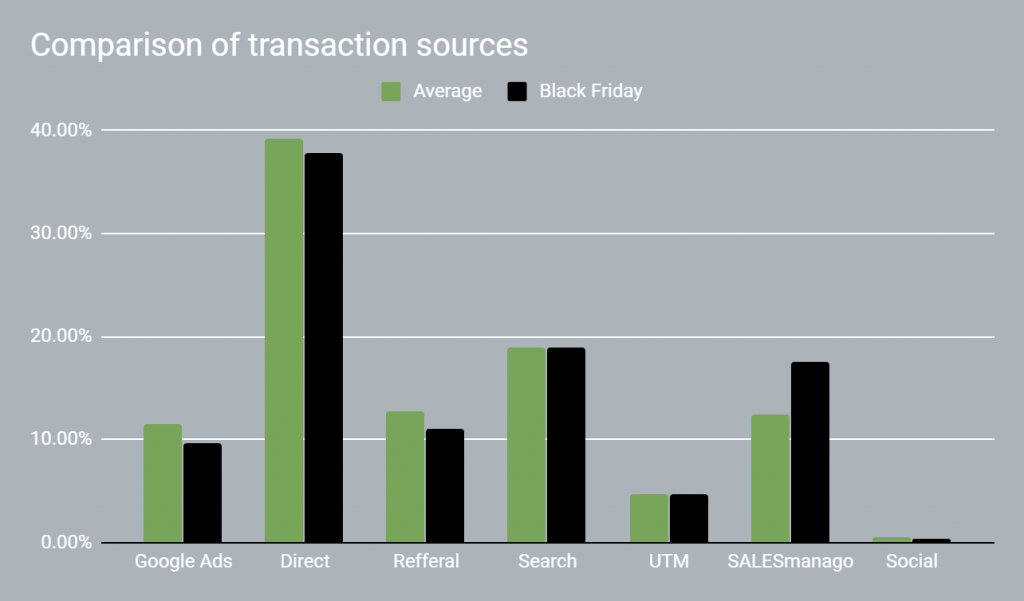 Despite the high intensity of promotional campaigns in all channels, the largest increases in shares in total sales come from email marketing, which, in terms of volume, is outperformed only by direct visits and visits from search engines.

This is the consequence of the fact that companies can pre-announce special Black Friday offers and discounts directly to their customers.
To make sure that your email receives your customer's attention on Black Friday:

use subject line personalisation – address the user personally by their name, make them realise even before they open the message that they have received an individually tailored offer; if you are unsure as to the subject line, do quick AB test to check which subject line will yield higher mailing openability. The more effective message can be sent automatically.
adjust the time of delivery of your message to the contact's activity schedule according to the SALESmanago Online Consumer Trends 2019 Report the timing of email delivery has almost the same positive effect on sales conversion as awarding a discount. Make sure the user gets your message when they are in front of the computer.
remind in advance all customers you have in your database about the upcoming Black Friday and encourage them to read your offer once it has been delivered to their mailbox.

Black Friday starts already on Thursday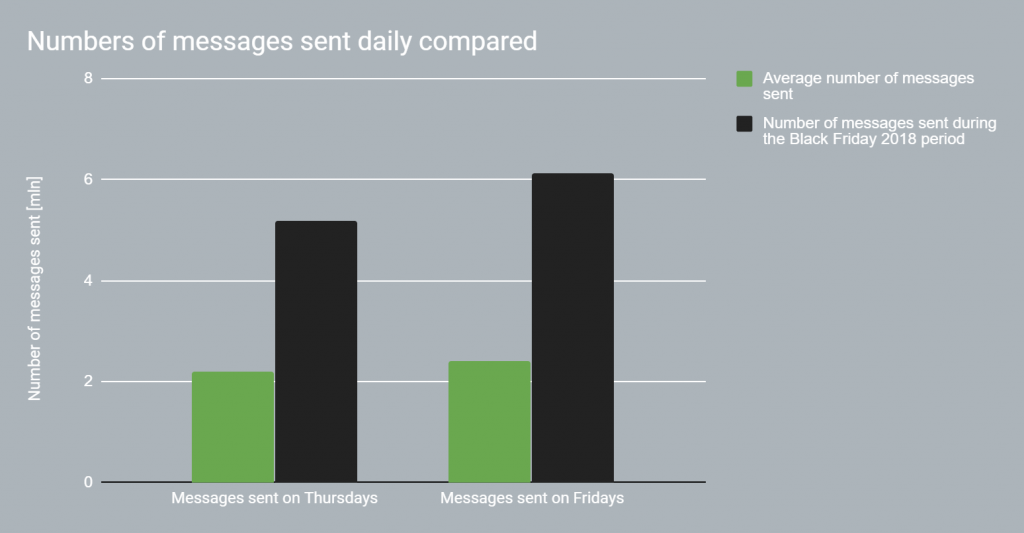 The Thursday that precedes Black Friday already sees a spike in the number of emails sent (up by over 230% compared to other Thursdays throughout the year). Companies prefer not to wait until Friday – which is exactly how some of them succeed in being faster than their competitors. It is becoming a common practice to run two campaigns, on both days (the number of messages sent on Black Friday is 259% higher than usually), which additionally increases the chances of reaching your customer base.
According to the Online Consumer Trends 2019 Report the highest transaction values come from rational customers who prior to making a purchase enter into 2 – 6 interactions with the e-commerce site. Therefore, it makes good sense to let your customers know about your offer earlier and give them more time to do some quick research.
Even before the Black Friday period use marketing automation to:
monitor what your customers find interesting on your website in order to determine which products and product categories will generate most interest on Black Friday,

send personalized 1-to-1 dynamic product retargeting messages following a visit or aimed to save abandoned carts, containing Black Friday offers – in addition to the general information on price cuts customers will receive personalised recommendations tailored specifically for them
Conversion rate from email marketing on Black Friday is up by 200%
Boosting the conversion rate together with an over 2.5 increase in the number of messages sent is possible thanks to the promoted products being offered at very attractive prices. Even with mass mailing to the entire subscriber base, the chance of sale after the email campaign increases two-fold.
To boost conversion even further, use:
product personalisation in mass mailing – analyse the history of user's visits on the website for up to 3 months back, verify which products the user browsed back then and start with recommending those which generated the highest interest without the actual purchase
email redirecting the user to a dedicated landing page with products recommended for Black Friday for each customer individually, based on their visit history for the last months or, alternatively, on the basis of previous purchases
dynamic messages with product retargeting following a no-purchase visit sent shortly after leaving the page – the message will reach customers before they get the chance to buy the product from a competitor and will redirect them back to your shop
More than 50% of Black Friday buyers never return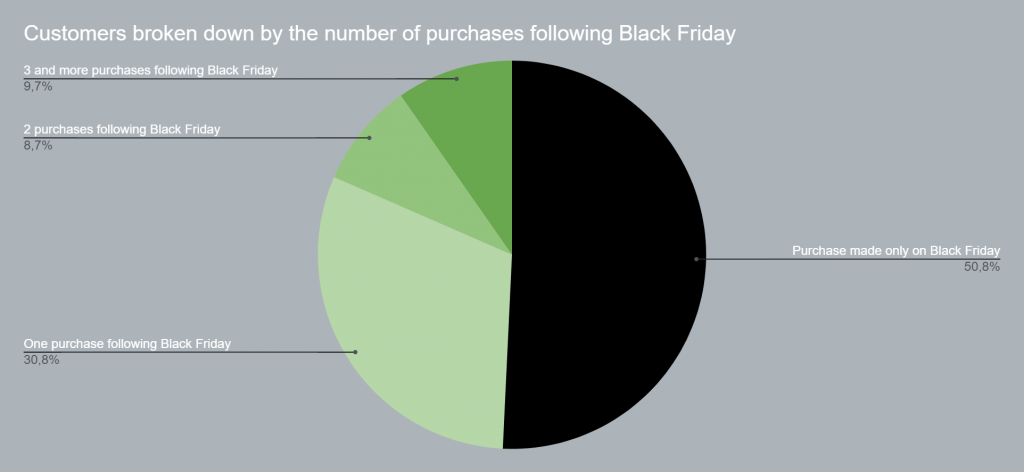 Even if Black Friday is a perfect opportunity to attract new customers, over half of them never return to make another purchase in the same shop. E-commerce outlets should, if possible, ensure that customers attracted on premium discount days return and make further purchases – this time at regular prices.
According to the Online Consumer Trends 2019 Report, companies which make the most effective use of SALESmanago for building customer loyalty achieve as much as 75% customer return rate.
Increase your customer's CLV using the following Marketing Automation solutions:
RFM automation – as customers are segmented according to the time elapsed from the last purchase, purchase frequency as well as amounts spent, the system enables action automation at the time of segment change by an individual customer (e.g. high-spending customer falls into a segment with no history of purchase for the last 3 months – the system will automatically send an email with a discount code to be used with another purchase)
improved quality of customer service thanks to website automation through automated display of notifications and live chat windows with a contextual offer of help, based on the customer's current activity on the site
personalisation of offers sent to the customer, also through mass mailings, so that each mailing contains something of genuine interest to the customer
Soaring turnover figures that come with Black Friday are, on the one hand, the consequence of the appeal of attractive pricing and, on the other, of the actual intensification of marketing campaigns that promote sales on this particular day.
Marketing automation solutions described in this article will help increase conversion and boost your profits through delivering properly tailored offers at the right time. More importantly however, these are not solutions that you can rely on only for Black Friday marketing activity. The leading e-commerce companies successfully use such solutions throughout the year.