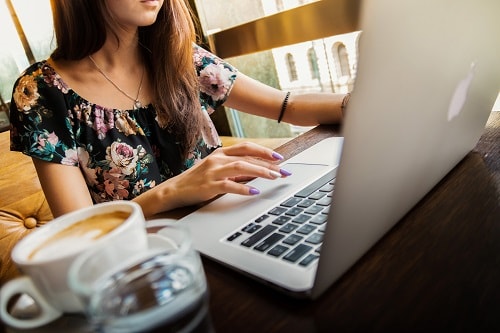 Since the time of the first internet communicators, which remember the 70's a lot has changed. A popular IRC and many similar communicators, once used by thousands, went out of date. However, the idea of a chat itself is still alive and well. Lots of people abandon the traditional forms of communication such as good, old telephone and switch over to more convenient and instant communication – chat. The same shift concerns businesses and their customers. Live Chat, once a nice-to-have addition to a website, now has become an indicator of the website's attractiveness for many Ecommerce customers. More than half of them choose Live Chat as a preferred form of communication with businesses. Numbers don't lie, that is why, I introduce you to some juicy statistics, that are to convince all those doubting Thomases, that Live Chat has an incontestable power.
1. Does Live Chat on a website have an impact on the clients' positive or negative perception of an online shop? It appears to be a very important factor. 63% of customers agree, that they will more likely return on a website, if there is a possibility to talk with a representative via Live Chat.
2. Customers love Live Chat. 92% of them have a positive experiences using Live Chat compared to the other forms of contact (phone – 88%, email – 85%, Facebook – 84%, Twitter – 77%) (Zendesk).
3. 51% of customers wants the businesses to be available 24/7. 24-hour availability, 7 days a week is a great advantage of online shops. However, customers want to have the possibility of contact with the salesperson not only from Monday to Friday in the business hours. That is why, it is important to have Live Chat which is compatible with Chat Bot. Bot is a program that imitate the conversation with a real person using artificial intelligence. The more customers communicate with bot, the more personalized message he receives, which consequently improves sales.
4. Many people need some help when shopping online. 44% of customers consider a conversation with a representative in real time the most important feature of an online shop's website (Forrester).
5. Have you ever heard this annoying tune while waiting to be connected to a representative or when put on hold? I'm sure you have. It appears, that waiting on hold is the reason for 42% of customers to choose Live Chat rather than phone. They value Live Chat for an instant answer for their questions. What is interesting, people hate hold so much that, according to WhosOn, 68% of people prefer to have root canal without anesthetics, a tax audit or a dinner with mother-in-law, rather than to wait on hold.
6. Quick response is one of the most important factors, that determines the preferable method of contact with the shop representative. We live in times, where everything is at hand, thus instant and time saving solutions are most desired. The research conducted by Zendesk proves, that most of the problems addressed via Live Chat get resolved in no longer than 42 seconds.
7. Online shopping at work. Anyone, who has never done that, may cast the first stone. 21% of customers stated, that convenience while online shopping at work is the key reason of choosing Live Chat as their preferable method of contact, and 51% – because of the possibility of multitasking (Econsultancy).
8. Is Live Chat young people's kingdom? Of course, they take the lead in using this medium, however, 45% of people aged 55 and more admitted, that they have used Live Chat on a website at least once and this number is constantly growing (Zendesk).
9. Effectiveness of communication and prompt responses on the customers' queries positively influence the number of abandoned carts. 52% of customers agreed, that if they do not find the answers for their questions quickly enough, they are likely to abandon the online purchase (WhosOn).
10. Live Chat means not only convenience and short response time. Good customer experience builds loyalty towards the company and brand. 41% of customers thinks, that the company which offers Live Chat on website is more trustworthy(WhosOn).
11. I must admit, this one perfectly describes myself (but I don't fit into the age group anymore). 61% of the customers under the age of 24 admits, that they intentionally avoid calling businesses and 60% of Millennials prefer Live Chat over traditional media (WhosOn).
To sum up, Live Chat is a key to increasing sales, customer satisfaction and loyalty to a brand. Although the effectiveness of Live Chat has been proven by various research,  many companies still do not use it. A recent study of 1,000 websites found that only 9% of them use Live Chat to provide real time support to their customers. It means that if you decide to implement  Live Chat on your website, there is a great chance, that you will be a step ahead of your competition.
A solution introduced by SALESmanago Marketing Automation differs from a plain chat available on the market in great numbers. SALESmanago is much more than that! It combines the features of Live Chat with the system of behavioural profiling and recommendation engine based on AI, Machine Learning algorithms and recently viewed and purchased products. SALESmanago is also a tool for collecting customers' data. A progressive form, which is sent in the course of a conversation, includes fields with the data, that is missing on a contact card.
How does SALESmanago Live Chat distinguish itself from dozens of similar solutions? Here are some examples:
Complete behavioral and transactional profile of the customer available to the consultant during the conversation

Ready-made, personalized product recommendations that can be sent with one click during the conversation

SALESmanago Sales Bot for faster customer service and saving time of the consultants

Quick searching for products the customer is asking for and delivering them by the consultant in real time during the conversation

Triggering marketing automation strategies in other channels (email, website, mobile, ad networks) depending on what's happening during the chat

Providing full analytics of your Live Chat performance, including consultants' response times and conversions
To increase efficiency and ensure more personalized conversation with the representative, SALESmanago Live Chat has been recently enriched in a new feature – product recommendation. In the tab, you will find 3 types of product recommendations:
products viewed during the last visit

products from the abandoned cart

AI recommendations working on a basis of self-learning the behavior of the individual customer. Combining the analysis and prediction, it proposes products for users.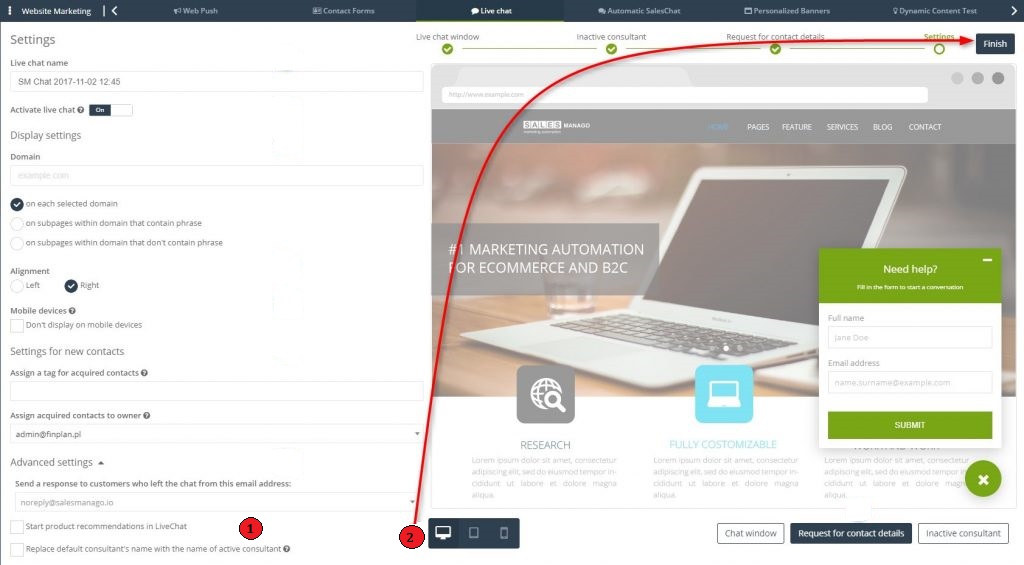 To activate product recommendations in Live Chat, go to advanced settings and tick the box Start product recommendations in Live Chat (1). Sending recommendations to the customers during the conversation on Live Chat would be possible provided you uploaded XML files in the system. The recommendations will be available on the contact card. After you adjust the settings, you can click Finish (2) to create a chat. If you want to learn more on how to create a chat, visit SALESmanago support.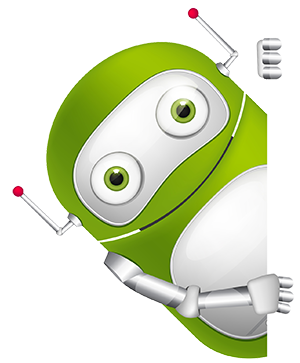 Are you already using SALESmanago Live Chat?
or