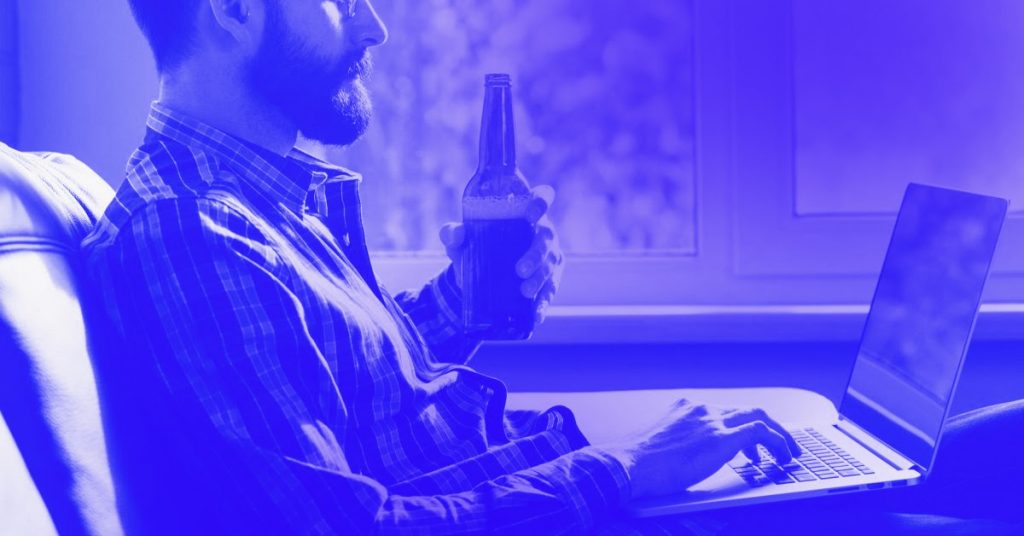 Remote work was known even before the marvelous year of 2020, when folks were mostly thrilled to have this one or two days a week in a home office, laying with their laptops under blankets, wearing pajamas instead of elegant blazers, and eating snacks during the work. When the situation drastically changed at the beginning of last year, the privilege of working from home became mandatory for most. 
Even though for some remote work is actually a great alternative to going to the office, for others it may really be a pain in the… head. If you feel like you're going to explode spending even one more day on remote work, this guide is for you. We've collected the 10 best strategies, to maintain a work-life balance, improve well-being and keep the flow going while working remotely.
I. Find a space you enjoy working in
This may seem like a piece of rather poor advice, but don't feel discouraged! The most common mistake for remote employees is mistaking the space they enjoy working, with the space they enjoy, period. No, your bed is not a good working area, even when it seems the most comfortable piece of furniture in the whole world. Working, sleeping, and eating in the same place may lead to blurring the boundaries between your work and free time, which then leads to working overtime. Set a clear place, a desk or a sofa in the living room, something you would treat like an office, and being on time with your schedule, should become easier.
II. Pretend like you are going to the office
I know, it sounds controversial, why the heck you must act like going to the office when you actually don't? The answer is easy – it helps your productivity flow. I won't encourage you to put on your best clothes or to wear full makeup, but getting out of pajamas and brushing your teeth is a start. This way you may actually feel the work atmosphere and perform better.
III. Get your groove on
Did you know that music can reduce stress and anxiety and increase motivation? There's nothing worse than being annoyed or anxious during work hours. But as it turns out simply playing your favorite music can help a lot. Call after call, overtaking deadlines, and your favorite neighbor drilling the same wall for 3 hours? Sometimes drowning all this in music can help you get back the concentration you so desperately need. Supposedly, it takes 15 to 30 minutes of listening to music to regain strength to get back to work.
IV. Keep a distraction around but not too close
It is quite common, to get bored of your daily work or suddenly lose all of the motivation you thought you have. Having some sort of entertainment in your reach could be beneficial to your mental health during work hours. Music instrument, the game of Chicken Invaders, or Rubic's cube – all can ease your mind when you're having a bit of a hard time doing your job. Distracting yourself for a short time may be a great idea, and can help with boosting your productivity later. Remember though, keep your distractions out of sight during work, because it may have quite a different effect.
V. Declutter your space
Just like with distractions, having a lot of things laying around you without a purpose may lead to drifting your mind away from the important stuff. You should definitely have your workspace spick and span, having around only necessary stuff such as a notebook, pen, or a cup of coffee. Having a feeling of mess around will affect less organized work. So make use of your trashbin and keep only bare essentials nearby.
VI. Get a plant
And I don't mean any plants with additional effects, just a normal green, eye-pleasing, live plant. As it turns out, plants not only have visual qualities (duh…) but are also helpful in converting nasty human gases into more oxygeny air around you and your laptop. Choose the one you will find visually appealing and boost your comfort.
VII. Cast light on it…
…literally. You may think you have the predisposition to become a vampire and Dracula's best friend, but honestly light is the fuel for you (and your plants). Try to arrange your home-office to get the most natural light on your workspace. Don't let the sunshine hit your screen though, it's doing no good for your eyes.
VIII. Keep a to-do list
The Airtasker research showed that 30% of employees working remotely keep a to-do list to boost their productivity. Every morning try to set the list of key responsibilities for the day, and after completing a task just cross it out. This way you will keep your work more organized, and see how much you've managed to achieve. It is key, not to jump from one assignment to another without completing any.
IX. Let me out!
I mean, let yourself out. You have an option to work remotely, it doesn't say where exactly. Around 19% of remote employees report loneliness being away from the office. Nobody said you need to be stuck in your flat, especially during summertime when children are playing and birds are chirping. Go ahead, charge your laptop and go sit in the backyard or some nice and cozy bench in the park nearby with a coworker also working online. Get fresh air in your lungs and sunlight on your face. Even if you don't feel like working outside (after 10 minutes an urge to kill all the chirping birds emerges), use your lunch break to go on a short walk with someone and come back with a fresh brain.
X. Do whatever suits you best
The previous 9 examples are just hints to help you start your adventure with productive remote work. The truth is, after some time you will on your own, work out a set of habits that have the best effects for you. The most important is your well-being, motivation, and relaxation during work. Sadly, your home would never be a 100% optimal space for you to work in, but you can try your best to make this time the most optimal for your needs.