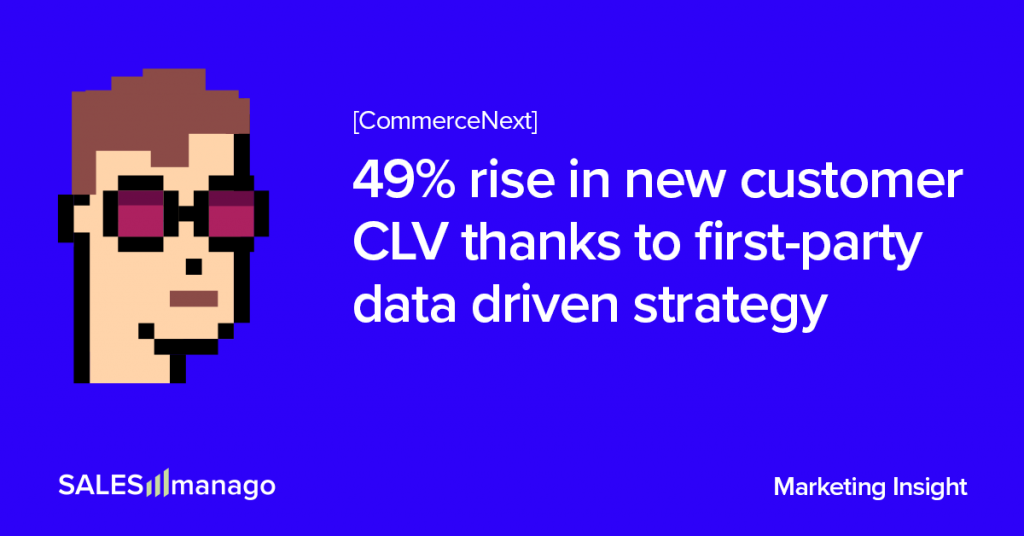 The last touch ROAS is still dominating the attention of marketers, as a crude, but simple measurement tool.  In the new privacy-dominated eCommerce landscape, this will have to change. Metrics supporting ROAS will suffer from a lack of tracking data and very limited ways of device identification. Lack of third-party cookies will only make matters worse. What will replace it?
The new, privacy-first oriented digital reality is starting to worry eCommerce marketers. 68% of them surveyed by CommerceNext are quite concerned about the lower efficiency in paid advertising. 58% are afraid of the lower precision of targeting in digital advertising. And they're right!
Elimination of third-party cookies as well as recent Big Tech changes, i.eg. Safari killing the tracking cookies, or the iOS14.5 limiting the use of device ID will certainly cripple the current measurement toolset.
Today short-term revenue and ROAS rule eCommerce
Marketers love last touch ROAS. It is a simple, self-sustainable machine: you invest some money in ads and earn more than you invested. Then, boom! You have business success. As a result, you invest even more. In fact, 500% ROAS is nothing unusual. It looks great and is extremely easy to explain. In the aforementioned survey, 73% of the marketers declared, they use ROAS as a part of their marketing measurement toolkit.
Critiques have been written about this crude approach. For example, it does not take into consideration your profit margin. A low margin may mean your profits barely covered the cost of the campaign. In the new privacy-first reality, it will be even harder to report good numbers in one's campaigns. Therefore, the inherent flaws of a last touch ROAS approach will only get worse.
Luckily, in the same survey, 63% of marketers pointed to Customer Lifetime Value as a part of their way of measurement. This is an often-overlooked metric. However, it fits beautifully into the new eCommerce reality.
…but first-party data driven CLV-ROI success examples emerge
Let's look at the success story built entirely on a first-party data driven CLV-ROI strategy. By the way, we have a great article about why eCommerce restricts itself to first-party data and why it's a huge mistake.
A leading global IR100 retailer in the office supplies industry wanted to shift paid search budgets to acquire more loyal customers with high lifetime values. First, it pivoted from their short-term revenue and ROAS goals towards a customer lifetime value approach. CLV-ROI goals optimized for both short- and long-term profitability. For instance: new customers buying printers will have a higher lifetime value because of repeat ink cartridge purchases. From that, a CLV-ROI optimization would learn that fact and activate the knowledge in media buying. Thus, the retailer was able to use its first-party data to predict lifetime values. This fueled Google Ads with the data needed to bid higher on new customers that will be loyal. The results: at 19% less marketing cost, new customers increased by 59%, margin ROI increased by 34% and new customer CLV rose by 49%.
…and zero-party will boost it like never before
Retailers are starting to embrace new measurement tools. This means diversifying to include more advanced measurement tools that will ultimately help them combine data points and ask smarter questions.
As said, 63% of retailers are using Customer Lifetime Value for campaign success measurement. This helps retailers create a longer-term valuation of their best customers so they can allocate resources to campaigns and channels that attract high-value customers.
High-value customers always require an extremely personalized approach. This is where zero-party data will come into play. Customers with close relationships with the brand are prepared to pay more for their products. In fact, having trust in the brand results in a higher likelihood of sharing their preferences and personal information with retailers. This is backed up by the fact that 83% of consumers are willing to share their data to create a more personalized experience. (Accenture). You wouldn't know it if you talked to most eCommerce marketers today.
We predict that zero-party data, once added to the mix, will quickly dominate the toolbox of eCommerce marketers. First-party data will remain, as a means to cross-check declared preferences and personal information.
The reasons for the blindness to zero-party data in the eCommerce marketing space today are complicated. We explained them in the aforementioned article. Until now, there weren't any tools to help a company effectively collect, manage, and action zero-party data. With the recent release of the SALESmanago's Customer Preference Center, this is no longer an obstacle. We should soon see a mass migration of eCommerce towards the CLV-ROI approach.