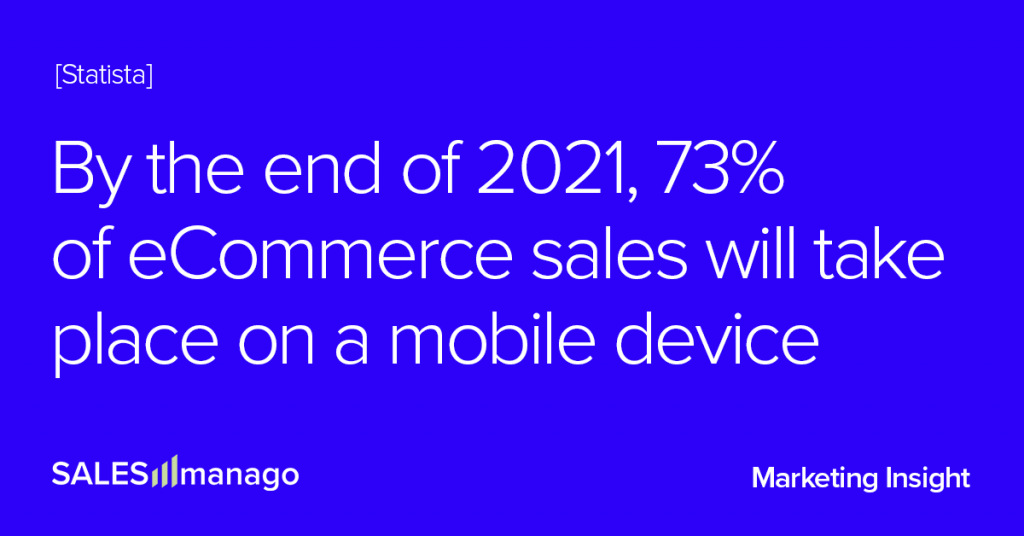 According to Statista, by the end of 2021, 73% of eCommerce sales will take place on a mobile device. This is a huge boost for eCommerce retailers to put more effort into improving the mobile shopping experience. While (even with the ongoing pandemic) eCommerce is still on a roll, it's worth diving deeper into mCommerce.
Let's start with the definition
The term "Mobile Commerce" refers to a wide range of shopping activities that take place on mobile devices such as smartphones and tablets. Shopping activity can be understood as not only purchasing a specific product but also mobile banking and payments, subscribing to services, or paying bills through an app.
Mobile commerce is an answer to a new genre of electronic trends, and it's gaining more and more attention from eCommerce retailers.
But why it is so important
Currently, there are around 3.8 billion smartphone users worldwide. By the end of 2020 mCommerce reached $284 billion, or 45% of the total U.S. e-commerce market. Given these numbers, your business should be prepared to embrace mobile commerce and offer your customers exactly what they're looking for, or you'll likely lose out to savvy competitors.
If you're an eCommerce entrepreneur and are still ignoring or denying the existence of mCommerce, keep reading to follow up with the latest trends that will help you increase revenue.
The real advantages for your company that mCommerce can give
Let's get down to business. Nearly three out of every four dollars spent on online purchases today is done so through a mobile device. This type of eCommerce provides real-time information that can be accessed from anywhere at any time, making the buying decision process faster and less likely to make the customer change their mind. But the monetary gain is not the only one! Through mobile campaigns which are directed to each user's profile, you can establish a unique relationship with your customers.
Because mobile commerce tends to be less flashy, with less text and no big buttons, your customers are more likely to use it, therefore it is more than plausible to increase sales conversions for your business. Understanding the huge potential of mobile device features and start using them in the best possible way for the benefit of their business is the next huge milestone for eCommerce directors.
Pandemic influence on mCommerce
Since we saw a huge increase in online shopping during the pandemic, it's fair to assume that mobile commerce has a part to play in this. As an example, UK retail sales on mobile devices grew 30% compared to Q1 2020 and 25% stronger than Q4 2019. This just demonstrates that consumers are increasingly using mobile devices to shop.
How to generate revenue through mobile commerce
What do entrepreneurs dream about? About business growth, increased revenue, competitors' defeat, and the highway to success. That's why it's necessary to increase sales through all the channels possible, and mobile commerce is one of them. It is predicted that online stores that do not implement mobile commerce will stop selling over time. For entrepreneurs exploring ways to use mCommerce in an eCommerce store is getting crucial.
To make sure that you offer the most to your customers wherever they are, whatever they do, develop a layout that's specifically designed to help users make a purchase. Adjusted to the page's high-resolution graphics, compressed key information, and user-friendly navigation significantly reduces the time spent on searching for a product, which in practice translates into increased sales. What's more, mobile payment solutions combined with your mobile-optimized website make purchasing extremely easy and manageable from a single device.
Marketing Automation solutions in mCommerce
Mobile marketing automation is designed for tracking app usage, building dynamic behavioral segments, and sending omnichannel campaigns.
By using marketing automation solutions in your mobile shopping system, you can respond faster to consumers, and not only that! Well-managed mobile marketing allows you to:
Send mobile push notifications that users are more likely to respond to than to good old email.
Communicate via SMS, WhatsApp messages or Viber to deliver a truly omnichannel experience for your contacts.
Deliver in-app notifications based on built profiles and used for product recommendations.
Track customer behavior in the mobile app.
Get instant feedback from customers, as they are much more likely to interact with SMS compared to email.
Automate communication with your contacts on their mobile devices.
Create fully responsive content perfectly adjusted to the mobile devices of your customers.
All the listed features can leverage AI powered recommendations, which allows you to personalize your offer even better. Mobile marketing automation gives your business a real range of opportunities to increase user experience as well as ROI. One warning – make sure your mobile site or app is well optimized to ensure a smooth, seamless and convenient transaction.
Wrapping up
Mobile commerce seems to be a powerful tool that is becoming even more powerful given the current pandemic situation. Overall, it's faster, easier, more accessible, and familiar to everyone who uses a smartphone. Don't let this opportunity pass you by and take care of your mCommerce to increase your sales.