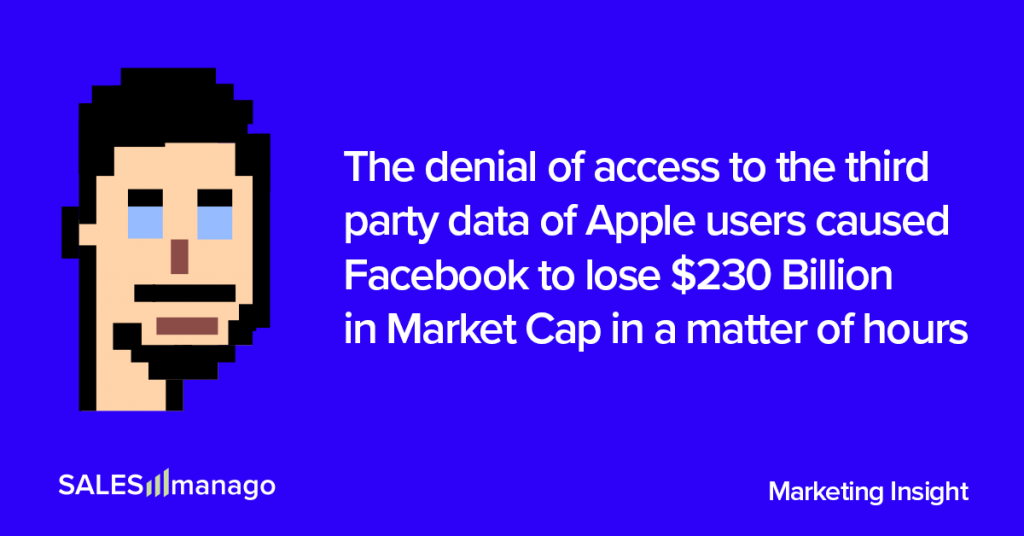 The latest earnings call by the social media giant was less than stellar pointing to the changing tide in the online advertisement space. What does it mean?
On Wednesday, February 2, 2022, Facebook held their Q4 earnings call. This was not Facebook's finest hour. They forecasted that the revenues for 2022 to be $10 Billion less than the previous year. As a result, the stock plummeted 26% in the course of 24 hours. This in turn knocked $230 Billion off Meta's Market cap.
The loss in projected revenue comes from a number of headwinds. Facebook had been the target of much bad press due to its business practices such as the Cambridge Analytica scandal in 2016 and most recently the EU is pushing a law to limit the transfer of user data from Europe to the US. However, the main cause seems to come from Apple's new Privacy Feature.
Opt-in First
Apple's latest IOS 14.5 update brings many new features meant to protect iPhone customers. The most newsworthy one is App Tracking Transparency. In the past, app developers were able to track user data as a default. The user had to proactively opt-out of tracking. Then, this data could be sold to third party companies who would use data coming from many different sources to build a mosaic of user behavior and make educated guesses in serving them targeted ads. However, the new way of working requires each app developer to give their users the choice to opt-out in the very beginning. If the user opts out, the app developer cannot track nor sell this data at all.
It hit a nerve
The biggest critic of this update has been Meta. They argue that it will make it more difficult and expensive for ad networks to target the users. Consequently, it will hurt SMEs which rely on highly targeted ad campaigns.
Why does this matter in the grand scheme of things
In general, when compared with its $85 Billion ad revenue, $10 Billion does not seem like much. However, the online ad space depends on tracking data as its fuel. Without it, it is like playing darts while blindfolded. It is important to note that 96% of Facebook visits are made on smartphones and even at 14% IOS usage, things do add up. Not only do you lose data from a major source, a major consideration is in the demographics. Those who use iPhones tend to earn more and spend more.
What now?
With the new IOS update and the depreciation of third party cookies by Google, this will no longer be a viable source of customer data. Luckly, there are alternatives. Many services are utilizing the use of zero and first party data to build their customer profiles. Zero party data are information that is voluntarily given to a business by the customer like their email addresses. First party data are those gathered by the business as a visitor goes around a website.
Advertising service providers often have incomplete pictures of a customer as the sources of their data are often rather limited. As a result, the metrics from one service may differ from those from another. In general, zero and first party data allow the business to gather a huge amount of information about a given visitor which in turn is more accurate than those from third parties. This includes the customer's interests and preferences. This way, a business can utilize many different channels to serve them product recommendations that the customer desires.
Since 2012, SALESmanago has been in the forefront by providing Marketing Automation services to brands across the globe. Our Customer Data Platform is the perfect solution to this change in the online advertisement space. Our AI powered no-code Marketing Automation Software has been used by major brands like New Balance and Vodafone to make marked increases in email open rates and lead generation. Our CDP is a one stop shop where data is gathered, analyzed and recommendations based on those data are made.
The platform will take a look at a customer's behavior on your website as well as information gathered via surveys and build a 360 degree customer profile. After analysis by an AI driven engine, it will recommend the products that will interest them as well as the channels to use and the optimal time to reach out to them. As a result, you have a hyper personalized and desirable customer experience.
External Posts:
Don't depend on third party services nor Facebook to help you convert visitors to customers. Take charge of your own destiny with SALESManago. For more information, visit https://www.salesmanago.com/.