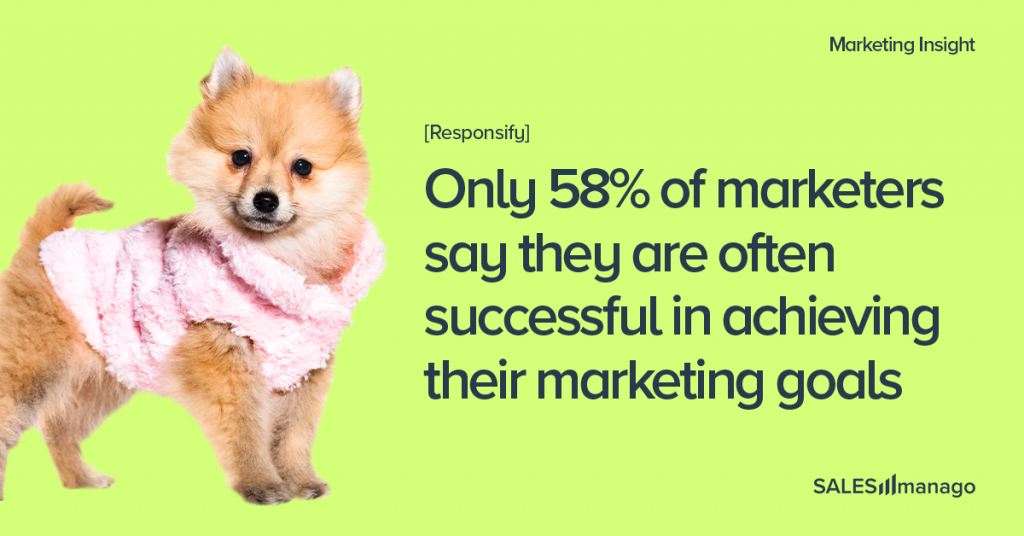 Successful development of any activity requires effective and precise performance measurement. Surprisingly various researches and surveys point out that eCommerce marketers find their abilities in this matter lacking. In this article we will explore 4 problems and trends related to performance measurement – and point to solutions that will make your marketing stack futureproof.
The confusing lack of abilities
Marketing teams in eCommerce need various datasets to effectively track the performance of their stores. Sadly, the toolset providing this data is fragmented and, as a result, cannot provide the marketers with a complete performance overview. This results in problems, diagnosed by many analysts:
4 Statistics That Will Prove The Importance Of The Performance Measurement
These problems and challenges require immediate addressing. We took a closer at the research behind the statistics, pinpointed its most important aspects from the marketers point of view and – last but not least – provided some hint about how to futureproof your marketing.
89% of marketers ranked improving the ability to measure and analyze marketing impact as a top priority
Receiving analytics is not all complicated. Registering the impact from your analytics and being able to set forth and become proactive in capitalizing on those insights is an important factor that is generally looked over.
The Research
In 2017 Demand Generation Benchmark Survey Report "Increased Pipeline Influence Ups The Ante On Attribution, Reporting and Measurement" conducted by Demand Gen, indicated that 89% of marketers perceive improving the ability to measure and analyze marketing impact as a top priority. In the survey "Tapping Multichannel Marketing & Data As Key Engines for Growth" conducted a year later by the same company, 61% of respondents ranked improving the ability to measure and analyze marketing impact as top priority.
The Importance
The fact marketers need to measure impact of their efforts is by no means any wonder. After all it is absolutely fundamental to prove the revenue contribution to the CEO, not to mention that any improvement requires data to scale. What surprises, is the fact, that in the apparent abundance of measurement tools marketers still feel the need to improve. This indicates marketers need a single source of unified, viable information.
How to future-proof your marketing?
This can easily be solved with the feature integrating data representing online store performance in a similar way Customer Data Platform integrates all the customer data into a unified 360 customer profile. In such a case, data like transaction value, number of items purchased or average order value must be easily accessible for the marketer. Another information you will absolutely need to be presented by the feature is contact and visit analytics as well as centralized view on KPI's. However, what will really enable you to get a grip on the business on the fly is top-tier revenue attribution, for both channels and tools. Such a view will clearly show you which channels are excelling and which you should drop, or on the contrary – invest more effort to make them effective. This is what we live Omnichannel Growth Intelligence.

marketing revenue attribution

Only 58% of marketers say they are often successful in achieving their marketing goals
The Research
CoSchedule's 2022 Trend Report on Marketing Strategy uncovers how successful marketers around the world work. There can be many factors and reasons for this, but when put into the context of the statistic analyzed above, one may wonder, how it happened, that this many marketers are actually often successful.
The Importance
Marketers struggle with lack of insight into the effects of their own actions. These actions very often bring immediate results, but, in the absence of relevant monitoring tools, most of them slip under the radar, leaving marketers clueless and confused.
How to future-proof your marketing?
The effective solution would require at-a-glance, live overview of online store's performance, accessible 24/7. This would allow them to:
Immediately identify hot areas
Locate the most critical performance indicators
Gain an in-depth analysis of eCommerce environment.
Efficiently streamline workflows, re-allocate resources and make more informed strategic decisions.

Store's performance overview
So minimizing delays and errors seems crucial – which leads to the next statistic.
Only 29% of marketers said they had no issues or delays in getting results from automated campaigns
The Research
In 2015, Venturebeat decided to answer a trubling question. In their recent report on marketing automation they found out that companies adopting Marketing Automation tools are generating outsized leads, conversions, and revenue — so why have only 5 percent of businesses done so?
The Importance
Turns out that such tools are often complicated to implement. Data provided by eCommerce platforms and Marketing software can be disjointed and cause a gap in understanding customer behavior and their journey. Without real-time comprehensive data, there's a lack of insight that would allow businesses to make smart decisions. To bridge this gap and gain a holistic view, marketers often use Google Tag Manager as a popular choice. Another popular choice is Digital Marketing Platforms. They have the advantage over GA that they also measure not only website visits, but also email OR, CTR, offline transactions and more. These differences are especially noticeable with the free version of Google Analytics.
How to future-proof your marketing?
Using dashboards with clearly visualized data from both eCommerce and Marketing platforms helps you bridge the gap between the two and minimize the risk of incorrectly linking events in the store. This makes it easier to gain a better grip on business activities, giving you the ability to access your data live 24/7. As a result, with this more comprehensive view of the store and its operations, you can make better decisions while optimizing marketing strategies, leading to greater ROI.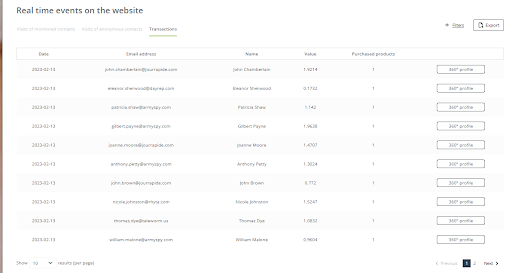 Events on the website in real time, at-a-glance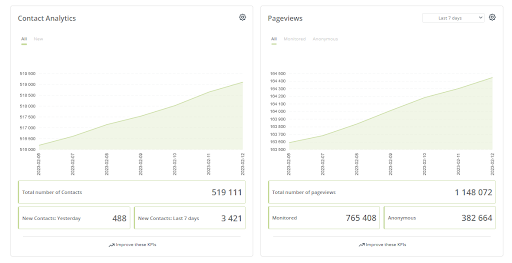 Integrated data from various sources
Did I mention "beautifully visualized"? Let's move a bit into the future.
By 2025, data stories will be the most common way to use analytics, with 75% of data stories automatically generated rather than made by data analysts
The Research
According to Gartner, data storytelling will become a prevalent method of consuming analytics by 2025. They go even further, claiming that by then a full 75% of data stories will be automatically generated using augmented intelligence and machine learning rather than generated by data analysts.
James Richardson, a research director at Gartner who spoke on Feb. 24 2021 during a virtual conference hosted by data storytelling vendor Narrative Science, claimed that "It is an inevitability that we move to far higher levels of automation in analytics and that we move away from the current dominant self-service model,". He also said that "The self-service and visual paradigm that now dominates BI is a limiting factor. It's only as good as the individual's ability to serve themselves."
The Importance
And why is it really, really important to marketers? Because, as Gartner states, you probably don't use analytics enough. As they claim "Depending on the source, it's estimated that only about 30% of employees in most organizations use analytics as part of their jobs. And despite advances in augmented intelligence and vendors' emphasis on ease of use to try to make analytics accessible to more users, that percentage has become stalled."
How to future-proof your marketing?
Now, clearly visualized data is not exactly data storytelling yet. But this is a step in the same direction; to make data digestible to the point of being actually usable by someone other than data scientists. And on a daily basis, at-a-glance, 24/7.
So take all the kinds, types and sources of data we mentioned in this article and visualize them in a compact, easy to grasp overview and you have your almost perfect dashboard for eCommerce. Almost, because to reach perfection, a few steps towards data storytelling are needed.
Take the example of loyalty building. The term seems too complex to be be simply put on the screen. However, if treated as a derivative of crucial KPI's, it is perfectly possible not only to visualize, but to monitor in real time. Paired with omnichannel revenue attribution and other data, this will enable you to work on customer loyalty, and even Customer Intimacy, live, on the fly.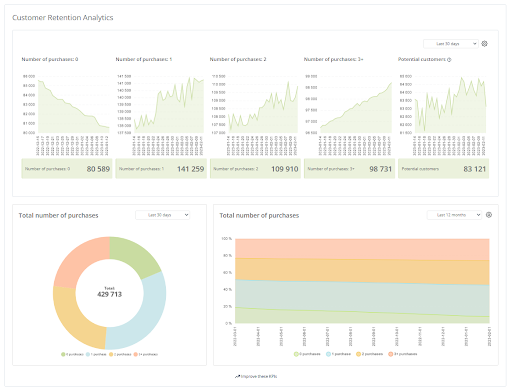 Loyalty building dashboard
Wrap up data analysis and performance measurement
The problem surfaces, as more and more agencies research the topic of data analysis and performance. When it comes to efficiency, data-based decision making is crucial, and abundance – as well as disjointment – of data becomes more curse than blessing.
While data storytelling will find its way to the average marketers desktop eventually, what you need now, is a direct answer to the presented findings that:
delivers unified, relevant performance data
makes it accessible at-a-glance, live, 24/7
visualizes them, so they can be usable by all company's employees
enables to track and enhance even detailed data like omnichannel revenue attribution or the effects of loyalty building efforts.
Which is exactly what modern martech software, specifically Customer Data Platform, with comprehensive eCommerce Dashboard, is being created for. If you check such an actual release for yourself read this article.