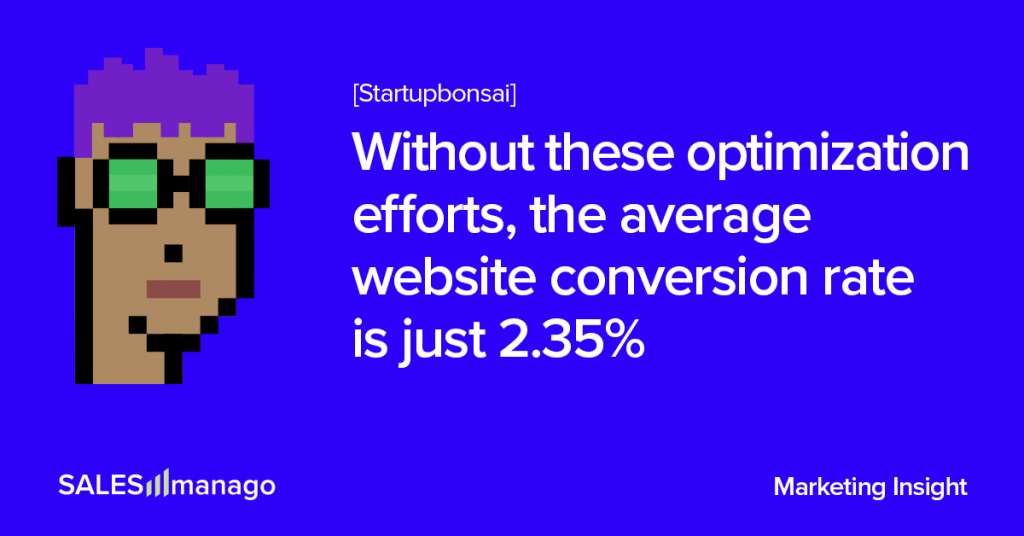 In our last marketing insight, we paid closer attention to conversion rate and its fundamental meaning for eCommerce—after all, an online shop with millions of visitors that does not sell is just a website. Today, we will show you 10 practical ways to push the conversion rate higher and higher every month.
Calculating the conversion rate
As we said in the aforementioned article, the conversion rate (CR) is the percentage of visitors landing on your website who complete the desired action.
In eCommerce, conversion means the percentage of website visitors who purchase something from your online store in a set period of time.
Here's a quick example: If your online store is getting 5,000 visitors and 50 conversions for a set period, that means your store's conversion rate is 1%.
Simple as that! Divide conversion into visitors, and you have your conversion rate.
As with all marketing metrics, CR is something you can—and should—work on. This is called conversion rate optimization. We wrote this article to show you how to do it with SALESmanago.
10 outstanding ways for conversion rate optimization
Personalized content may be more valuable. Zero-party data help personalize the website.
80% of consumers are more likely to make a purchase from a brand that provides personalized experiences (Epsilon). This means an 80% greater chance for conversion!
Among the various ways of personalized content delivery, there is one that's very radical—personalization of the whole website. With the Personalized Website you can make your website visitors feel at home with real-time personalization and significantly lower the bounce rate. The feature enables you to replace general offers with ones tailored ideally to each and every customer.
To personalize the content, you will need data about your visitors' preferences and profiles to help them find what they came for. This will be first-party data—information about products viewed and purchased, for example, but also average purchase value. But this is only the tip of the iceberg of the data you can collect about your customers.
Using the Customer Preference Center, you can collect, manage, and action zero-party data—information about the needs and preferences that the customers reveal about themselves. All these data enriches 360 customer profiles. This way it supports website personalization.
Another great source of zero-party data is a Wishlist, a part of the Personal Shopping Inbox.
Gather the most valuable customer data. Use a two-step newsletter sign-in
Implementation of the two-step newsletter sign-in form provides the company with a more coherent development of the client database. It also allows gathering detailed data on more engaged, valuable clients. In the first step, we only ask for an email address. In the second, the clients may give us all the useful details if they so desire.
The solution shortens the conversion path and enables the acquisition of more declarative customer data. Focusing your efforts mostly on the engaged visitors should make it possible to turn them into customers fairly quickly.
Along with Customer Preference Center and Wishlist, this is also another great source of zero-party data, which can then be actioned, for example, in website personalization.
Use social proof argument for anonymous traffic conversion.
It is not uncommon that a visitor will browse your website many times over and will not feel the urge to create an account, staying anonymous. You can use various incentives to encourage such a visitor to register. You can also get straight to the conversion and make a little push toward purchase even in the case of anonymous visitors.
The Social Proof feature enables you to put some healthy pressure on anonymous site visitors. The module displays in real-time the number of visitors currently watching the product our client is interested in. This boosts the attractiveness of the offer and supports active sales.
Of course, you can use an intuitive social proof widget editor to create your own notifications that perfectly fit your store's design and decide on the display options.
Personalize coupons.
This solution will appear once more in this article in the specific context of rescuing the abandoned cart, but its effectiveness in itself is well worth mentioning.
You can create coupon codes that customers can use at checkout for a limited time and get a specific amount off or a percentage of the purchase. Having a coupon code that expires drives urgency, and visitors will more likely go through with the purchase and not get distracted.
Send messages at the optimally chosen time. Choose the communication method preferred by the consumers.
Not only coupons but all types of creative messages are proven ways to draw visitors back to the website and convert them into customers. But it is also possible that your message will just irritate visitors. How to avoid such a situation?
Using the Customer Preference Center, you are able to ask the customers how often, on which days, and even at what hour they want to receive information about your offers. Providing information that was actually ordered by the visitor, you simply fulfill your part of the deal instead of spamming potential customers or wasting a message sent in their busy time.
You can also enable visitors to choose their preferred channel:
Retain clients' interest in watched products.
When the visitors leave your website, you should not let them forget about the products that caught their attention.
Implementation of the real-time product recommendation within the site not only broadens the campaign range. The intelligent product recommendation, driven by the AI Copernicus, implemented in the recommendation frames form, will surely help to turn some of your visitors into customers.
Of course, the more you know your potential customers, the better. If a registered visitor has left information about their preferred price range, but the watched products were significantly above this range, you should use recommendation frames to suggest similar products that the visitor can afford.
Use web push notifications to personalize messages to anonymous clients.
But there are also ways to personalize the message to anonymous visitors.
Web push notifications is one of the key features offered by SALESmanago. It enables you to reach both your potential and existing customers by offering them personalized content.
Dynamic web push notifications allow you to send fully personalized web push notifications with product recommendations. This new feature gives you the possibility to send dynamic web push notifications as 1-to-1 or mass messages.
Use live chat software.
The Live Chat helps your visitors find answers to their questions. Meanwhile, you are gaining insight into what they are doing on the website.
If you decide to use Live Chat, provide your live chat consultants with useful information on participants' profiles and preferences.
Do not let the software go into the mode that says you are currently unavailable and that they can leave a message. That sends a bad signal. It would be better to not implement at all if you can't be there when they want to chat. What this does, though, is build a direct communication line from your potential customer to you.
Avoid failure one step from conversion. Rescue abandoned carts with a two-step process.
According to Baymard Institute, 69.57% of online shopping carts are abandoned. This means, that for every 100 potential customers, 70 of them will leave your website without purchasing.
This means failure one step from conversion. But you can still save the purchase.
The saving process is driven by the recommendation system. The module is alerted when the cart is being abandoned. In this instance, it sends the client an email containing a list of the abandoned products. It also contains the recommendations frame with content matched by the AI on the transaction data basis.
The system also monitors the client's reaction. If the transaction is still not completed within a given time, the client receives another message, this time containing a discount coupon. The two-step model effectively delivers motivation at a crucial moment in the decision process.
Use A/B testing to see how it affects conversion.
All your marketing actions should impact your conversion rate. Why not test them to see which ones provide you with the best results?\
With our A/B/X Testing & Optimization feature, you can analyze and improve the performance of all of your campaigns to make sure you have the best possible content delivered at the best possible time. The system has you define the KPIs for tests and set up rules, and it will do the rest of the analytic job for you.
To sum up
SALESmanago is tailored for eCommerce. For this reason, many of our features are centered around conversion—because we want your website to be a fully functional online store.
Check out the pricing plans in SALESmanago, and see what you can gain through each of them to improve conversions in your eCommerce!