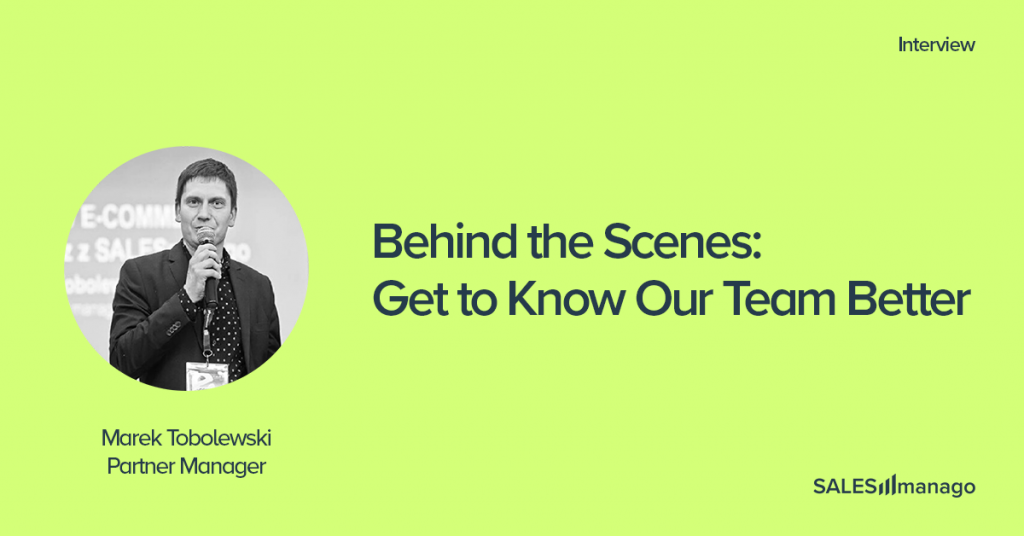 1. Name, position, in SALESmanago since…
Marek Tobolewski, partner manager, in SALESmanago since October 2016.
2. Coffee, workout, meditation – how do you start your work day and get ready for conquering the world?
To start the day well, first of all, you need to end well… the previous one. Therefore, the most important thing for a good start in the morning is to take stock before bedtime. Stoics call it a review of the day – reflection on one's actions, realized values and functioning among people.
And in the morning? Coffee helps me the most in the morning. Not only on the biochemical level (caffeine!), but also on the ritual that opens the working day. I especially appreciate it on those few days when I work from home – during remote work, the smell of coffee at 8.45 is a clear signal for me that it's time to work fully focused.
3. How did you find your way to your current role at SALESmanago?
For years I worked in advertising agencies. I was creative because of the job titles and the annotations on the business cards 😉 When I decided that there are too many advertisements, even creative ones, and too little results from them, I took a more cross-sectional approach to marketing.
I became a CMO at a Polish manufacturer of cosmetics, mainly color cosmetics! That is the beauty industry. Beautiful time and beautiful brands that I had the opportunity to co-create. However, there too, in the data-driven business and sales, I came to the conclusion that although marketing is beautiful, sales – is calculable.
And then I came to SALESmanago. Here I found a beautiful combination of marketing, because it's #martech that allows you to work with data and automate marketing activities, and sales. As a 40+ guy I started with the position of a junior… salesman. And in five years of making KPIs and targets – I found that the market has matured no less than I have. And that now the most important growth tool will be not so much data and technology as trust and joint delivery of benefits to customers.
At the end of 2022, I closed my sales projects to fully engage in the development of the SALESmanago partner channel on the Polish market.
4. Which of the SALESmanago values speak to you the most?
Execution and Performance, meaning among others, customer-centric orientation – providing customers with value is the essence of marketing orientation. And for me, also the sense of every kind of relationships. Professional, personal, partnership.
5. What three words would you use to describe yourself?
Hardworking, persistent, patient. If this seems boring to someone (like for me 😉 – still the answer is work, perseverance and patience!
6. You are on a deserted island and you can choose one person and one thing from the company to be there with you. Who and what will it be and why?
I admire people who play instruments. Therefore, if I were to be stranded on a deserted island, I would like to be there with Filip Kliszczyk. He – in addition to all the work he does in the company and family (and once also on the pitch) – loves music and organizes a band every year that celebrates the company's Christmas Eve. Taking advantage of my time on a deserted island, I would finally learn to play guitar (in fact, years ago I played a bit in a garage punk band as a teenager). Together with Filip, I would also have to take a guitar – if he is not at the company, Filip will definitely borrow his.
7. What have you recently done for the first time in your life?
Just today I logged for the first time into the new CRM that we launched for our sales in early 2023.