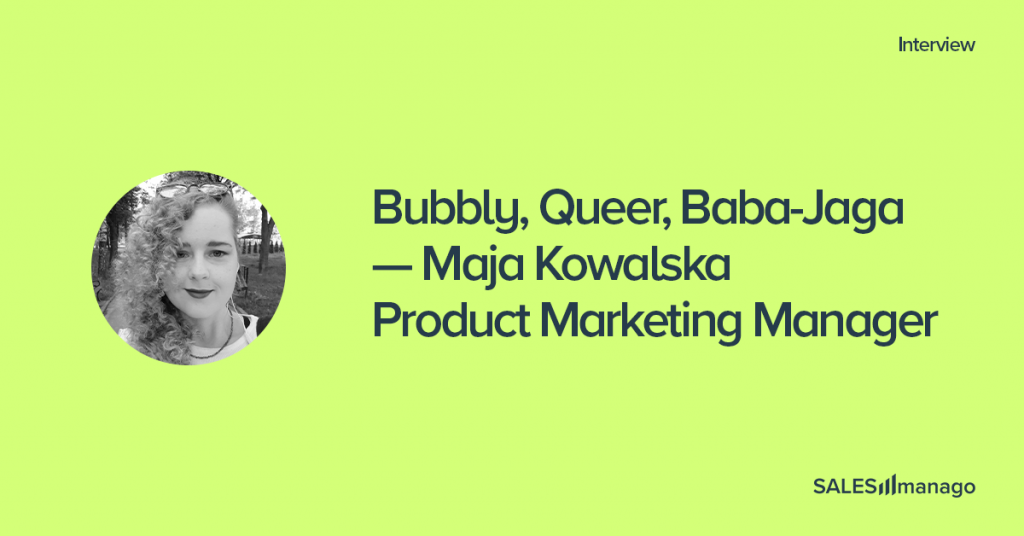 1. Name, position, in SALESmanago since…
Maja Kowalska, Product Marketing Manager, in SALESmanago since 2015, but 'we were on a break' for some time in between.
2. Coffee, workout, meditation—how do you start your work day and get ready for conquering the world?
A cat nose in my eye followed by loud purring is how my morning feels like. I'm rather an early bird, so I wake up with the sun. Then I play with my cats, and we have breakfast. I wash it down with my fav matcha or hojicha tea (I'm not allowed anywhere near coffee). I read for at least 15 minutes and get ready to work. On my way, I usually listen to a podcast (The Ezra Klein Show, Multiamory Podcast, My Dad Wrote a Porno, Vingardium Grubiosa, Ciałość or Czułe Słówka) while walking or taking a tram.
3. How did you find your way to your current role at SALESmanago?
Let me start by saying that this is not my first time at SALESmanago. Back in 2015, I got my first marketing job here. I was really looking at changing my career path, after many years of working in transportation and logistics (I have quite a few stories from PKP Cargo). I started as a junior blogger for APPmanago (together with Yuri K. we conquered the world… ish).
After some time, I earned a transfer to the main marketing team and became the lead content creator at SALESmanago. My first adventure in marketing lasted almost 2.5 years. After that, I took a short break. At that time I honed my craft at a marketing agency, where I specialized in defining target groups, and marketing strategies. In multiple occasions, I had a chance to work directly with clients and lead their projects.
After a few years of hiatus, my path came together with SALESmanago again. Without hesitation, I accepted the offer to return, this time to take care of technical content and help co-create the product. I supported the Product Team for almost a year as a Technical and Business Writer, before eventually returning to my beloved marketing. Since summer 2022, I have been taking care of Product Marketing and earning new milestones on my career path.
4. Which of the SALESmanago values speak to you the most?
Basically all of them, maybe except the Entrepreneurial Mindset. I'm not sure if I have that in me. My Top 3 would be:
Inclusivity and Diversity
Transparency and Fairness
Execution & Performance
5. What three words would you use to describe yourself?
Bubbly, Queer, Baba-Yaga
6. You are on a deserted island, and you can choose one person and one thing from the company to be there with you. Who and what will it be and why?
With no hesitation—our COO's 'firstborn', the amazing Chrupek. A day when I get to play with a dog, is a good day. Object-vise, I'll go for a knife, which happens to be one of the most versatile survival tools. I guess I'm a pragmatic hermit 😀
7. What have you recently done for the first time in your life?
I'm a new cat parent. Two months ago, I adopted two tabby kittens from the Kraków shelter. It's a bit of a change, since I usually had dogs. My 'boys' are incredibly cute, curious and cuddly fur balls. Every day, I discover new joys (and challenges) of being a cat parent.