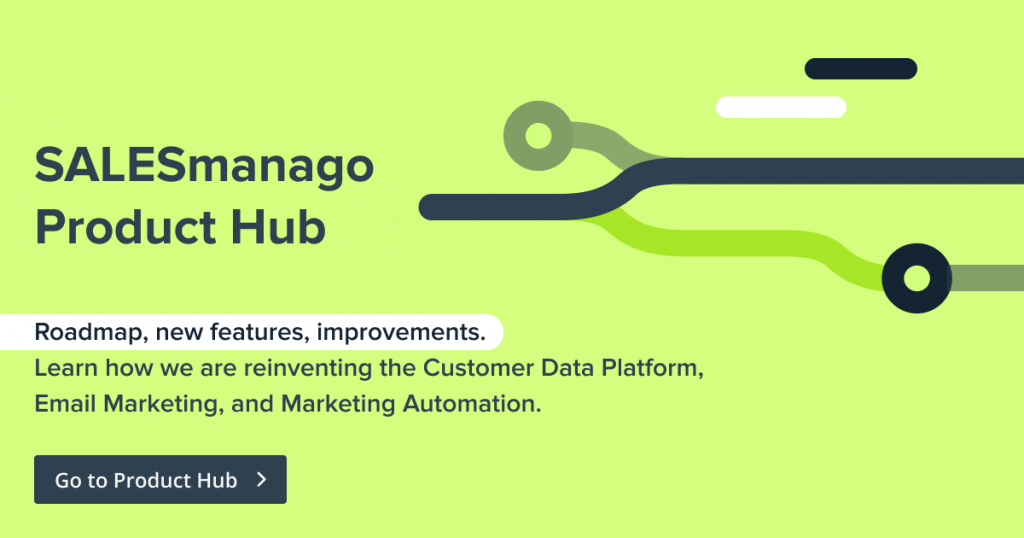 Predictive analytics in SALESmanago and how to leverage it in campaigns and customer segmentation
Predictive analytics leverages historical data, statistical algorithms, and AI technology to forecast future events and outcomes, giving businesses a crystal ball for success. From creating personalized shopping experiences based on past behavior to optimizing inventory management and pricing strategies, predictive analytics is the secret weapon behind superior customer insights, demand forecasting, and efficient cost management. Find out how SALESmanago Predictive Analytics can help you stay ahead of your competition, make data-driven decisions, and boost your shopping season success – year after year.
Improvements delivered on request of our Customers
Sticky Notes for collaboration at Workflows
With our latest enhancement to the Workflow module, you can enhance your team's productivity at every stage of automation creation. Sticky Notes allows you to share insights and instructions, assign tasks, and streamline communication to minimize errors and save time. Say goodbye to ambiguity and hello to clarity!
Elevate Your Email Studio Experience
We've introduced a more user-friendly layout with a simplified sidebar view, making it easier to manage your email accounts. We've also refined the account creation process for a smoother experience. Additionally, we've updated our style icons to be more intuitive and user-friendly, enhancing the customization of your emails. These changes are designed to enhance your overall experience with the Email Design Studio.

Exciting things coming soon
AI Live Chat Prompts
We're enhancing our AI-based live chat to provide a more efficient AI assistant, empowering your consultants, and ensuring a clear return on investment by saving time and resources while maintaining service quality.
New System Navigation
As part of our upcoming navigation system upgrade, we're implementing a side panel for simplified navigation, introducing a convenient 5-category sorting system (Audience, Communication, Website, Automation, Analytics, Integration), and enhancing the search engine for effortless and efficient navigation through our platform.
Feature reminder: Personal Shopping Inbox
Personal Shopping Inbox is more than a widget (although it is fully editable and comes with an intuitive wizard) – it's a powerhouse of features that boost conversions, enhance customer experiences, and provide valuable data insights.
What's Inside?
Messaging to connect with customers like never before;
Wishlists letting shoppers save their favorites for later;
Special Offers so you can craft individualized discounts;
Recommendations and loyalty program information
This tool is a goldmine – if you care about revenue and want to augment the experience of your online store. Plus, it's a treasure trove of zero- and first-party data for your marketing strategy.

For more updates go to SALESmanago Product Hub and share your ideas for new features and improvements.