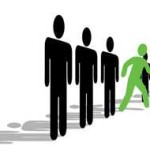 This short piece of lyrics is from memorable band, The Queen, and it's their less famous tune, "Machines or 'Back to Humans'". Whereas last decades see constant introduction of automation processes into almost every sphere of human being life, the machines haven't yet taken over completely and there's still place for rock and roll!
"It's a machines world
Don't tell me I ain't got no soul
When the machines take over
It ain't no place for rock and roll"
While we are constantly informed or educated about new electronic solutions to make life easier and while we pick up and take advantage of them on daily basis, there's no-one to challenge the necessity of human factor in their production, development or marketing. And this also applies to marketing automation processes – HUMAN'S STILL THE KING!
Who is all that data for?
Indeed, marketing automation saves time and resources but since it is about collecting data, its interpretation and implementation into automated processes, it needs both the technology and the people to bring benefits. Yes, it might be the machine and advanced software, which provide you with even more advanced data but who is the one to apply the conclusive knowledge into life? This must be an individual man or woman in person. Entire knowledge for the marketer that he or she possesses from data collection, requires establishing smart automation rules to the marketing automation processes and it is your marketing and sales team to create them. Therefore, skillful party of motivated enthusiasts will be necessary to handle profitably marketing automation processes within your business.
Is there a captain on board?
Leadership, management, initiative, control… Each team stands in need for the captain. It might sound like a cliché but whether in politics, sport or business the managing captains with the authority and knowledge, bring nothing but greater potential and prospects for their environment.
5 things the successful "marketing automation captain" should take care of:
Defining how marketing automation software implementation fits into the overall strategy of a company
Negotiating with the sales team how the automation processes should benefit sales department activities
Setting clear KPI's that needs to be pursued after the implementation of marketing automation software
Defining the automation processes that would make possible achieving the KPI's
Controlling the implementation of the automation processes and overlooking the optimization of the processes
So do not get crazy about all the technical stuff. The more advanced solutions we have the more important is the human factor that will make sure we have. As Kathy Glotz-Guest, a Marketing Consultant said "Automation has a human "i" in it; without that, the word is 'automaton.' That's what marketing becomes when technology is a substitute for, rather than a supplement to, the human element."
The fundament of constant training and tweaks importance
The ever changing and upgrading marketing automation software and processes make the marketer be on the alert for constant training, education and observation. More and more personalized offer marketing automation delivers to clients create necessity for the marketers to be ready and open for new solutions and never-ending digital progresses. With this in mind, the marketer increases potential for campaigns success. Possible failures require strategy change and inevitable tweaks. Automation alone won't be old school marketing substitute. The real success is in hands of those hungry for knowledge, innovative and open-minded humans, who strive for perfection and are ready to add the human touch to the automated processes, which won't perform stand alone.
Increasing effectiveness and conversion, limiting human mistakes, cutting down running costs and most importantly taking sales to brand new level! All these improvements are highly possible in business with the appropriate use of marketing automation technologies. However, let's make it clear, the human element matters! It's the people who create rules in marketing automation. It's the people who close the deal with client. It's the people who originally establish and then support and tweak automated marketing processes. And it's the human imagination, dedication and hard work that will successfully implement marketing automation processes.