Recent months at SALESmanago have been very productive. Our product, infrastructure, as well as other useful tools are being continually developed. We are improving the product itself – we add new features which make marketer's work valuable and effective. Our internal tools and infrastructure are being developed too.
Features
At the end of 2018 and at the beginning of 2019 our main focus was the analytics. Then we created entirely new analytical dashboards. Thanks to them you can monitor the effects of most important marketing and sales activities in one place.
Best personalization options of dashboards' look enable adjusting their content to most sophisticated requirements so as to see most significant (from user's point of view) results of SALESmanago operations.
At the turn of 2018 and 2019 we rebuilt, updated and extended most advanced automation tool – Workflow 2.0.
A/B/X tests, prioritising paths for contacts, alternative paths are only few examples of Workflow novelties.
Workflow is more perspicuous and user-friendly due to the fact that the system verifies if workflow is created correctly, it has a new interface, elements are linked in a new way, there is a grid. Moreover, detailed analysis shows contacts at each stage of the campaign. It means that having noticed which paths are most effective ones, you can edit your workflow campaign at any time.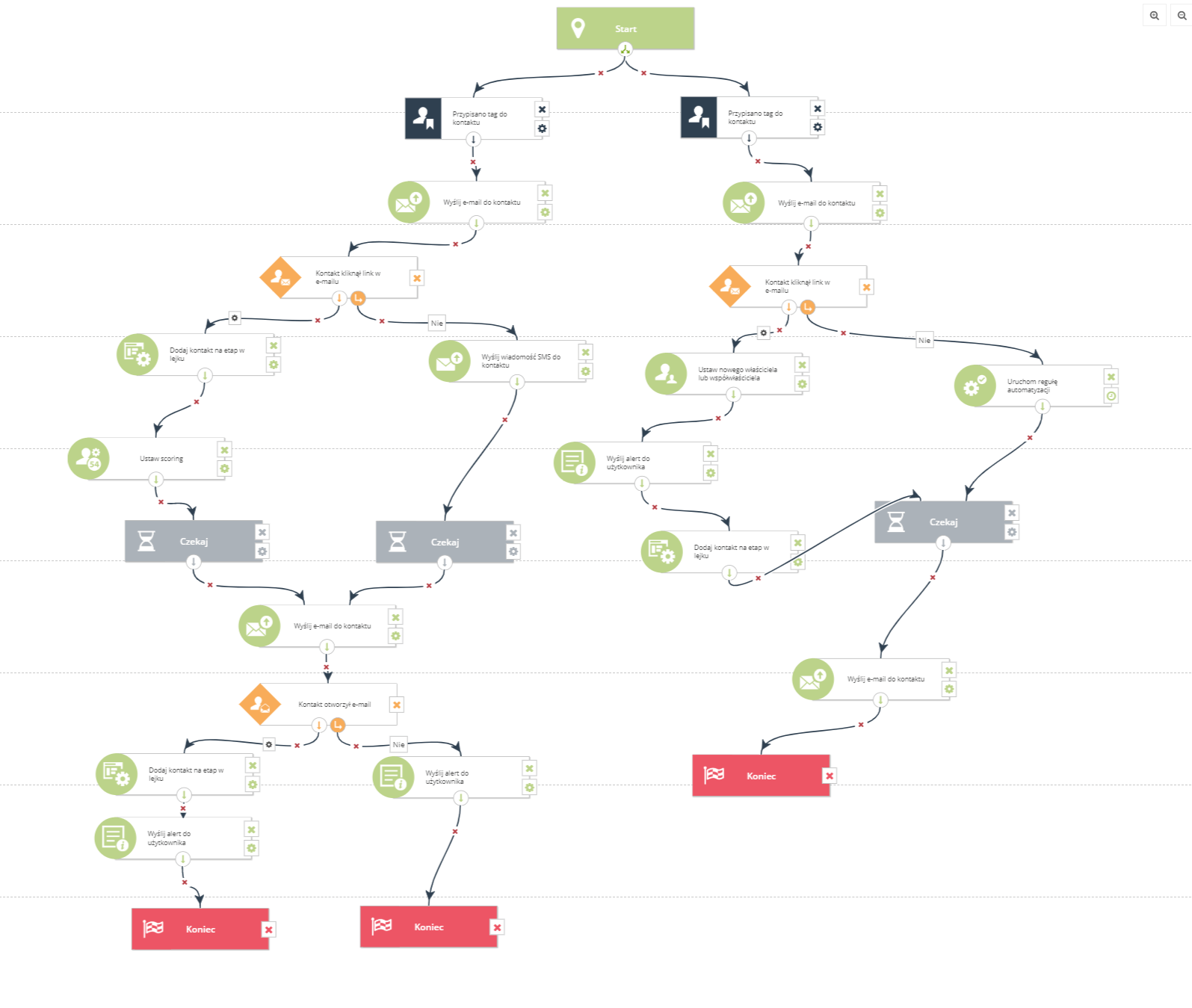 In SALESmanago we deal with large scale challenges. The amount of data we store exceeds 1 petabyte – yes, it is 1015 bytes. Getting a new customer means that when a monitoring code is pasted, we take over traffic which is comparable with site traffic on our own website. Not only must our infrastructure take over the traffic, but also our servers must be prepared for that. At the same time, we need to follow our current customers' growth.

Contact card in SALESmanago system is the heart of CRM and a real command center which was completely rebuilt! A lot has been changed and as a consequence, access to information on a contact card is much easier and more adjusted to each user's individual needs.
Website Automation Rules is a completely new module which will be released soon. Thanks to it, a real-time automation on an e-commerce website will become possible. It means that individual behaviour can be personalized and that in consequence, enables getting more customers.
These are not all novelties which will come soon. Up-to-date list is always available in our newsletter.

Technology

When scaling architecture which is supposed to handle Big Data, we realised that network connections, not servers, are bottlenecks. It seems obvious that when there are more machines instead of one, bandwidths of information transfer drop by several orders of magnitude.
Only recently, all our servers and network infrastructure have provided support of 10Gb interface. Now, great amount of data can be sent, distributed data analysis is possible, backup is easy and fast.

SALESmanago has been always developing thanks to well-established technologies connected with Java. In the first quarter of 2019 we put a lot of work in updating our libraries and migrations to JDK 11. New version of JDK guarantees higher performance, for example the newest version of Garbage Collector has 20% better results in laboratory tests. Due to the confusion related with JDK license issues and caused by Oracle, we made sure that all our components are compatible and they will work with OpenJDK version, Java development environment.

Processing such amount of data requires constant searching for new solutions. One of our newest technologies is Apache Flink engine. It is an open source platform for scaling stream and batch processing. Flink is commonly used by the biggest players on the market of Big Data: Alibaba, Ericsson, Netflix and Spotify.
Flink is stable, fault-tolerant and it enables scaling to millions of events per second. In the nearest future we are going to focus on further work with this platform.

So as to provide innovative solutions for marketers all over the world, we regularly look for newest tools, not only open source. Currently, we pay a lot of attention to R&D – BigQuery database from Google. There are some reasons which make us focus on this particular technology.

Serveless – this word has become popular for some time. BigQuery is available immediately after the registration, space which can be used is virtually unlimited and it does not require us to have our own servers. Performance – this word can be the second name of BigQuery. Loading billions of lines is not a problem, and it needs emphasizing that queries in this case mean single seconds. Big Data supports SQL and this is SQL which enables querying big databases without any single problem – this technology is able to deal easily with billions of lines.

Tools

We are constantly improving and developing our internal tools which automate and monitor all our systems. Thanks to that they are very reliable and efficient.
Our newest product is a set of analytical tools which are very useful for our customers when they send messages. The system is able to recognise spam, it monitors any irregularities and sends various alerts – this is a guarantee that messages from our customers are successfully delivered to all addresses.
Summary

In order to match closely to marketers' needs and deliver them the best tools of marketing automation, we cannot stop our development. We are constantly searching for better, more stable and more advanced technologies and solutions which can significantly improve our tools.